Impact of Oklahoma and Wisconsin Upsets
Two Upsets Change College Football Title Race
By Paul Grossinger
October 24th, 2011
Oklahoma and Wisconsin, two of college football's behemoths this year, went down this week. How will these defeats change the BCS title race?
Before this week, college football's heavyweights were enjoying a relatively smooth ride. The best teams of 2011, LSU, Alabama, Oklahoma, Oklahoma State, Wisconsin, Stanford, and Boise State, were all undefeated.
On Saturday, Texas Tech shocked Oklahoma 41-38. But don't be fooled into thinking this was one of those come back from behind, trailing the whole game, last second upsets because Texas Tech actually led 21-7 early and controlled most of the game. The loss to an unranked opponent knocks Oklahoma out of the title race. Unless there are several more shocking upsets to end the season, the BCS rankers will not put a one loss team in the title game if there is an undefeated school from an automatic-qualifying conference ahead of them.
For its part, Wisconsin lost 37-31 to Michigan State. Like Oklahoma, the Badgers were down early and struggled to come back before ultimately losing. However, unlike Texas Tech, Michigan State is one loss team with a top-ranked defense so Wisconsin's defeat does not look nearly as bad as Oklahoma's. Nonetheless, barring several upsets, the Badgers will not be participating in the title game either.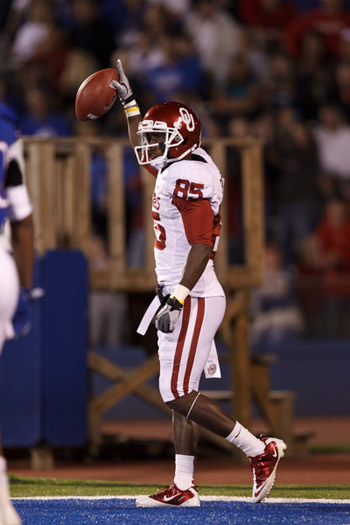 klahoma Sooners wide receiver Ryan Broyles (85) celebrates after a 57 yard touchdown reception in the 2nd quarter of the Oklahoma Sooners 47-17 victory over the Kansas Jayhawks at Memorial Stadium in Lawrence, Kansas.
---
The two losses change the college football race because they narrow the BCS title race while compounding the problem of choosing the other BCS bowl participants. LSU and Alabama play one another next week, which should produce one of the title game's participants and eliminate the other from the race. Stanford still has to beat rival Oregon to remain undefeated, and Oklahoma State must defeat Oklahoma. Two other unbeaten teams, Clemson and Kansas State, look like very good squads but the odds of them running the table appear slim. The remaining two, Boise State and Houston, could well go undefeated throughout but, as ever, BCS rankers will be very reluctant to put them in the title game based on their weak schedules.
The two losses make the next six weeks very interesting. What happens if Boise State remains unbeaten but a one-loss, big conference team goes to the title game instead? What if more than ten major programs finish with one loss or less? What if the winner of LSU-Alabama loses another game and Boise State is the only undefeated team in the country to end the season? It's going to be an exciting last few weeks, so stay tuned.
---
What do you think?
We'd love to hear your comments and/or opinions. If you submit them here, other visitors can read them, rate them and comment on them. An e-mail address is not required.
---
From Impact of Oklahoma and Wisconsin Upsets to NCAA Football Blog | Sports Blog | NFL Football Blog | NFL Football Archives | College Football Archives | MLB Baseball Blog | College Baseball Blog | MLB Baseball Archives | NBA Basketball Blog | NCAA Basketball Blog | NBA Basketball Archives | NCAA Basketball Archives | Fantasy Football | Fantasy Basketball | Fantasy Baseball | Soccer Archives | Olympics Archives | Stupid Athletes Archives | Other Archives | Football Forum | Basketball Forum | Baseball Forum | NFL Football Store | NBA Basketball Store | MLB Baseball Store | NCAA Football Store | NCAA Basketball Store | NCAA Baseball Store | Fatheads | NFL Football Tickets | NBA Basketball Tickets | MLB Baseball Tickets | NCAA Football Tickets | NCAA Basketball Tickets | NCAA Baseball Tickets |
---
Home Page
About Us | Contact Us | Site Search | Advertise | Terms of Use |
---