I Feel Like the Patriots and Saints Combined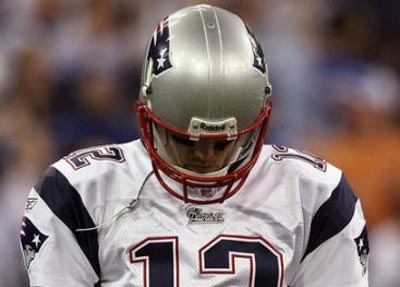 Brady Loser
---
Not much to celebrate for me. Amazing game by the Colts to come back from 18 points down to win but I was on the wrong betting side of that game. The way New England just let the Colts back into it time after time is what kills me the most. I had New England with the +3.5 points and it looked so money in that first half. In the end, that final Indianapolis touchdown really screwed me. That put them up by 4 points. It's a different story if the Colts won by 21 points but New England should not have lost that game by more than a field goal.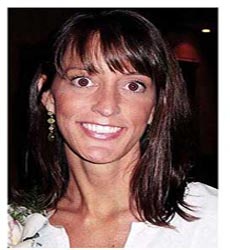 Where do I begin to blame? What the hell was Reche Caldwell on? Not only does he look like that psycho bitch runaway bride (above) but he couldn't catch shit. Stupid penatlies by New England to keep drives alive. Sketchy roughing the passer call that setup the winning touchdown. Horrible defense that looked like a prisoner who had just been gang raped. 32 points allowed in the 2nd half. Then Tom Brady not being himself and throwing an interception to seal the game. I could have handled a Colts win by a field goal. Woo-hoo for the Colts and I still win my bet. But New England just could not do anything to hold the Colts from only getting a tying field goal at the end.
As much of an epic and classic game this was, I lost enough money that I'm still in shock and upset.

Credit to the Colts for not throwing their arms up and giving up.

Glad to see Dungy in the Super Bowl. Classy coach and well deserving. Same as Lovie Smith.

Oh and how stupid did Reggie Bush look taunting Brian Urlacher and doing a show-off flip into the endzone? That proved to be the last time they would score in the whole game.
I can't believe Rex Grossman is in the Super Bowl. This from a guy who tried to call a timeout after they just took one. Then he tried to run off the field before halftime and everyone had to wave him back on the field. Oh and don't say Grossman is a great quarterback. That touchdown he had to Berrian was all him. He's not that great still.
We get the Colts versus the Bears and the Colts are already a -7 point favorite. I'm saying now I'm rooting for the Colts. For many reasons including that I just do not want to see Rex Grossman win.
I'm going to go watch Season 3 of "24" and hopefullly watching Jack Bauer blow some brains out will make me feel better.
---
What do you think?
We'd love to hear your comments and/or opinions. If you submit them here, other visitors can read them, rate them and comment on them. An e-mail address is not required.
---
From I Feel Like the Patriots and Saints Combined to NFL Archives | Sports Blog | College Football Archives | MLB Archives | NBA Archives | NCAA Basketball Archives | Soccer Archives | Olympics Archives | Stupid Athletes Archives | Other Archives |
---
Home Page
About Us | Contact Us | Site Search | Advertise | Terms of Use |
---