How to Fix the March Madness?
By Matt Green

It's the greatest sporting event every year. It's 3 weeks of pure insanity, and that's not even including the pure bedlam that precedes March Madness during the 2 weeks of Conference Tournaments. However, we have a problem. Not a huge problem, but a problem nonetheless. The tournament is about as entertaining as it ever has been, but there are multiple ways that we can tweak it to make it better. Yeah, let's say "tweak" and not "fix." Since we are squarely in the offseason for college hoops, this seems as good a time as any to tweak these things.

I am a bracketologist, similar to ESPN's Joe Lunardi. Since the inception of the "First Four" or the opening round games in Dayton, predicting the brackets has become increasingly difficult due to the fact that there are so many options for the committee about who to put where, and a lot of it seems fairly ridiculous, as one of the "First Four" games this year was between BYU and Iona, who were both technically seeded 14th. It is absurd to make the 3 seed, which in this case was Marquette, play a team like Iona or BYU, both at-large teams, in their first game of the tourney after they have gone through a grueling regular season and earning that 3-seed. Meanwhile, while 3-seed Marquette was off playing a very good 14-seed, Baylor was taking on South Dakota State, Georgetown was taking on Belmont, and Florida State was taking on Saint Bonaventure, whom I know looked good in the game against FSU, but still finished 4th in the Atlantic 10 and was just 20-12 overall. So, here is the first thing to tweak.

1. Make all the "First Four" games between 16-seeds.

I know that many people would consider this to be unfair to those 16-seeds, who have all won their conference tournament, but if the idea of the tournament is to make it more competitive, this is a way to do that. If this is done, the 16-seeds would give the 1-seeds better games because 2 of the new 16's would have been 15's a year ago (and two 15's just won their first round game this year). On top of that, it would make almost every other game more competitive. The 14-seeds would now be mostly, if not all, at-large, which would create fairness and equality among the 14's that was lacking this year. And finally, if it's ratings and money that the powers-that-be are worried about, isn't it common sense that more competitive matchups draw more interest?

2. Bring back the old floors

Maybe I'm the only one who has noticed the travesty and uniformed blandness that has overcome the tournament hardwood in recent years, but just think about it. We used to have courts like the one at Boise State in this video (http://www.youtube.com/watch?v=pErHKXVV9Nk) but now we're stuck with generic, black and blue, NCAA logo courts that lack any semblance of ingenuity or creativeness and make the games more boring. Just look at this (http://static7.businessinsider.com/image/4ba0efd67f8b9ac46a4 00000/ncaa-logo-basketball-court.jpg). Also, each of the new courts costs around $100,000 to make. If 14 courts are made (1 for each site), that is around 1.4 million dollars. 1.4 MILLION. If they just didn't make those courts, they could save all that money. They could use it for, say, paying the players that are bringing in the million dollars of revenue? But that is a topic for another time. Point is, there's no reason NOT to ditch the new courts and bring back the old.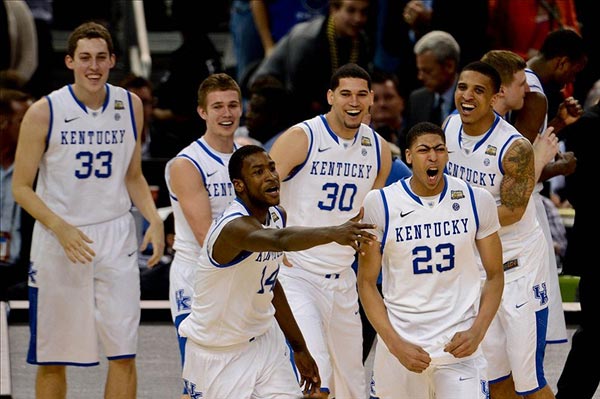 3. Set-up first round Power conference vs Mid-major games.

Every year, there is a discussion among supposed college hoops experts about whether that last tournament at-large spot should go to the mid-major team with the great record that overachieved, or the mediocre power conference team that under-achieved. Well, thanks to the lack of common sense by the committee, we never get an answer to that question. Now, I will say that 2012 was the best in past memory for the committee in this regard, but it can still get better. And listen, I understand the rules about conferences, and not letting rematches or conference matchups happen before the Sweet 16 and preferably Elite 8, but those are easy to work around.

Back to the topic at hand. (6) Murray State played (11)Colorado State in round one this year while a fellow 6-11 matchup was Cincinnati-Texas. Why? Why not match-up Murray State with Texas and Cincinnati with Colorado State? Then we can use tournament data to better make decisions on who's in, who's out in the future. It also happened with 8-9 matchups Iowa State-UConn and Memphis-St Louis. Match-up the mid-majors and the power conference teams that make for more intriguing matchups and will allow us better knowledge and experience down the road.

It's the offseason, so I simply thought I would call attention to some things that could easily be changed and would make the sport better and save the sport some money while making the sport money. It only makes sense.

Re-live the best 25 moments from the 2012 Madness at the Bleacher Report here (http://bleacher report.com/articles/1127933-25-greatest-moments-of-march-madness-2012)

Get better at picking your bracket in the future (http://online.wsj.com/article/SB10001424052702304537 904577279730990736736.html)


What do you think?
We'd love to hear your comments and/or opinions. If you submit them here, other visitors can read them, rate them and comment on them. An e-mail address is not required.