How to Build the Perfect Major League Baseball Franchise

If you had the opportunity to build a Major League Baseball franchise from the ground up, how would you do it?

In the real world, no Major League team is a blank canvas.  Every team has assets and liabilities, some more so than others (that's you Alex Rodriguez) that help or hinder a rebuilding effort.
But, if you take all that baggage off the table and look, simply, at the crucial basic question of 'how do I build a long-term baseball contender,' a clear winning formula does emerge.

That winning formula has five components: build your core through the draft and international free agency, emphasize young pitching, use extraneous minor league assets to trade for stars in their prime, utilize traditional free agency to acquire both useful veterans at below-market rates and bullpen help, and avoid albatross long-term contracts for players over the age of 28.

Simplistic?  Yes.  But these principles have guided Major League Baseball's best franchises and World Series teams over the past two decades, including the 2010 and 2012 San Francisco Giants,2011 St. Louis Cardinals, 2009 New York Yankees, the 2004 and 2007 Boston Red Sox, and the Yankees' dynasty from 1996-2001.
 
Consider the Giants, winners of two World Series titles in the past three seasons.  The Giants' foundation is built on young pitching selected in the draft and nurtured through the minors, including stars Tim Lincecum, Matt Cain, Madison Baumgartner, and Ryan Volgesong.  While San Francisco is not known for its lineup, it stealthy built a strong core of batting stars in MVP catcher Buster Posey, all-star third baseman Pablo Sandoval, and emerging young center fielder Gary Brown.  Savvy trades and smaller signings, for example bullpen stars Brian Wilson and Jeremy Affeldt, have completed the Giants' winning package.  And, while San Francisco did commit to one albatross contract for Barry Zito, General Manager Brian Sabean has avoided making other $100 million-plus mistakes, keeping the Giants' payroll under control and maintaining his ability to make quick moves to improve the team.

I know the 2009 New York Yankees do look like an outlier for this list but they actually fit this franchise building model.  Yes, the Yankees have an enormous payroll and spent like drunken sailors in 2008; for ace C.C. Sabathia, A.J. Burnett, and Mark Teixeira.  But, the Yankees' bedrock success was built on its "core four" of Hall of Famers selected in 1990s drafts and nurtured in the minors: shortstop Derek Jeter, closer Mariano Rivera, catcher Jorge Posada, and ace Andy Pettite.  In recent years, the Yankees also drafted star second baseman Robinson Cano, starting fielder Brett Gardner, and made a savvy 2008 trade for centerfielder Curtis Granderson, who turned in a near-MVP season that year.
 
What about that 'young pitching?'  New York actually received critical contributions from its young pitchers on its way to the 2009 title, including near all-star seasons from starters Phil Hughes and Ivan Nova.  Pettite is also, of course, a homegrown pitching product, making three-fifths (and 75% of its productive pitching, considering A.J. Burnett's terrible 2009 season) of the Yankees' pitching during that World Series run largely the result of its investment in young pitching.  It is no coincidence that, from 2010-2012, the Yankees have faltered in the post-season after receiving little help from their young pitchers.

From 1995-2001, the Yankees adhered to these practices even more faithfully.  Building on their core four of Pettite, Jeter, Rivera, and Posada, the Yankees' savvily created one of history's best bullpens in 1998 through a mixture of trades and free agency signings.  New York also added stars David Wells, David Cone, Aaron Boone, and Bernie Williams on reasonable deals throughout the 1990s, contributing to a period of dominance unmatched in recent baseball history.  It was only after the Yankees began relying on free agency and mega-contracts to acquire talent, notably with the 2002 Alex Rodriguez trade, that the Bronx Bombers lost their edge and failed to win a World Series title for nearly a decade.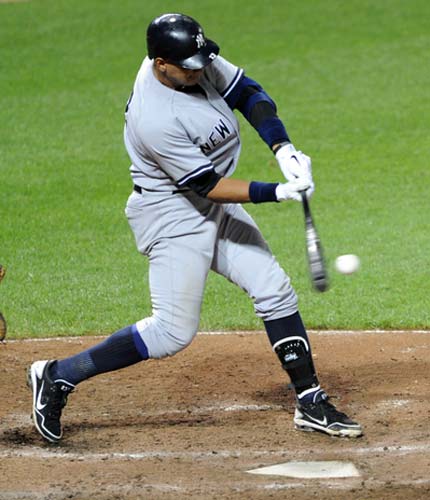 New York Yankees third baseman Alex Rodriguez (13) in action against the Baltimore Orioles on August 26, 2011 at Camden Yards in Baltimore, MD.

So, what is it about these five core principles that engenders such consistent success?

Building a core through the draft enables franchises to take advantage ogf Major League Baseball's extremely long rookie contracts and arbitration rules, which keep a player under an organization's control for a minimum of six years, often longer.  Savvy teams can keep a player on their rookie contract for several years, testing them in the minors and during their freshman and sophomore seasons in the majors, before signing them to a lucrative – but still cheap – long-term contract for up to a decade.  The Chicago Cubs, for example, drafted star shortstop Starlin Castro, brought him up full-time in 2011, then President Theo Epstein locked him into an eight year extension for under $30 million when it became clear he would become a star.  To get equivalent positional value for Castro in free agency, the Cubs would need to have acquired Jose Reyes in 2011, for the ultra-inflated price of $120 million over six seasons of slowly declining production.
 
The draft principle is even more true for young pitching, where it gives teams both long-term control and the flexibility to negotiate with the upper hand with star young pitchers.  The San Francisco Giants and Tampa Bay Rays are the masters of the young pitching model.  The Rays manipulated the draft and arbitration processes and then used an under-market value contract to keep homegrown star pitcher James Shields in Tampa for over a decade, then flipped him for future star outfielder Will Myers this winter.  The Rays employed a different, even more effective, strategy with future Cy Young-winner Matt Moore, locking him into a seven-year extension for under $40 million before his true value was clear, even to Moore himself.  For similar pitching value, the Yankees paid C.C. Sabathia more than $160 million over seven years in 2008 and the Dodgers recently signed Zach Grienke to the largest contract for a left-hander ever in free agency.  You do the math.

With that kind of flexibility, teams like the San Francisco Giants, who actually have significant funds for payroll (unlike the Rays) can maintain exceptional staffs while making investments in other areas, like a lucrative extension for MVP and cornerstone hitter Buster Posey.
 
International free agency, while more expensive than the draft, provides an excellent outlet for franchises to acquire star talent at younger ages than traditional free agency.  The rules changed with the most recent bargaining agreement but, in many cases (including those of two current Cuban free agents) teams can still sign early-to-mid-twenties international stars to below-market contracts.  For example, the Cincinnati Reds scored with Aroldis Chapman, the electrifying fire-thrower who was the major's most effective reliever in 2012 and a huge part of the Reds' 98-win season.  More recently, the Oakland Athletics added YoenisCespedes to their outfield for less than $40 million over four years and he is already a star player.  For perspective, the Giants paid centerfielder Angel Pagan, a below-replacement level player for most of his career, more this winter than the Athletics paid Cespedes.

Trading extraneous assets for stars or starters in their prime is also a good way to get good value while plugging holes on the roster en-route to contention.  The Yankees did this extremely well in 2008, when they traded young outfielder Austin Jackson to Detroit for Curtis Granderson.  Jackson worked out in Detroit but Granderson is the better player and the Yankees sorely needed a home run producer in the outfield to help win their 2009 World Series title.
 
Finally, make savvy free agency signings while avoiding albatross contracts is critical to contending long-term.  Every team will suffer from a bloated payroll; even the Red Sox and Yankees were brought low by it this year.  The Red Sox were forced to send all-star Adrian Gonzalez to get out from under commitments to Carl Crawford and Josh Beckett while the Yankees had to stand pat this offseason after reaching the ALCS because of payroll constraints and pending luxury tax concerns.
 
But, traditional free agency can be very helpful when used properly.  The St. Louis Cardinals signed Carlos Beltran to a reasonable two-year deal in 2011 and he helped lead them to the 2011 World Series title.  And teams that use free agency to acquire useful veterans for depth and bullpen contributors, often at rock bottom prices after the big fish have been signed, tend to see huge return on their invested dollars.

So, knowing the winning formula, how well is your favorite franchise building their team?
What do you think?
We'd love to hear your comments and/or opinions. If you submit them here, other visitors can read them, rate them and comment on them. An e-mail address is not required.
What Other Visitors Have Said
Click below to see contributions from other visitors to this page...

Good Concept, but Missed a Few Things Not rated yet
A few points: - Saying Granderson is better than Jackson doesn't match up with the stats. Since the trade, Granderson has produced WAR seasons of 4.1, …