How to Build a Contender on the Cheap
The Dodgers, Yankees, Lakers, and Knicks may get all the free spending headlines but some teams still manage to go toe to toe with them on the field.
Yet, at first glance that looks like an economic paradox: how can the Tampa Bay Rays perform nearly as well as the Yankees, despite a payroll about 75% smaller than New York's?

The answer is caution, savvy acquisitions, and player development.

Poor teams leverage naturally cautious decision making to avoid dangerous, potentially crippling mistakes.  For major franchises, the allure of instant wins is often too difficult to resist and that leads to catastrophic decisions like Alex Rodriguez's 10 year, $275M contract in 2007.  Poor teams don't even have those choices, so they have to replace them with out of the box thinking.

That out of the box thinking leads to savvy pickups that fuel surprising runs of contention.  This year, the Rays bucked a long trend to rarely deal front-line pitching when they shipped an in-his-prime James Shields to Kansas City.  The prize was Will Myers, the future mashing lineup anchor they could never buy on the open market, and several more upside prospects.  It's the same thinking that fueled the Oakland Athletics' decision to sign Cuban star Yoenis Cespedes; while expensive for a prospect at $30M and risky, Cespedes represented $100M in upside production for a team that could never purchase an impact bat in free agency.

Yet, the bedrock of cheap contention is long-time, exceptional player development.  Particularly in baseball, where players remain under team control for much of their prime at rock bottom costs, filling critical spots in the lineup internally is the best route to success.  The Rays, Rangers, Athletics, and others clearly exemplify this trend, with homegrown stars like Evan Longoria, Cespedes, and Ian Kinsler coming to dominate baseball.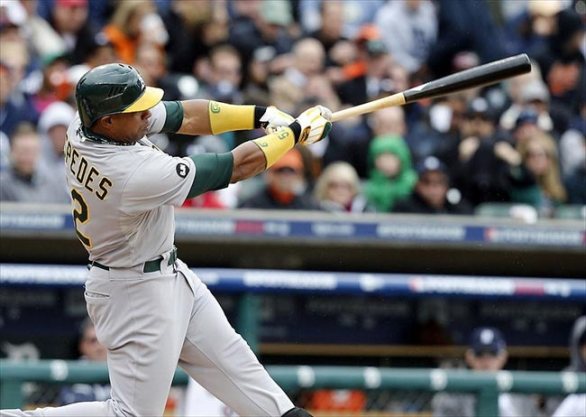 Oct 7, 2012; Detroit, MI, USA; Oakland Athletics left fielder Yoenis Cespedes (52) hits an RBI single against the Detroit Tigers during the third inning of game two of the 2012 ALDS at Comerica Park. Photo Credit: Rick Osentoski-USA TODAY Sports.
Of course, these principles also work for big market franchises.  Where would the Yankees be without the famous quartet of Andy Pettite, Derek Jeter, Jorge Posada, and Mariano Rivera?  Or the Red Sox without Dustin Pedroia, Jacoby Ellisbury, and John Lester?
 
Player development, savvy, and caution are always the right path – in the long run.  And the long run is the only way to create cheap, sustainable success.
What do you think?
We'd love to hear your comments and/or opinions. If you submit them here, other visitors can read them, rate them and comment on them. An e-mail address is not required.