How the New York Yankees Will Cope Without Derek Jeter
News broke Sunday that Derek Jeter would likely start the season on the disabled list after being too sore to play in a minor-league game.  Jeter's ankle, which he fractured in a playoff game last October, has not yet healed to the point where he's able to play consistently, with stiffness and soreness preventing him from even continuing as a designated hitter.  He'll have to demonstrate the ability to play nine innings at shortstop before being given the go to rejoin the Yankees.
While Jeter has overall had a good recovery for a 38-year old man, the fact remains it's looking likely that for the first time since 2001, when a quadriceps injury forced Luis Sojo into the lineup, the Yankees opening day lineup will not feature Derek Jeter as their starting shortstop.  Eduardo Nunez is currently penciled in as the everyday shortstop until Jeter is back.

Yankees fans are going to have to get comfortable sidling up close to the disabled list this season.   It's not just Jeter – Alex Rodriguez, out with left hip surgery, and Mark Teixeira, with his strained right wrist, will be out for multiple months.  It doesn't get much better for the actually healthy players, either – Ichiro Suzuki is 39, Travis Hafner is 35, Hiroki Kuroda is 38, Andy Pettitte is 40, and Mariano Rivera is 43.  When all these names are healthy and playing as they're capable of, this is a 90-win team – but it's so hard to keep anyone healthy through the 162-game slog of the MLB season, much less so players older than Star Wars.

It could be a nightmare scenario for the Bronx Bombers this year.  What if Jeter's ankle never fully heals, and he limps through the season?  If he's healthy enough to play at all, the Yankees are going to start him, but 2012 was his first solid year since 2009, and his defensive range was questionable even before getting several screws stuck in his ankle.  He'd be declining even without the injury, and it's still bothering him to the point where he couldn't run all out.  Sure, maybe this is a minor setback, and he comes out and plays 150 solid games, hitting above .300 like he did last year – or maybe he's in and out all year long, struggling to hit .270.  It's a positive that this is the first step back he's taken all spring, but it's a negative that he's only managed to log 13 innings at short this entire spring – and never more than five innings in a game.  The Jeter-less future may be even closer than Yankees fans like to imagine.

If everything goes wrong – and I do mean everything – we're not just talking about missing the playoffs for the first time since 2008.  Let's say Rivera comes back – and can't find his cutter again, not like it was, with the unhittable Rivera of old replaced by, well, a 43-year old man.  Two of their top 3 starters are old, and Pettitte in particular is coming off of injuries and a retirement spell – maybe they can't go full seasons.  CC Sabathia spent time on the DL twice last season, and had surgery to remove a bone spur from his elbow.

The self-imposed salary cap, as the Yankees try to duck under the luxury tax threshold for just one season to save millions upon millions of dollars, hurts too – they were low on depth before the injuries, and now have roughly no one sitting on the bench.  There's nothing in the cupboard should anyone else miss any more time – it's the aging roster or bust for the Yankees.

In addition, every team in the AL East has the chance to be a 90-win team this season, making it the hardest to call division in baseball.  The Blue Jays loaded themselves up this offseason, and Jose Bautista is a real MVP candidate.  The Rays made the steal of the offseason in acquiring Wil Myers from the Royals, and seem to be the anti-Yankees – always with a young player or twelve ready to contribute.  The Red Sox have revamped their bullpen and look to try to recover from the embarrassment of 2012.  Even the Orioles, who at first glance seem to have had an unrepeatable 29-9 record in one-run games, could see their young roster take a step forward and play up to their win total last year.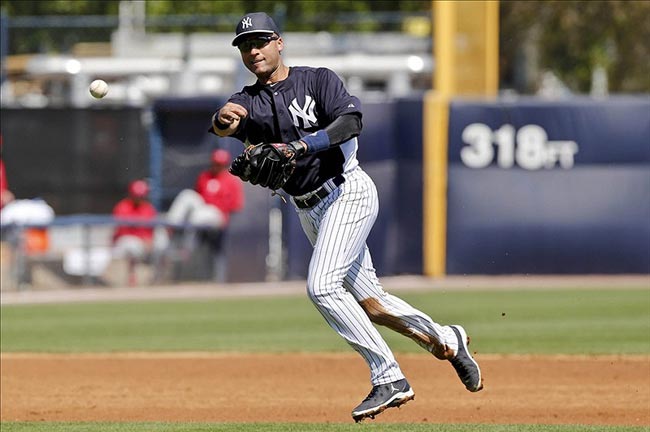 Mar 16, 2013; Tampa, FL, USA; New York Yankees shortstop Derek Jeter (2) throws to first for an out against the Philadelphia Phillies during the top of the third inning of a spring training game at George Steinbrenner Field. Photo Credit: Derick E. Hingle-USA TODAY Sports.

The sum of all of this?  If everything goes wrong, the Yankees could be looking at their first losing season since 1992, in the old 7-team AL East, where they finished 20 games back of eventual World Series champions Toronto.

...Of course, that's a worst case scenario, and nothing ever goes as bad as you might fear.  Jeter's ankle might allow him to be back by the fifth game of the year and, while he'll need to be spelled every now and then from just being old as sin, he could age gracefully and have one last season as a solid starter before hanging up the spikes.  Robinson Cano – who, you may have noticed, didn't get mentioned at all in that 'worst case scenario' talk up above --  can continue being, well, Robinson Cano. He had an MVP-caliber season last year – not that he deserved to win, mind you, against a triple crown winner and a sabremetric superstar -- but a .929 OPS with 30+ homers is going to give any offense a lot of pop.  He's one of the few Yankees under 30, as well, so he could potentially even increase those numbers.

And then there's the X-factor of Alex Rodriguez.  The Yankees aren't expecting anything out of him this season, hence the signing of Kevin Youkilis.  No matter what, A-Rod isn't going to be worth the $28 million he's scheduled to make this season.  But maybe, just maybe, he could be healthy enough to return after the all-star break.  Maybe, just maybe, the time off revitalizes him, and he finds his stroke again – he gets an over .800 OPS again, and hits double-digit home runs down the stretch.  Revitalized by the healthy return of the left side of infield, and with Teixeira coming back on the short end of his recovery time, and Single-A catcher Gary Sanchez rocketing up the minors to take over the starting job in Manhattan, the Yankees roll in the second half of the season.  Behind a healthy and unstoppable 1-2-3 pitching combination, with the Rivera of old hurling unhittable cheese in the ninth once more, the Yankees steamroll past their division rivals, ending the season with a sweep of the Astros to claim the division title once more.

Or maybe we'll be somewhere in between.  My gut tells me that Yankees fans will be watching the playoffs at home this season – but that it's not time to pull out the Boyz II Men or Kris Kross, as the'92 team should remain the last Yankees squad to finish with a losing record.
What do you think?
We'd love to hear your comments and/or opinions. If you submit them here, other visitors can read them, rate them and comment on them. An e-mail address is not required.