How Not to Break Into A House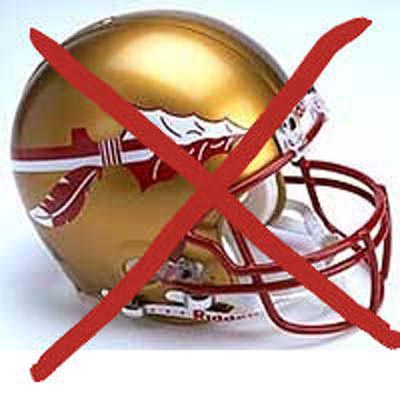 FSU Helmet
---
If you're going to break into someone's home to steal something, let's make a check list of things you shouldn't do.
Rule #1: Don't break into anyone's home.
Rule #2: Don't get arrested after being selected by the Bengals in the NFL draft.
Rule #3: Don't leave drops of your blood in the house.
Rule #4: Don't steal what you probably can afford.
Rule #5: Don't leave a glove with you jersey number stiched on it.
Rule #6: Don't be a dumbass and do all the things listed above.
Seems like ex-Florida State Seminoles Fred Rouse (left) and AJ Nicholson (right) didn't learn the first rule of breaking into someone's home. If they would have followed rule one then they wouldn't have had a chance to encounter the remaining rules. Instead they broke every single rule.
They have been charged with stealing $1,700 worth of electronic equipment from current Florida State running back Lorenzo Booker. Rouse has been arrested. A warrant is out for AJ Nicholson. The Bengals just selected him in the 5th round of the draft. They must have overlooked his prior run in with the laws such as sexual assualt before this year's Orange Bowl (sent home), no contest to a DUI arrest, and a resisting arrest charge that was dropped. They thought he'd be a steal in that spot (no pun intended).
These two bright and shining stars must not watch Court TV or especially "Forensic Files". They made it very easy for police to identify them. Investigators found at a wide receivers glove with "1," Rouse's former jersey number, stitched into the inside of it at Bookers house. The glove had been left under a color television that had been thrown onto the floor. There also was blood found in the house, presumable caused when they cut themselves breaking and entering through a rear window.
Catching them turned out to be easier than kicking a field goal wide right. It's athletes being stupid! Something I always enjoy pointing out.
---
What do you think?
We'd love to hear your comments and/or opinions. If you submit them here, other visitors can read them, rate them and comment on them. An e-mail address is not required.
---
From How Not to Break Into A House to College Football Archives | Sports Blog | NFL Archives | MLB Archives | NBA Archives | NCAA Basketball Archives | Soccer Archives | Olympics Archives | Stupid Athletes Archives | Other Archives |
---
Home Page
About Us | Contact Us | Site Search | Advertise | Terms of Use |
---