How Do You Stop Peyton Manning in the Super Bowl and Beyond
If there was an easy answer for that question, the Denver Broncos wouldn't have been in the Super Bowl this weekend.  However, Seattle Seahawks' coach Pete Carroll had the right answer this week -- as did the fans who bet on the Seahawks to win the Super Bowl.
"Really, nobody has pressured him at all—18 sacks for the regular season is nothing for 659 throws," Carroll told USA TODAY Sports. "For us to win the football game, we're going to have to get pressure."
That's the obvious answer for a team focused on their defense like the Seahawks.  Seattle's the top-ranked defense in DVOA for a reason.  Their top-ranked pass defense, while primarily a function of the great coverage provided by the so-called Legion of Boom secondary, is aided by the seventh-ranked pass rush in the NFL.  Saying that the key to shutting down Manning is relying on their own strengths isn't precisely a ground-breaking statement.

Is it true, though?  One of Manning's most noted attributes is his ability to avoid cheap sacks—to get rid of the ball in time to avoid coverage sacks, and to audible into playcalls that maximize his offense's chance of success.  As of the beginning of December, Manning and the Broncos had allowed no sacks due to confusion along the line, only one sack due to excellent coverage, and 14 sacks due to a blocker simply physically being beaten by the opposing defender.  That's close to the top in all categories—it's really, really hard to get that pressure on Manning.  He's only been under pressure on 12.7% of his snaps this postseason—that's pretty darn good.

Most interesting: is Manning notably worse when pressured?

Pro Football Focus (subscription required) charts every pass Manning threw this season, and compared his numbers when he was under pressure compared to when he had time to throw.  As you would expect, his numbers did drop somewhat.  Most notably, Manning's completion percentage tumbled from 70.9% to 59.6%--Manning may not take the big sack, but he's more than alright throwing the ball away rather than getting clobbered.  Interestingly, however, his yards-per-attempt stat didn't fall too far, only dropping from 8.3 to 8.2 yards a throw—the fewer completions are balanced out by longer throws.  When not pressured, Manning's average completion ends up going for 11.7 yards.  When the rush gets to him, however, his average completion shoots up to 13.7.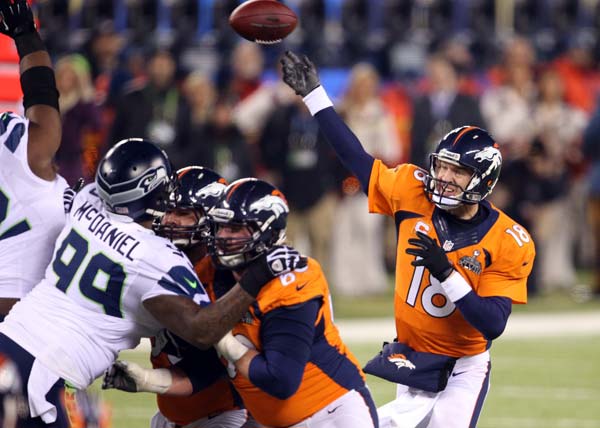 The end result is that Manning's QB rating is a very robust 93.2 under pressure.  That would put him ninth in the league overall, slotting between Tony Romo and Ben Roethlisberger.  That's better than facing Peyton Manning, Destroyer of Worlds, but it's not exactly a recipe for taking him out of the game.

One interesting note, however, is looking at Manning's numbers against the blitz, whether or not they get pressure.  Manning reads the blitz well, and often audibles into shorter pass plays, to avoid taking unnecessary hits.  The end result is that his yards per attempt figure on all blitz plays drops all the way down to 7.6 yards a throw—they're effective, but not as painful as his regular arsenal.  Blitzing on Manning on third-and-long, then, can be an effective strategy, forcing him to check the ball down and force a punt or field goal attempt.

Manning gets the ball out in 2.3 seconds—lightning speed in the NFL.  To get him down, the Seahawks are going to need to destroy the Broncos' offensive line—and they've been playing very well in the postseason.  They let Manning get hit only one time in the AFC Championship Game, allowing him to shred Bill Belichick's defense to the tune of 400 yards in the air.  They give him just enough time to step up, cycle through reads, and find the one matchup that gives an advantage to Denver.

While Manning's playing matchup chess, however, Seattle's far more straightforward.  They're not going to disguise blitzes or come up with clever tricks.  They're going to rotate their pass rushers in and out, keeping them fresh, pin their proverbial ears back, and come charging.  It's worked for 44 sacks so far this year, and it's key to their success.  Manning looks for the beneficial matchup, but against this defense, there may not BE any beneficial matchups.

The team that did the best job of shutting down Manning's passing attack was the Patriots in their regular season matchup this season.  In that game, they kept giving Manning so many poor looks that he was forced to keep audibling into run plays—yes, the large lead they built up in the first half helped, but even as the Patriots came roaring back in the second half, Manning was having trouble finding room to throw.  By the end of the game, he only managed to gain 150 passing yards on 36 attempts.

The Patriots did it without the blitz—they only blitzed on eight plays, gaining pressure on nine total dropbacks.  Instead, they played lights-out coverage, keeping all the deep routes locked down.  Manning only attempted one pass further than 20 yards down the field in that one, and it fell incomplete.  They took Manning out of the flow of the game without blitzing, and it worked to a tee.


What do you think?
We'd love to hear your comments and/or opinions. If you submit them here, other visitors can read them, rate them and comment on them. An e-mail address is not required.
How Do You Stop Peyton Manning in the Super Bowl and Beyond to NFL Football Blog