"How Do You Define a GOAT for a Sport?"
Is there such a thing as the "GOAT?": the Greatest of All Time? A player who rose so far above his peers that he must be classified, unequivocally, as the greatest ever?
Perhaps yes, perhaps no.  In some sports, a clear "GOAT" stands out; a Hall of Fame player who was head and shoulders above the others, regardless of style, era, and statistics.

Michael Jordan comes to mind.

In others, the sports' greats are more jumbled.  How they played, when they played, and how they tallied their greatest achievements create a more muddled equation.

Is Babe Ruth baseball's "GOAT?" Or Walter Johnson?Hitter or pitcher?Dead-ball or live-ball player?

Is Roger Federer the greatest ever?  Does his career slams record and wins at all four Grand Slam venues overshadow the poor competition he faced during the prime of his career?

No one argument will win these debates.  But, here is one short-list of the greatest players in each sport and how tightly they can grip the coveted "GOAT" title.

Basketball: Michael Jordan

Someday, stats freaks will look at charts and tell us that Kobe Bryant performed better than Michael Jordan.  Longer career, more titles (coming), more all-star appearances, more points…whatever, the stats are irrelevant in this case.  Anyone who watched Jordan play knows his combination of unique skill and true killer instinct make him the best to ever step on a court.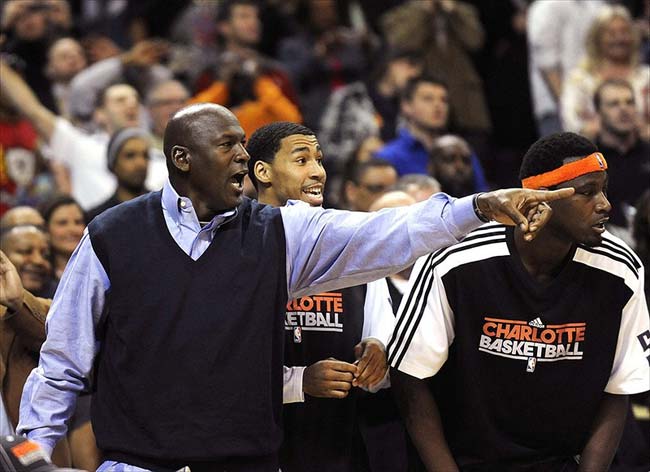 March 11, 2011; Charlotte, NC, USA; Charlotte Bobcats team owner Michael Jordan yells out to his team while they play against the Portland Trail Blazers at Time Warner Cable Arena. Bobcats win 97-92. Photo Courtesy By author Sam Sharpe-USA TODAY Sports

Tennis: Roger Federer

I've resisted this one a long time.  I still do.  Federer is the greatest on paper: most titles, all the Grand Slams, best record, longest tenure of dominance, and more.  But, how can he be the greatest with such a poor record against Rafael Nadal, his one truly great rival in an era of mostly dismal competition?  And, I simply can't shake the feeling that Pete Sampras, in his prime, was a much better player on grass and would almost surely have held an edge on a hard court as well.

Baseball: Babe Ruth

Take your pick, no one deserves the "GOAT" title in baseball.  Among hitters, Ted Williams, Willy Mays, Hank Aaron, and even tainted Barry Bonds can lay claim.  Among pitchers, half a dozen, led by Walter Johnson, have a case and the arbiter must judge whether to consider the live vs. dead-ball eras.

Hockey: Wayne Gretzky

The slam dunk in any "GOAT" debate.  Gretzky holds all the records and outshined every competitor during his career.

Boxing: Muhammad Ali

The self-styled "Greatest," perhaps, but the title is apt.  In his prime, Ali was the best – during an incredibly stacked heavyweight era.  No one moved like him, hit like him and no one has since.  Still, Sugar Ray Robinson, Joe Louis, and boxing's vast differences across various weight classes make this a very hard debate to call.

Football: Joe Montana

If you buy that the quarterback is the most important player on the football field, was there ever anyone better?  Yet, Montana is hardly a slam dunk.  Nearly ten NFL players, including Tom Brady and Lawrence Taylor, could at least make a claim.

So, who is on your list?
What do you think?

We'd love to hear your comments and/or opinions. If you submit them here, other visitors can read them, rate them and comment on them. An e-mail address is not required.