Houston Rockets Surprising Playoff Contender After Eleventh Hour Trade
By Lorenzo Tanos
As I was preparing to wrap up my NBA season preview for 2012-13, I had the Houston Rockets picked dead last in the Southwest division. Despite the addition of Jeremy Lin and Omer Asik, there were still question marks aplenty. Could Kevin Martin recover from his horrible 2011-12 campaign? Would Kevin McHale be able to improve in terms of personnel decisions and knowledge of X's and O's while retaining his tough, no-nonsense approach? Was it worth it to spend on Asik?
The answers to these questions are currently as follows – N/A, TBD and Yes.
I'd say "not applicable" for Martin because as we all know, he and first-round pick Jeremy Lamb were shockingly traded to the Oklahoma City Thunder at the last minute, with the Rockets getting James Harden, Daequan Cook and Cole Aldrich in return. That was the trade that convinced me to move the Rockets up to 4th in the Southwest in my final preview. Martin is now filling in the sixth man role Harden played as the Thunder's top reserve, and he's doing well enough, but being that he's no longer a Rocket, that justifies the N/A. But look at what the Rockets got in return. Harden's play as the Rockets' starting SG has been the stuff All-Star appearances and Most Improved Player awards are made of. With averages of 25.2 ppg, 4.2 rpg and 4.9 apg on a decent, though not great 44% shooting, Harden is the Rockets' go-to guy, and has given fans good reason to expect better things to come from the young backcourt man.
I'm still waiting to see whether McHale can improve as an NBA head coach, but it's safe to say he's doing great maintaining team chemistry, something a recently-fired Los Angeles coach wasn't able to achieve in his short tenure with a new-look, superstar-studded lineup.
Asik has been another pleasant surprise. A designated bruiser for the Bulls who averaged just 3.1 ppg and 5.3 rpg in 14.7 mpg last season behind Joakim Noah, Asik has been harvesting double-doubles for the Rockets, though his 44% shooting (almost the same as Harden's) is subpar for a 7-footer. He needs to work on his shooting touch, no question there. (Case in point – 0 pts, 19 reb, 0/7 FG in the Rockets' November 2 win versus Atlanta.) But with 10.2 ppg and 11.9 rpg, he would've been a great Most Improved Player candidate…if not for the scintillating performance of his Rockets teammate Harden. As a result, the Rockets don't need to rely much on promising, yet inexperienced youngsters like Aldrich and DonatasMotiejunas in the middle. And they aren't even missing the controversial Royce White on the floor; first-round F/C White and his well-documented fear of flying, however, is something for another story.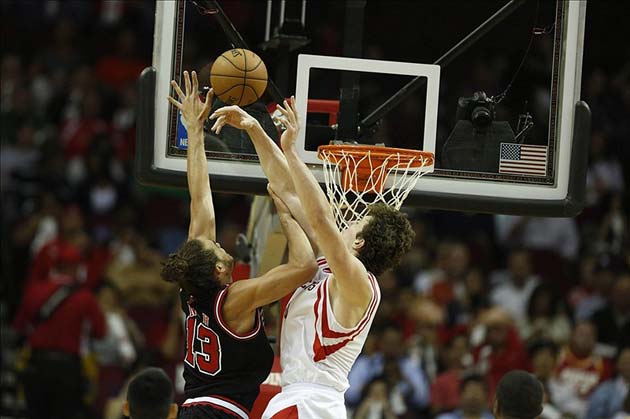 ---
And there are other reasons why one shouldn't take the Rockets too lightly. Lin's still struggling to shoot straight in the early goings (34% FG), but he's still very solid and he's cut down on those turnovers. Chandler Parsons just exploded for 31 points as former Knicks PG Lin had the last laugh on his former teammates with a 131-103 win. Now there's another special player on the Rockets – Parsons, a second-rounder, is one of the NBA's most versatile small forwards with his outside shooting, rebounding, passing and defense.
All told, we shouldn't be surprised if the Rockets make a surprise Playoffs appearance in 2013. The nucleus of Harden, Lin, Parsons, Asik and maybe Patrick Patterson or one of the rookie forwards (most probably Terrence Jones) make a very nice foundation for the Rockets as they continue to improve and go beyond expectations.
---
What do you think?

We'd love to hear your comments and/or opinions. If you submit them here, other visitors can read them, rate them and comment on them. An e-mail address is not required.
---
From Houston Rockets Surprising Playoff Contender After Eleventh Hour Trade to NBA Basketball Blog | Sports Blog | NFL Football Blog | NCAA Football Blog | NFL Football Archives | College Football Archives | MLB Baseball Blog | College Baseball Blog | MLB Baseball Archives | NCAA Basketball Blog | NBA Basketball Archives | NCAA Basketball Archives | Fantasy Football | Fantasy Basketball | Fantasy Baseball | Soccer Archives | Olympics Archives | Stupid Athletes Archives | Other Archives | Football Forum | Basketball Forum | Baseball Forum | NFL Football Store | NBA Basketball Store | MLB Baseball Store | NCAA Football Store | NCAA Basketball Store | NCAA Baseball Store | Fatheads | NFL Football Tickets | NBA Basketball Tickets | MLB Baseball Tickets | NCAA Football Tickets | NCAA Basketball Tickets | NCAA Baseball Tickets |
---
Home Page
About Us | Contact Us | Site Search | Advertise | Terms of Use |
---