Hockey's You Can Play Project
The You Can Play Project, an initiative designed to make gay athletes more welcome in hockey locker rooms, is one of America's most unexpected and interesting stories in sports today.
It's even more unexpected that the Project got a new, big-time supporter recently in the University of Connecticut hockey team. The team's support shows how far hockey, at the very least college hockey, has come in the last few years.
Brian Burke, the General Manager of the NHL's Toronto Maple Leafs and a former star hockey player, started the Project in honor of his son, Brendan, who was gay and died tragically in a car accident in 2010.
Burke's son, Brendan, generated international headlines by coming out and openly discussing both his homosexuality and prejudice in hockey back in 2009. The younger Burke helped managed the very successful Miami University of Ohio hockey team and that, combined with his father's stature, made his decision to come out and to discuss it a major event for the sport.
Since his son came out, and especially since his untimely death, Burke has become the most outspoken and involved gay rights activist in hockey, a sport that is still filled with rampant homophobia. However hockey, like much of the country and the sports world, seems to be slowly changing in the direction of more progressive tolerance.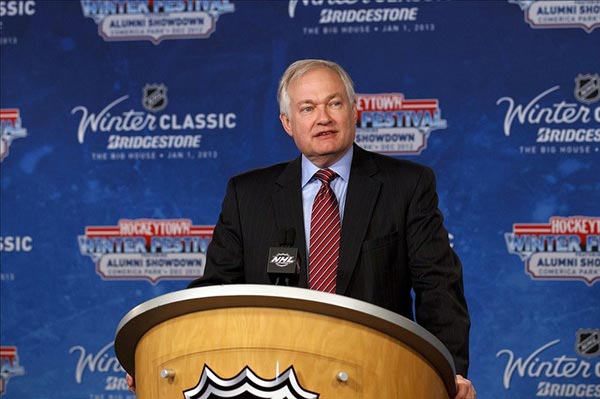 Feb. 9, 2012; Detroit, MI, USA: Toronto Maple Leafs general manager Brian Burke talks about being part of the NHL 2013 Winter Classic against the Detroit Red Wings during press conference at Comerica Park. Photo Courtesy By: Rick Osentoski-US PRESSWIRE.
---
Indeed, the very existence and success of the You Can Play Project is a testament to that seemingly glacial yet nonetheless present attitude change. Ten years ago, there is little chance that such a movement could have survived in hockey or any other major American sport. Homophobia filled locker rooms and no one closely associated with the sport of hockey had ever come out.
But the younger Burke's decision changed that for the better and the results are bearing fruit. In March, New York Rangers and Boston Bruins fans were treated to a Public Services Announcement featuring professional players advocating that the most important dictators of an athletes' career should be skills and ability – not sexuality. More public service announcements from players are sure to come and, with them, more progress.
So, while hockey has not yet reached the Promised Land of tolerance, progress is there. For gay athletes, that says: it may not be paradise but "You Can Play."
---
What do you think?
We'd love to hear your comments and/or opinions. If you submit them here, other visitors can read them, rate them and comment on them. An e-mail address is not required.
---
From Hockey's You Can Play Project to Current Sports News | Sports Blog | NFL Football Blog | NCAA Football Blog | NFL Football Archives | College Football Archives | MLB Baseball Blog | College Baseball Blog | MLB Baseball Archives | NBA Basketball Blog | NCAA Basketball Blog | NBA Basketball Archives | NCAA Basketball Archives | Fantasy Football | Fantasy Basketball | Fantasy Baseball | Soccer Archives | Olympics Archives | Stupid Athletes Archives | Other Archives | Football Forum | Basketball Forum | Baseball Forum | NFL Football Store | NBA Basketball Store | MLB Baseball Store | NCAA Football Store | NCAA Basketball Store | NCAA Baseball Store | Fatheads | NFL Football Tickets | NBA Basketball Tickets | MLB Baseball Tickets | NCAA Football Tickets | NCAA Basketball Tickets | NCAA Baseball Tickets |
---
Home Page
About Us | Contact Us | Site Search | Advertise | Terms of Use |
---