History of US Olympic Boxing: Should Professionals Compete?
By Aaron Reynolds

At the 1992 Olympics in Spain, USA Basketball ditched its college stars after a disappointing third place finish in Seoul, replacing them with what later became known as the 'Dream Team' featuring Michael Jordan, Larry Bird, Magic Johnson and Karl Malone.
The transition from college players to professional superstars was a legendary move for basketball, and it could do the same for Olympic boxing. Imagine, for the first time Floyd Mayweather Jr. representing the United States as he defends his country, and an inevitable Gold/Silver match against Manny Pacquiao, U.S. versus The Philippines. It's so beautiful that it could happen; only that it will never work.

Here's why: The brutal combat of boxing makes it a far cry from passive action; however boxers and their handling of fights outside the ring are worthy of prima donna status. One boxer will not fight what is clear competition for the best match unless the situation and the price are exactly right. Imagine trying to tell today's superstars that they have no control over their next matchup, and will throw gloves in four to six different fights over the next week and a half, all for no payday.

The boxing tournament could be a type of fantasy setup, a dream for boxing fans, but a nightmare for its actual players. First, you would need to sort out the logistics beginning with the number of rounds and concluding with a fair and accurate scoring system. Do you stick with the fairly straightforward and standard Olympic scoring system or replace it with a system more friendly to the pros? How is judging handled? In short, the differences between pro-style and Olympic-style boxing are abundant.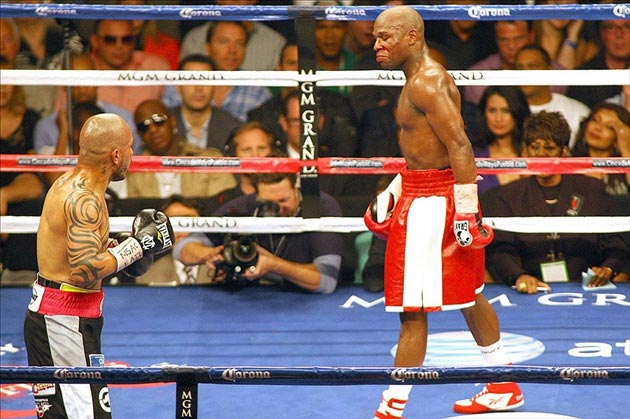 Secondly, if fans assume that professionals competing in a tightly regulated event like the Olympics would purify the sport they need not look further than the latest scandal involving The Games (http://www.nypost.com/p/blogs/london_2012_olymp...). Still, it could be a terrific tournament for viewers that would like to see the best boxers in the world, just like the best swimmers, gymnasts, runners, etc compete at The Games.

The International Amateur Boxing Association's (AIBA) recent announcement that they would like to become more like the professional ranks, and not the other way around does potentially open the door for future admittance of pro boxers at The Games. This time, Cassius Clay and Oscar de la Hoya would add to their trophy case at the Olympics after turning pro and not the other way around.

But that dream is still too far away, drifting in another galaxy.


What do you think?
We'd love to hear your comments and/or opinions. If you submit them here, other visitors can read them, rate them and comment on them. An e-mail address is not required.
From History of US Olympic Boxing: Should Professionals Compete to Boxing Blog