Headed to Extinction: The Decade+ Tenured Sports Coach
On Wednesday, the Buffalo Sabres, struggling through a 6-10-1 season, opted to fire head coach Lindy Ruff.  A coaching change – even a midseason one – isn't that rare, but Ruff was the longest tenured head coach in the NHL – and the second longest tenured coach in the Big 4 professional sports.  Ruff had taken over in July of 1997, and had immediate success – taking the Sabres to the Stanley Cup Finals in only his second season.  Recent years had not been so good, however – the Sabres missed the playoffs entirely last season, and were playing some very ugly hockey this season.  Back to back losses to Pittsburgh and Winnipeg proved to be the final straw, and the team decided it was finally time for a change after fifteen seasons.
Ruff joins Andy Reid on a list of coaches fired after more than a decade of service to their franchises.  It's rare nowadays that coaches get more than two or three years to prove themselves – much more common are the cases of Mike Mularkey, fired after one season as head coach of the Jaguars, Romeo Crennel, fired after just over one season as head coach of the Chiefs, and Pat Shurmur, fired after two seasons as head coach of the Browns.

They're an easy target to point at for change on a losing team, and one of the biggest splashes a team can do is bringing in a new coach, with all of the accompanying promises of fresh starts and new hope.  On the flipside, the longer coaches stick around, the harder they are to get rid of – it becomes a case of inertia, and it takes a great deal to get rid of someone, even when both the team and coach need a fresh start – both Andy Reid and the Eagles will likely have better futures now that they've each gotten a change of scenery.  It's a very rare situation for two such decade-plus tenured coaches to hit the road the same year.

With Ruff's firing, there are only six head coaches that were in place ten years ago still reigning over their franchises.  Some might be past their sell-by date, and others have ensured an exit on their own terms.  Here they are, with what they've done – and what it would take to get rid of them.

Bill Belichick, New England Patriots
How'd he get here: It's the year 2000, and the Patriots had just fired Pete Carroll, who had missed the playoffs the last season.  They turned to Belichick, who had a great pedigree as a defensive coordinator for Bill Parcells, but a more checkered past as a head coach – four mediocre-to-poor seasons as head coach of the Cleveland Browns, and then a bizarre 24-hour reign as head coach of the New York Jets, where the press conference introducing him to the media turned into him announcing his resignation.  Clearly, this was a man that you should not only give a head coaching job to, but give complete control over football operations.  This obviously was going to be a mistake.

Why he's still here: Three Super Bowl championships, two more Super Bowl appearances, and three Coach of the Year awards later, Belichick has established himself as one of the best coaches of all-time.  Winning early always helps, but the Patriots have been consistent, too, making the playoffs in all but three of his seasons.  Even Spygate couldn't tarnish his legacy.  A Hall of Fame berth isn't out of the question when he finally does decide to hang it up.

What it would take to get rid of him: The End of Days.  Belichick deciding to bench Tom Brady in favor of his pet cat.  A heart attack – and even then, I half-suspect the Patriots would try a Weekend-at-Bernie's style ploy to keep him in charge, if not just let his Force Ghost run the team.  It's unlikely he's going anywhere is what I'm saying.

Marvin Lewis, Cincinnati Bengals
How'd he get here: In 2002, the Bengals had their worst season ever – quite an achievement for a franchise like the Bengals.  The 2-14 disaster led to Dick LeBeau being canned, and a full on-coaching search to be initiated.  Ex-Jaguars head coach Tom Coughlin and Steelers offensive coordinator Mike Mularkey were both considered, but instead, Redskins defensive coordinator Lewis got the nod. Lewis was a red hot coaching candidate, with the Bills, Panthers, Buccaneers, and Browns all interested in his services, but it was the Bengals who won the derby.

Why he's still here: In 2005, Lewis led the Bengals to their first division crown – and winning season, for that matter – in 15 years.  Named Coach of the Year in 2009, Lewis has accumulated more wins than any other coach in Bengals history, and took the Bengals to back-to-back playoff berths the last two years for the first time since the '80s.  However, it's not exactly all gravy – Lewis was widely thought to be gone in 2011 before making the playoffs, and has been often criticized for his game management decisions.

What it would take to get rid of him: He's made the playoffs now, but still has yet to win a game there.  A third straight loss in 2013 – possibly even to the Texans yet again – might lead owner Mike Brown to decide that Lewis has taken the Bengals as far as he can, and it's time for Jay Gruden to take the young duo of Andy Dalton and AJ Green to the next level.

Mike Scioscia, Los Angeles Angels of Anaheim
How'd he get here: Angels manager Terry Collins resigned late in the 1999 season.  He had received a vote of confidence from ownership, but his players had petitioned to have him fired – not exactly an environment conductive for success. Scioscia was plucked from the Dodgers organization over interim manager Joe Maddon.

Why he's still here: Well, a World Series win in 2002 always helps.  Scioscia's also won AL Manager of the Year twice, and is the only manager in history to reach the playoffs in six of his first ten seasons.  He's won more division titles than all previous Angels managers combined, so that helps as well.  However, in recent years, grumblings have begun to sprout about his removal.  The Angels have missed the playoffs the last three seasons, despite a very deep – and very expensive – lineup.  Criticisms have been leveled at him for living in the past – he's been hesitant, at best, to join in the sabermetric revolution that is sweeping baseball front offices.  Still, he does have a long track record of success.

What it would take to get rid of him: The natives are restless already.  With the big contracts the Angels have handed out recently, failure won't be tolerated much longer.  There were rumors last season that Scioscia could be fired if the team didn't make the playoffs.  While those weren't true, another season watching October baseball at home could be the last for Scioscia.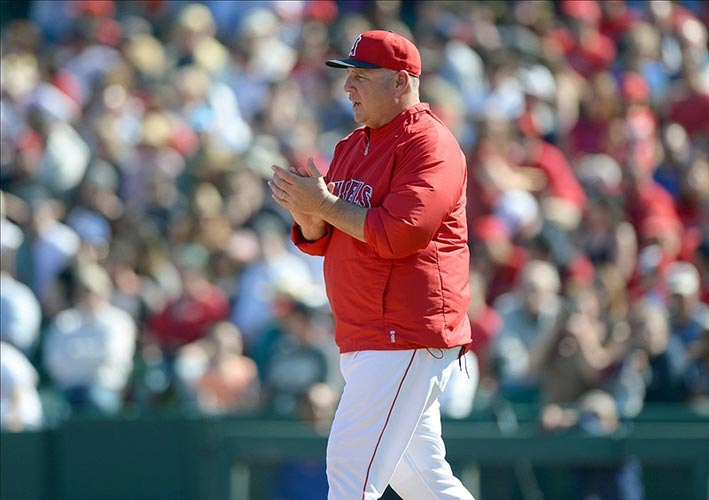 Feb 23, 2013; Tempe, AZ, USA; Los Angeles Angels manager Mike Scioscia (14) approaches the mound to change the pitcher during the third inning against the Chicago Cubs at Tempe Diablo Stadium. Photo Courtesy By Jake Roth-USA TODAY Sports.
Ron Gardenhire, Minnesota Twins
How'd he get here: Unlike the other coaches on this list, Gardenhire wasn't a "turn this team around" candidate – his predecessor, Tom Kelly, had resigned in 2001, citing burnout.  Gardenhire, a long-time coach for the Twins, was his natural successor to continue the rebuilding process the team had been undergoing since 1998.

Why he's still here: When Gardenhire took over, the Twins were talked about as a possible contraction candidate.  Since then, they've had a losing record only three times and won the division six times.  Gardenhire has been named AL Manager of the Year and, compared to the period before Gardenhire took charge, the Twins have been much improved.  In addition, the Twins have only had two managers since 1987; they're slow to make changes.

What it would take to get rid of him: Two 5th place finishes in a row have not helped Gardenhire's cause.  The Twins opted to not extend his contract this offseason, so he's in the last year of his deal – that means the Twins must produce this season if Gardenhire wants to stick around.  With their loyalty to managers, I'm not sure a playoff berth is necessary, but if they have another 90+ loss season, I would expect change to come to the Twin Cities.

Gregg Popovich, San Antonio Spurs
How'd he get here: It helps to be the GM.  In 1996, the Spurs were struggling – with David Robinson out with a back injury, Bob Hill had led the team to a 3-15 start.  Popovich, general manager and VP of Basketball operations, fired Hill and named himself head coach.

Why he's still here: Again, helps to be the GM.  The team crashed and burned, but Popovich stayed on – and picked Tim Duncan in the NBA draft.  Since then, Popovich has lead the team two four Finals victories and playoff apperances each and every year – a great resume, GM or no GM – and, to be fair, he did give up his role as General Manager in 2002.  He's the fourth-fastest coach in NBA history to get to 500 wins and a two time coach of the year, to boot.

What it would take to get rid of him: Like Belichick, Popovich has essentially earned the right to coach until he no longer wants to.  He's been mentioned in conversation with the greatest coaches ever, and will likely have a spot in the Hall of Fame when he hangs it up.  For all my joking about him naming himself coach, there's a reason he's the longest tenured coach in the Big Four sports.

Barry Trotz, Nashville Predators
How'd he get here: And so we work our way back to the beginning with hockey and Barry Trotz.  Trotz was named head coach of the Predators in 1997, before their inaugural season.  His prior experience saw him win an AHL championship and coach of the year awards, and was deemed the right man to bring a new franchise into the ever-expanding NHL.

Why he's still here: Trotz led the Predators to the third-best expansion season ever, and slowly helped build the team into a competitive one.  They've made the playoffs in seven of the last eight completed NHL seasons, though it took until 2010-11 for them to reach the conference semi-finals.  He's had great success with very limited resources.

What it'd take to get rid of him: Some fans have begun to get tired of Trotz – as the only coach in Predators history, some are saying it's time for a new voice – like Marvin Lewis in Cincinnati, the success has been great compared to the history of similar franchises, but perhaps someone new is needed to take them over the top.  However, I think the Preds would have to take a notable step backwards – missing the playoffs, most likely – for Trotz to have a chance at hitting the road.
What do you think?

We'd love to hear your comments and/or opinions. If you submit them here, other visitors can read them, rate them and comment on them. An e-mail address is not required.