Harrison Barnes Returns to North Carolina; Tar Heel Faithful Dream Big
By Dennis Berry

With an announcement early Monday morning, North Carolina Tar Heels fans' dreams of a 2012 National Championship got closer. That news being that the ACC Freshmen of the Year Harrison Barnes would return for his sophomore season. It ended weeks of speculation on Barnes' future and makes the Tar Heels the early, very early, favorite going into the 2011-2012 college basketball season.
North Carolina already knew that big men Tyler Zeller and John Henson would be returning, but it was Barnes' announcement that fans had been waiting on. All five starters from last season's Elite Eight team will return to Chapel Hill . Given that news, plus the incoming class of freshmen, and it is easy to see what North Carolina fans may be booking their rooms in New Orleans.

The return of Barnes gives the Tar Heels a proven scoring threat on the wing. He was tied for the team lead in scoring with Zeller at 15.7 points a game. That was after a slow start for the first freshmen to be named on the preseason All-American list. Barnes struggled to perform at the level that was expected of him. He did not look confident and averaged only 11.9 points a game. Against Minnesota, he shot 0-12 from the field and only scored six points.

It was the ACC portion of the schedule that Barnes began to breakout. He averaged 15.9 points in ACC play and then averaged 24.6 in 3 ACC Tournament games, including a 40 point game against Clemson, leading the Tar Heels to the ACC Title game. He shot 55% from the field and 50% from the three point line.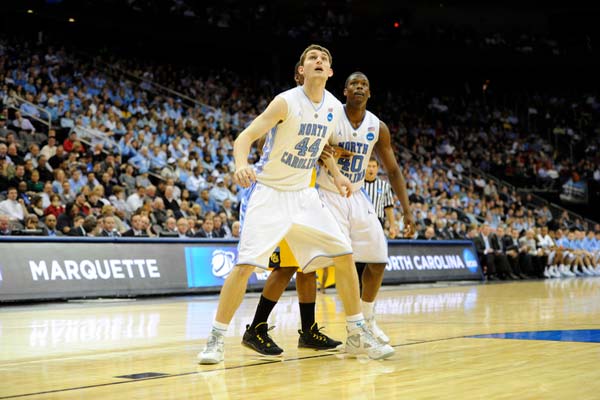 In the NCAA Tournament, he averaged 21 points in four NCAA games, but struggled in the Elite Eight loss to Kentucky. He scored 18 points, but shot 7 of 19 from the field, including 2 of 9 from behind the arc. It was not just Barnes that struggled shooting the ball in that game, but Barnes was expected to do more.

After that game, the speculation started on his future. Would he stay at UNC or enter the NBA draft? He was projected by many to be a top three overall pick and some had him at the overall number one pick. Even though there will be a draft, after that is unknown as it appears there will be a NBA lockout after the draft that will affect the season.

Who knows how much a potential lockout weighed on Barnes, but one thing that we do know is his goal for the 2011-2012 season.

"My offseason plans are to diligently work on honing my basketball skills in all areas with one team-goal in mind", said Barnes in his statement, "to bring the 2012 national championship home to UNC."

Right now North Carolina looks every bit the part. As we know the starting five from the team that made it to the Elite Eight returns with Barnes, Zeller, Henson, Dexter Strickland, and Kendall Marshall. They will also return with Leslie McDonald and Reggie Bullock. That gives the Tar Heels 6 of their 7 leading scorers back next season and all averaged 14 minutes or more a game last season.

To go along with that group, you add what many consider to be a top five recruiting class coming in next season. They will bring in two five star players in small forward in P.J. Hairston and power forward James McAdoo. That adds more talent to an already loaded roster. The Tar Heels will be able to play 8-9 guys a game next season and foul trouble should not be a problem for them.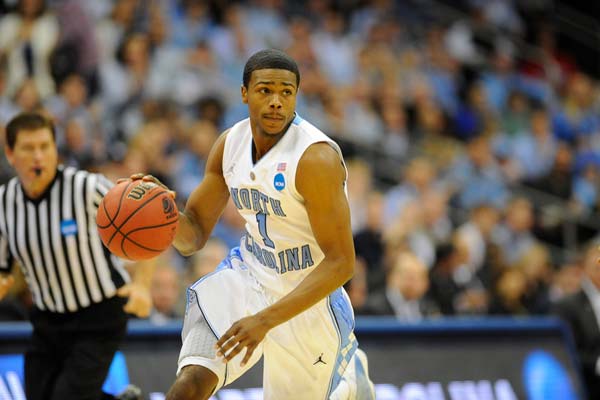 The only question mark this team will have is shooting. This team did shoot 45% from the field, but that was mainly Zeller and Henson close to the basket. If you look at their three point shooting, they only shot 33% from the field. It was outside shooting that really hurt this team in their Elite Eight loss. It does not appear that the Tar Heels added a shooter to the roster. Of course players can improve their shooting over the summer and that is something the Tar Heel wing players should practice every day.

There is still a long way to go before next season. There is still a week left for players to decide if they want to declare for the NBA Draft. The deadline for underclassmen to declare for the NBA Draft is April 24. They can withdraw by May 8 if they have not signed with an agent. Teams can still add commits from freshmen and junior college players.

But as of April 18, 2011 the North Carolina Tar Heels are the best team on paper to win the NCAA Championship.


What do you think?
We'd love to hear your comments and/or opinions. If you submit them here, other visitors can read them, rate them and comment on them. An e-mail address is not required.