Harbaugh vs. Harbaugh: Super Story Stays All in the Family

At its essence, the Super Bowl is a story.

The Super Bowl story encapsulates the entire football season and brings it to a tight close.  What better story is there than "Harbaugh vs. Harbaugh," the tale of two brothers who faced off in the Super Bowl?
Harbaugh vs. Harbaugh has all the elements of a great tale.  Two driven protagonists, men who will stop at nothing to see their teams reach the summit.  Numerous antagonists, all standing in the way, all pushed aside in dramatic fashion.  The story even has an angry supermodel.

The tale has charming characters, each with their own depth and motivations.  Joe Flacco, the oft-maligned young quarterback with the cannon arm and the chip on his shoulder.  Colin Kaepernick, the young star rising to dominate the league for years to come.  Ray Lewis, the old lion, throwing everything he has into one last shot at eternal glory.

The story has breadth too, spanning two cities that represent the complete opposite sides of Americana.  Baltimore, grizzled and tough, a veteran city, recovering slowly from decades of decline.  San Francisco, rich and flashy, secure in its own preeminence, watching its once proud football franchise return to its former glory.

But the story's real stars are the two brothers, who started in the same place, took different paths, and arrived at the same destination.  John, the elder brother, who has suffered five seasons of playoff heartbreak en route to this first Super Bowl appearance.  Jim, the intense younger sibling, who built great programs at Stanford and now San Francisco.  Now, he's one of the last men standing.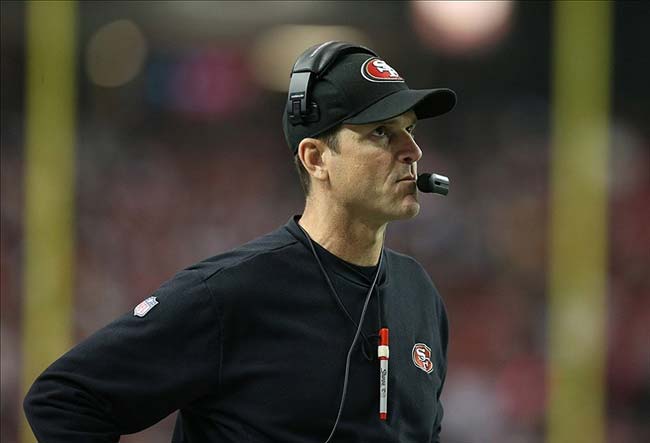 Jan 20, 2013; Atlanta, GA, USA; San Francisco 49ers head coach Jim Harbaugh on the sidelines during the game against the Atlanta Falcons in the NFC Championship game at the Georgia Dome. The 49ers won 28-24. Photo Courtesy By Matthew Emmons-USA TODAY Sports.
Which brother will win?  I can't claim to know.  I'll leave the prognostications, the game plan breakdowns, and the tweets to others.  Instead, I will sit back and watch this Super Story.

I just have one question.

Who is their mother rooting for?
What do you think?
We'd love to hear your comments and/or opinions. If you submit them here, other visitors can read them, rate them and comment on them. An e-mail address is not required.