Got More Weight Than That on His Shoulders Now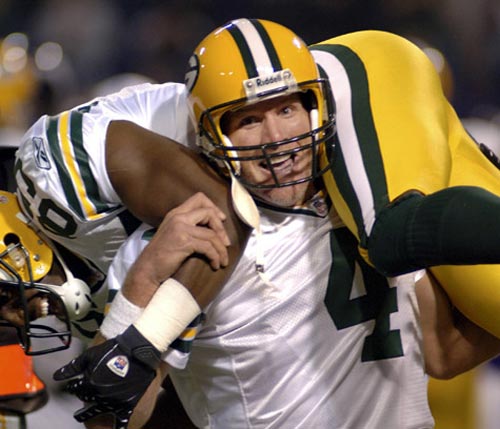 Brett Favre
---
Brett Favre wearing anything but a big G on his helmet? Not play in below zero temperatures? Yes, it's going to be strange for fans and players of the NFL to see that. It's official. Brett Favre is going from the small town to the big city. I'll be honest and say I did not follow what was transpiring detail by detail. I was just thinking about how crazy the whole situation was. But once it was clear, he was allowed to come back to the NFL, next was wondering what city?
Green Bay stood firm and told him thanks but no thanks. They've gotta be pissed he wanted to retire but then changed his mind. Cause they had to move on. Like a bad breakup. But when the ex wants to get back, it's hard cause they've already found a new love. They have a capable (really?) quarterback in Aaron Rodgers. There was pressure stepping in after 253 consecutive starts by Favre, and replace a legend. But now, the pressure is a hundred times because if he has a shitty start to the season, Packers fans will all wish they have Favre back. The GM will be hated. So will the coach.
The contract is for a fourth round pick but it can go all the way up to a first round pick if the Jets make it to the Super Bowl and Favre is still the man. I'm sure the Jets won't be too upset with that deal. However my favorite part of the contract is how desperate Green Bay wanted to make sure he doesn't go to Minnesota. Green Bay inserted a "poison pill" in the contract. (I have no idea who came up with such silly terminology). If Favre were to be traded to Minnesota, New York would have to surrender three first-round picks to Green Bay. That's hilarious.
---
What do you think?
We'd love to hear your comments and/or opinions. If you submit them here, other visitors can read them, rate them and comment on them. An e-mail address is not required.
---
From Got More Weight Than That on His Shoulders Now to NFL Archives | Sports Blog | College Football Archives | MLB Archives | NBA Archives | NCAA Basketball Archives | Soccer Archives | Olympics Archives | Stupid Athletes Archives | Other Archives |
---
Home Page
About Us | Contact Us | Site Search | Advertise | Terms of Use |
---