Gay Rights in Sports
Support for Gay Rights in the Sports World is Coming…Slowly
Paul Grossinger
To comment, argue, agree, rant, or rave, message @pgrossinger (or click name above) on Twitter!
Former NBA star Tim Hardaway prepared to address the waiting Texan crowd. Originally in El Paso for a golf outing, Hardaway made a detour to oppose an anti-gay campaign in the city. Addressing the throng, the basketball icon cleared his throat and said, "it's not right not to let the gays and lesbians have equal rights here…I know the city will grow and understand that gays and lesbians need equal rights."
Hardaway's statement comes at an opportune time to re-examine the issue of gay rights in the American sports world. Just four years ago, the very same Hardaway responded to questions about his views on gay rights by saying, "I hate gay people." Even his apology the next day was hardly a change of heart; he said instead that he should have limited himself to vocalizing opposition to gays in sports locker rooms. But, in those four short years, much has changed and Hardaway is only one jarring example of the rapidly changing landscape surrounding question of gay rights in the sports world.
In 2006, when former NBA player John Amaechi chose to come out of the closet, his decision met with mixed views. Although some fellow players expressed support, others were less enthusiastic. Tim Hardaway may have taken the brunt of the criticism as the player most vehemently opposed to gay rights but he was hardly alone. Many, many basketball players were clearly uncomfortable with both openly gay players in their locker rooms and the idea that many of their costars might be closeted. It made for an uncomfortable, touchy situation and commentators the world over lamented that sports lagged noticeably behind the lay world in terms of its standards of tolerance and acceptance.
Fast forward to 2011 and some of that remains. A time traveler arriving today from 2006 would not see dozens of openly gay players take the court. They would not hear that hundreds of former players had come out of the closet. And, they would not see the issue brought up often in sports discourse.
However, the perception of gays in sports has changed significantly in less overt ways since 2006. Tim Hardaway's change of heart is particularly poignant but his statements have been joined by countless others in the last few years. Brian Burke, the General Manager of the Toronto Maple Leafs, decided to become a gay rights advocate after losing his openly gay son in a tragic car accident. Burke, who admitted to using the 'locker room lingo' slurs towards gays as a player, expressed regret about that and a desire to change the perception of homosexuality in sports culture. Charles Barkley, the iconic TNT commentator and NBA Hall of Fame player, stated that he knew of gay players who took the court with him and could not have cared less. Players from several different sports, including hockey's Sean Avery and the Phoenix Sun's Steve Nash and Grant Hill took part in basketball's first high profile anti-bullying campaign.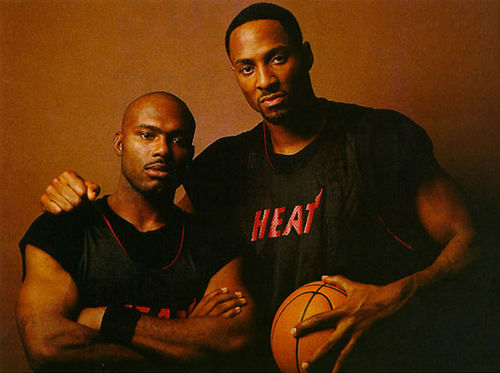 Thanks to Vedia from Flickr.com for this great picture of Tim Hardaway.
---
These steps may not be as overt, all encompassing, or progressive as many would like but progress is progress. Forty years ago, homosexuality did not exist in sports. That is not to say that it was not present but the notion that gay culture in sports could be a serious topic of discussion did not exist. Twenty years ago, sports personalities acknowledged the existence of homosexuality within the game but progress was slow. To a degree, lesbianism was accepted due to the work of Maria Navratilova and Billie Jean King.
But there was a palpable fear of 'coming out' for gay male athletes. One of the few to do so, Justin Fashanu, committed suicide in 1998 after he was arrested and charged with sexually assaulting a seventeen year old boy. Fashanu's guilt was never proven but the stigma surrounding his explicit outing and the accusation surrounding it pushed him to take his own life. Even in 2006, when John Amaechi came out, he was already retired and there were no active NBA players who followed his lead. Even today, no active NFL football, NBA basketball, or MLB baseball players have come out and declared themselves to be openly gay.
Buy This Allposters.com
Yet, social change is always a glacial process. To expect America's slow changing sports culture to embrace gays enthusiastically within just a few years was perhaps too much to ask. However, the efforts of Burke, Barkley, Nash, Hill, and other straight figures to advance gay rights have led to a gradual acceptance of homosexuality in sports. To add Tim Hardaway, once an adamant opponent, to the list of accepting supporters suggests that the sports world's long frosty attitude to homosexuality may now be changing from mere acceptance to passive support. Like with a glacier, that attitude may take a long time to fully morph. But, it is now clear that, at the very least, the movement on the issue has veered in an accepting direction and, as Hardaway himself said about El Paso, 'we will grow and understand.'
What do you think?
We'd love to hear your comments and/or opinions. If you submit them here, other visitors can read them, rate them and comment on them. An e-mail address is not required.
---
---
From Gay Rights in Sports to Current Sports News | Best Sports Blog | Sports Blog | NFL Football Blog | NCAA Football Blog | NFL Football Archives | College Football Archives | MLB Baseball Blog | College Baseball Blog | MLB Baseball Archives | NBA Basketball Blog | NCAA Basketball Blog | NBA Basketball Archives | NCAA Basketball Archives | Fantasy Football | Fantasy Basketball | Fantasy Baseball | Soccer Archives | Olympics Archives | Stupid Athletes Archives | Other Archives | Football Forum | Basketball Forum | Baseball Forum | NFL Football Store | NBA Basketball Store | MLB Baseball Store | NCAA Football Store | NCAA Basketball Store | NCAA Baseball Store | Fatheads | NFL Football Tickets | NBA Basketball Tickets | MLB Baseball Tickets | NCAA Football Tickets | NCAA Basketball Tickets | NCAA Baseball Tickets |
---
Home Page
About Us | Contact Us | Site Search | Advertise | Terms of Use |
---