Frank Martin is on the Attack at South Carolina
By Dennis Berry

Frank Martin is settling into his new job. Part of that job is rebuilding the South Carolina basketball program that has been on the decline the past few seasons. Wednesday morning, Martin got the attention of college basketball writers and fans.

That was when Martin took a little jab at Calipari on Twitter.

The day before Calipari sent out a tweet that apologized to recruits for not being able to keep in touch this week.
@UKCoachCalipari: I want to apologize to all the recruits this week. I'm spending the majority of my time answering questions from NBA teams about my six guys.
Calipari probably has been getting a lot of phone calls from NBA people about the six Wildcats in the draft. He probably has not let this keep him from speaking to current recruits and this is just another way of selling UK to players.

Martin responded with a great comeback to the Kentucky coach.
@FrankMartin_SC: @UKCoachCalipari I love u & u r the best but while u talk 2 the NBA I will talk 2 the future NBA players.
It was just a friendly reminder from the new South Carolina coach. While Calipari is on the phone talking with those in the NBA, Martin is selling South Carolina. If he wants to make South Carolina relevant in the SEC, he has to do this.

After winning 21 games during the 2008-09 season, the Gamecocks have won 15, then 14, then only 10 last season. That is when Martin was hired to replace Darrin Horn.

The challenge of turning around South Carolina is a tough one. The Gamecocks went 2-14 last season in the Southeastern Conference. Many of the best players from that team will not be returning in 2012-13.
The leading scorer from last year Malik Cooke – 12.3 points per game – graduated. Then third leading scorer Anthony Gill – 7.6 ppg – and fourth leading scorer Damontre Harris – 6.8 ppg – have left the program. Junior-to-be Bruce Ellington – 11 ppg – may focus solely on football in the future.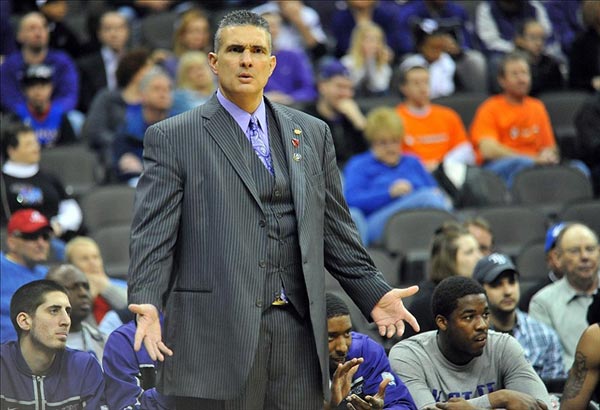 That would mean that sophomore-to-be Damien Leonard and his 6.8 ppg is the only returning scorer from last year. That is not a lot to work with. In the short time Martin had to work with, he was able to bring a solid 2012 class. The highlight of the group is 6'5" wingman Thaddeus Hall from Brooklyn, NY, who should make an immediate impact.

Then there is the challenge he faces from other coaches. Mike Anderson is turning around Arkansas. Anthony Grant has won 20 games in consecutive seasons at Alabama. Kevin Stallings guided Vanderbilt to the SEC Tournament title last year. Billy Donovan has won two national titles. Calipari won his first national title this past season.

Nobody expects much from the Gamecocks on the hardwood next season. Most of the attention will be on the new head coach to start, just like it is right now. He has to find a way to get people talking about South Carolina basketball.

If Martin can do that, it is the first step in turning the program around.

What do you think?
We'd love to hear your comments and/or opinions. If you submit them here, other visitors can read them, rate them and comment on them. An e-mail address is not required.