Florida High School Football Lineman Prospect
High School Football Report:  Central Florida's McCammon Shows Plenty of Promise
These days, finding an artisan whose product lives up his asking price is a daunting task. The value of a perfected craft is not something to be pardoned arrogantly while the false-goods that undertake it lessen it's worth.
Brevard County, a 72-mile strip of land descending Florida's east coast, has perfected its craft - prepping young football players for collegiate success. The BCYFCA (Brevard County Youth Football and Cheerleading Association) has molded a promising generation of athletes including FSU's sophomore standout, Willie Haulstead, and the headman in Miami's rotating core of freakish linebackers, Ramon "Cookie" BuChanan. The upcoming class of 2012 will look to pay homage to the unsung hero, the left tackle, and Eau Gallie High School's Bobby McCammon will likely be looked back on as the Big Red buried treasure discovered deep within the class of 2012.

McCammon is a veteran in the truest sense of the word that a 17-year old kid could be graced with. Battling weight limitations and eventual-scholarship athletes since the tender age of 10, McCammon is yet to hit a wall that he couldn't pancake. Run blocking was vital in the local youth league. The basics were instilled early and the elementary designs of the sweep, power, and trap have usually been perfected by the time these kids reach middle school. McCammon, however, was never one to struggle with new concepts. After being plugged immediately into an advanced offensive system as a high school freshman, he not only had a firm grasp on the playbook and newly incorporated zone-blocking scheme, but also was well-schooled enough to correct the fundamental errors of the upperclassmen.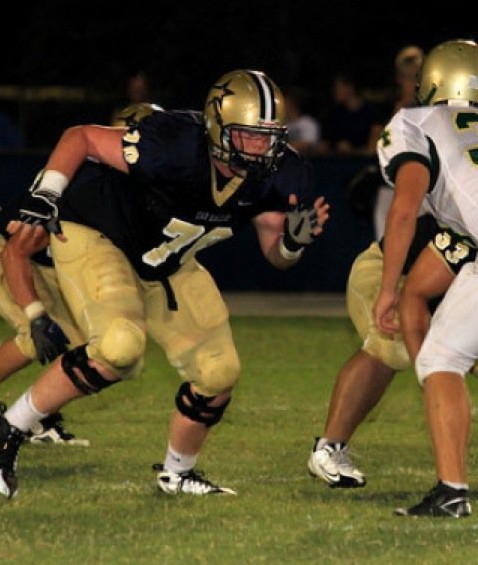 From footwork to ferocity, McCammon's strengths are ever-growing. While showing a calm and collected discipline against top recruits like Ft. Pierce-Westwood's Wonderful Monds Jr. and Melbourne's Jamal Stadom, Bobby managed to step up to the plate and conduct the competition accordingly. In high school, a switch in offensive coordinators allowed Bobby to reap the benefits of both a spread and a power-I system, diversifying his technique to a level that most 17-year olds can't even begin to comprehend. His long arms and astounding burst make him a deadly weapon at the line of scrimmage, capable of leaving even the most elite competition with their backs flat in the dirt.

Today, at 6'5" and 282lbs, the Red Scare (as he's known by his peers) is sweating his ass off in the scorching Florida heat while preparing to do battle with his bitter rivals across the Indian River at Satellite High. The Scorpions got the better of Eau Gallie in their last meeting, upending the Commodores 57-26"¦but despite nearly 8 months of football between then and now, the loss still weights heavily on the mind of the Senior captain and his fiery spirit is determined not to allow a repeat performance.

With one more year of eligibility yet to be played out, McCammon's horizons are left with room to broaden. Right now he's receiving heavy interest from Middle Tennessee, Florida International, Florida Atlantic, and South Florida amongst others. He may not be the guy all over your TV screen from 2012-2015, but don't let this name slip your mind when we begin to talk about the best linemen in college football four years from now.


What do you think?
We'd love to hear your comments and/or opinions. If you submit them here, other visitors can read them, rate them and comment on them. An e-mail address is not required.