Five Great Sports to Watch During an Extended Lockout
We have reached an unprecedented moment in American sports history. For the first time ever, two of the four major American sports leagues are locked out simultaneously. Yesterday, the National Basketball Association (NBA) locked out its players. Now, both the NBA and the National Football League (NFL) are shut down. Moreover, because the negotiating parties remain far apart in both leagues, American sports fans could be without both basketball and football once games are supposed to start in the fall. In this sports nuclear winter scenario, where should sports fans turn? Thankfully, there are still several compelling options to choose from:
College Football
College Football is already the favorite sport of many Americans but it is sure to gain renewed popularity this fall. American fans are already drawn to the meritocratic nature of the sport and enjoy watching players compete for their school and collegiate glory instead of their own checking account. An extended lockout of professional football will only reinforce those feelings. Not to mention, college football is an incredibly fun and engaging fun so it will be great to see new fans get engaged in the sport this year.
Major League Baseball
The nation's second most popular league is still going strong. Americans have been turning away from baseball in favor of professional football for many years now but that trend may change. Baseball remains an engaging game and it is experiencing the advent of a new generation of talented and charismatic young players: Tim Lincecum, Hanley Ramirez, Felix Hernandez, and Starlin Castro are all exciting players who will only continue to get better. American sports fans should look forward to watching several of these stars contend for the World Series this fall.
Men's Hockey (NHL)
The NHL already went through its backbreaking labor dispute a half decade ago and, after several years of rebuilding fan interest, is now a growing and increasingly compelling league. Many of hockey's biggest and most historic franchises, including the Chicago Blackhawks, Boston Bruins, and Detroit Red Wings, are very competitive and have the support of energized fan-bases. The sport will not begin until mid-fall but, once it does start, American fans who have long ignored hockey may be pleasantly surprised if they check it out.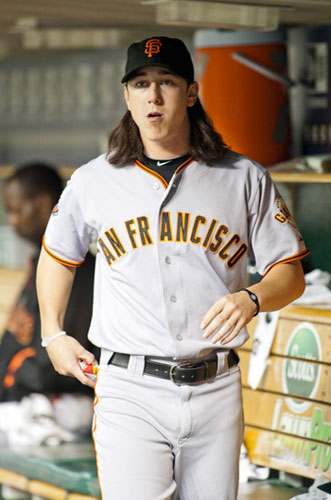 San Francisco Giants' pitchers Tim Lincecum walks the dugout during the San Francisco Giants at Detroit Tigers Major League Baseball game at Comerica Park, in Detroit, Michigan.
---
Men's Tennis
Men's tennis has experienced a resurgence in talent and interest in 2011. Rafael Nadal remains a dominant, engaging, and charismatic champion. Roger Federer is still graceful despite his advancing age and, just this past year, Novak Djokovic has finally begun to assert himself and break the Nadal-Federer stranglehold on the sport. Tennis is also experiencing the emergence of several young and charismatic future champions: eighteen year old Australian Bernard Tomic just reached the quarterfinals at Wimbledon, Canadian teenager Milos Raonic is showing fans why he will be a future top five player, and future star American Ryan Harrison has begun to play on the ATP Tour full time. American fans looking to be engaged should consider watching the US Open in late August and then tune in for the Tour Finals in November.
Federal Politics
Forgive the quip but, in all honesty, politics may be the most engaging dogfight available for viewing this fall. This year's edition features two ideological rivals with energized fan-bases and the outcome of their battle for supremacy could decide the future of the nation. Americans have long become disengaged from politics because of their partisanship and increasing ideological rigidity but perhaps the loss of football and/or basketball will encourage people to get involved in the direction of their country. After all, what is more important than that?
---
What do you think?
We'd love to hear your comments and/or opinions. If you submit them here, other visitors can read them, rate them and comment on them. An e-mail address is not required.
---
From Five Great Sports to Watch During an Extended Lockout to Current Sports News | Sports Blog | NFL Football Blog | NCAA Football Blog | NFL Football Archives | College Football Archives | MLB Baseball Blog | College Baseball Blog | MLB Baseball Archives | NBA Basketball Blog | NCAA Basketball Blog | NBA Basketball Archives | NCAA Basketball Archives | Fantasy Football | Fantasy Basketball | Fantasy Baseball | Soccer Archives | Olympics Archives | Stupid Athletes Archives | Other Archives | Football Forum | Basketball Forum | Baseball Forum | NFL Football Store | NBA Basketball Store | MLB Baseball Store | NCAA Football Store | NCAA Basketball Store | NCAA Baseball Store | Fatheads | NFL Football Tickets | NBA Basketball Tickets | MLB Baseball Tickets | NCAA Football Tickets | NCAA Basketball Tickets | NCAA Baseball Tickets |
---
Home Page
About Us | Contact Us | Site Search | Advertise | Terms of Use |
---