Finally We Are About To Rumble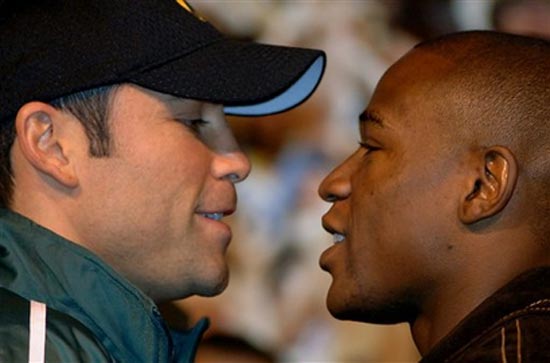 Boxing.
---
Boxing's biggest fight in a long time is tomorrow night and I'm almost considering paying an arm and a leg so I can see what unfolds live. Seeing the replay the next week just might not be satisfying enough. Charles Barkley said tonight on TNT he is pissed that Houston and Utah are going to a Game 7 cause he wants to be able to sit in the front row of this fight. He was seriously bummed out. That's just classic.
The best idea to promote this fight was to air the four part behind the scene on HBO that looked into both fighter's lives. I found myself riveted by how these guys live and train for the biggest fight in their career. In one corner you have the flashy and definitely not shy Floyd Mayweather. That guy is a training machine and seems to never get tired. I loved how he brings in this scared looking sparring partner and because we could not see the actual sparring session, the next thing we see is a bloody Mayweather shirt from the ass whooping he put on the poor soul. But my favorite Mayweather moment has to be when he pulls out all those $100 bills he just randomly carries in his pocket. The guy is a walking bank vault with all that cash he carries. He is young, rich, and handsome and he's not afraid to tell you all those things more than once. People in this corner are very in your face.
De La Hoya is all business. This is the best business move ever for him. He stands to make $40 million from this fight after the pay-per-view gross is divided! He might get his ass beat but this fight will show that his company, Golden Boy Promotions, can promote a huge fight. He's looking to the future. That payday will set him even more than he is now.
I find myself rooting for Oscar. He's the underdog. I like his trainer Freddy Roach, who looks nothing like a boxing trainer but is a soft spoken man who really knows his boxing. People are all likeable in this corner.
If De La Hoya wins, I see a rematch that could be even bigger. If Mayweather wins, a rematch would not have the same luster because an aging De La Hoya would seem unlikely to come back and even up the series.
I'm rooting for the underdog Oscar. I sense a Mayweather victory though.
---
What do you think?

We'd love to hear your comments and/or opinions. If you submit them here, other visitors can read them, rate them and comment on them. An e-mail address is not required.
---
---
From Finally We Are About To Rumble to Other Archives | Sports Blog | NFL Archives | College Football Archives | MLB Archives | NBA Archives | NCAA Basketball Archives | Soccer Archives | Olympics Archives | Stupid Athletes Archives |
---
Home Page
About Us | Contact Us | Site Search | Advertise | Terms of Use |
---