Final 4 Preview
By Dennis Berry

It was a crazy year in college basketball. There should be little doubt that the Final Four will be any different. If you picked this final four, I hope you played the lottery, went to the tracks, or made it to Las Vegas to cash in on your luck.
The only top seed to make it to Atlanta is the Louisville Cardinals.
Then you have two four seeds in the Michigan Wolverines and the Syracuse Orange.
Finally the ninth seeded Wichita State Shockers round out this unlucky group of teams.

So here is a quick Final Four preview for this weekend:
Ranking the Teams
Louisville
Michigan
Syracuse
Wichita State

Why is Louisville the Favorite?
Have you been watching this tournament? They are steamrolling over teams in the tournament, winning games by an average of 21.8 points a game.

What really sets this team apart from the rest is their defense. They are the best defensive team in Atlanta. They can play you multiple ways. They can play straight up man in the half-court or full-court. They have a matchup zone that creates all kinds of problems for their opponents – just ask Duke.
 
They have an outstanding backcourt with Peyton Siva and Russ Smith. Outside of Chane Behanan, they don't have many scoring threats, but they have done a good job cleaning up on the offensive boards. They are very athletic, but the one missing piece is their lack of outside shooting.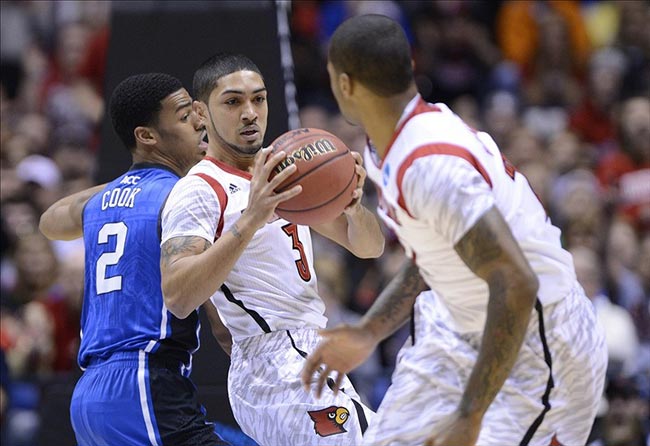 Mar 31, 2013; Indianapolis, IN, USA; Louisville Cardinals guard Peyton Siva (3) looks to pass to forward Chane Behanan (right) while defended by Duke Blue Devils guard Quinn Cook (2) in the first half during the finals of the Midwest regional of the 2013 NCAA tournament at Lucas Oil Stadium. Photo Credit: Jamie Rhodes-USA TODAY Sports.


Championship Game Matchup
Louisville should be able to handle Wichita State on Saturday night, so who will they play Monday night? The Michigan Wolverines.

Michigan has the best player in Atlanta in Trey Burke. He leads one of the best offenses in college basketball that features Tim Hardaway Jr, Glenn Robinson III, outside shooter Nik Stauskas, and Mitch McGary.

Michigan is loaded with talent that should be able to handle the vaunted Syracuse zone. They have plenty of outside shooters to throw at the Orange. Plus John Beilien has experience planning for that zone from his days at West Virginia.

A Louisville-Michigan game would be a great one. The best team verses the best player. It will make for an exciting game.

A Point Guard Centered Final Four
When you talk about this year's Final Four, all four teams have one thing in common. They each have a great point guard. 
Trey Burke, Michigan – 18.8 ppg, 6.8 apg, 3.1 rpg, 1.6 spg
Peyton Siva, Louisville – 9.9 ppg, 5.8 apg, 2.3 rpg. 2.2 spg
Michael Carter-Williams, Syracuse – 12.1 ppg, 7.4 apg, 4.9 rpg, 2.9 spg
Malcolm Armstead, Wichita State – 10.9 ppg, 3.9 apg, 3.8 rpg, 1.9 spg

In college basketball today you have to have great guard play in order to win. All four of these teams have it.

The Pick
Louisville.  They have been one of the top teams in the country all season. They have been on a roll since losing in five overtimes at Notre Dame in February. It's been 14 wins in a row since that loss and it will be 16 wins in a row after the Final Four.

Louisville will win its first NCAA title since 1986. Rick Pitino will become the first coach to win two titles at two different schools.  The trophy will stay in the Bluegrass state. The rivalry between Louisville and Kentucky – last year's champs – will go to another level; pretty much making Kentucky the center of college basketball.


What do you think?
We'd love to hear your comments and/or opinions. If you submit them here, other visitors can read them, rate them and comment on them. An e-mail address is not required.