Figuring Out the Real No. 1 Team in College Basketball
Five weeks in a row now, the number one team in college basketball has lost.  Indiana's loss to Illinois last week was just the latest in a series of scalpings – and, considering then-#2 Florida also fell, Indiana actually managed to hold on to the top spot, due to a lack of an obvious #1 team.  We have different teams topping the AP poll and the Coaches poll, and a total of five teams picking up at least one vote for the top spot.  With this season churning around like it has been going, there's a real question going around – who IS number one, anyway?
Let me eliminate two of the teams with first place votes right away.  Gonzaga is one of only two teams left with only two losses, and neither of them seems too crippling – the loss to Illinois looks better now that they've knocked off Indiana, and the other was a one point slip against a very good Butler squad.  The issue, as always, is their spot in the WCC – it's hard to place them due to the lower level of competition.  They've got really good wins against Oklahoma, Oklahoma State, and Kansas State, but their strength of schedule, compared to the other four teams, is abysmal.

Perhaps, talent-wise, they are number one – but they don't have the opportunity to prove that on the court, nor do they get the same sort of battle-hardening that a team in the ACC or Big 10 gets.  Hard to rank them #1 when there are teams with similar resumes in tougher conferences.  The other team getting a #1 vote that I'm passing on for now is Michigan.  With their loss to Michigan State on Tuesday, that's probably a thing of the past at this point – they've got a handful of quality wins, but more losses than any other candidate – and I think Michigan State is better than they are, anyway.

The remaining three teams all have very solid cases for being number one, and you could place them in the exact opposite order I do, and you wouldn't hear too many complaints from me – they've all got their flaws.  In third place, though, I'd put our current #1 team in the nation, Indiana.  They've got five big time wins (Georgetown, Minnesota, Michigan State, Michigan, and their bounceback win at Ohio State), and pulled off the rare double of losing and still holding on to the #1 spot – in large part because most everyone behind them lost, too.  That's "most" everyone, though, and Indiana has enough flaws that I think they should have dropped, anyway.

First of all, away from Assembly Hall, they've been a much different team  -- until Ohio State, their best road win had been a 69-65 squeaker over Iowa.  They're absolutely deserving of a #1 seed, and if they do well in their three remaining road games – at a murderers row of Michigan State, Minnesota, and Michigan – they'll be a deserving #1 overall, but as it stands right now, I see a team that just isn't as strong on the road, and they've yet to face their toughest tests.

My #2 team would be Miami, and I can already hear the complaints – undefeated in conference, there's the little matter of a 90-63 drubbing of Duke on their record, so how can I have them BEHIND the Blue Devils?  They're number one in strength of schedule, number two in RPI – what's the matter?  First of all, even with that win over Duke, they don't have the same sort of quality wins that Indiana has – and their loss at Florida Gulf Coast is the worst of any of the three teams ranked up here.

Three out-of-conference losses is a hard pill to swallow for any team, and when you're talking about #1, you are left picking nits to a certain extent.  With the ACC in a down year again, they've only got one more big matchup to prove themselves – the road game return with Duke on March 2nd, and then of course the ACC tournament.  If they throttle Duke again, they could be a deserving #1 overall as well, but still...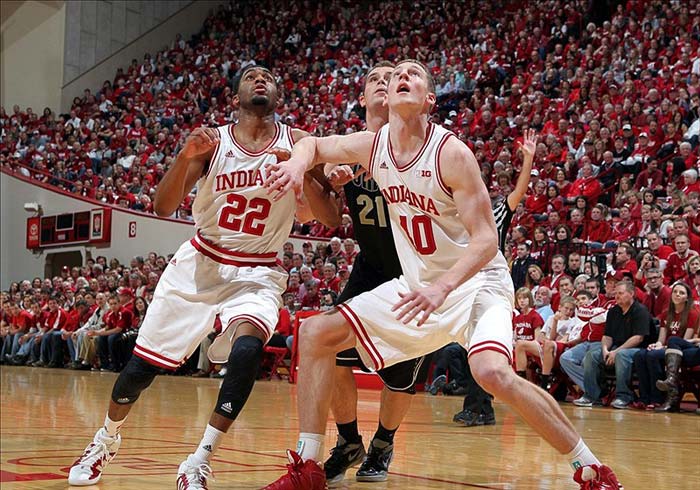 Feb 16, 2013, Bloomington, USA; Indiana Hoosiers forward Cody Zeller (40) and guard Maurice Creek (22) blocks out Purdue Boilermakers forward D.J. Byrd (21) at Assembly Hall. Indiana defeats Purdue 83-55. Photo Courtesy By Brian Spurlock-USA TODAY Sports.

---
That leaves Duke, and I'll be honest, it's not the most dominating team I've ever ranked number one.  Since Ryan Kelly went down with his foot injury, they've been a little less explosive, a little less imposing – both of their losses came in their first three games playing without Kelly.  That's to be expected --  they've had to adjust to a different style of playing, and road games against NC State and Miami aren't exactly the ideal places to try out new tactics.

The secrecy surrounding Kelly's injury is really quite intense, but the few hints that have slipped out all point to him returning early in March, in time for the ACC tournament and March Madness itself.    They got revenge over NC State on February 7th in their first major win since Kelly went out, and with their win over rival North Carolina, they've righted the ship with their sixth straight victory.

If you want to talk resume, they've got the most wins against top-50 teams and the most wins against probable-tourney bound teams in the nation, and are ranked #1 by both RPI and ESPN's BPI.  If you're looking at potential in the tourney, you have to remember that all signs point to Kelly coming back – and that Duke's done a very admirable job of adapting to his loss.  I've heard some people argue that Kelly's injury is a blessing in disguise for Duke – I wouldn't go that far, but it has given the team some experience in other key parts of their game, making them a more well-rounded team in general.  I think this Duke team is still intact, and will be fully ready to go on a long run in March.

Again, without one true dominant team without question marks, you can rank any of these three number one without too much of an argument, and goodness knows this season hasn't thrown its last curveball at us.  It should be an exciting race to the finish.
What do you think?
We'd love to hear your comments and/or opinions. If you submit them here, other visitors can read them, rate them and comment on them. An e-mail address is not required.
What Other Visitors Have Said
Click below to see contributions from other visitors to this page...

Rank doesn't matter much right now... Not rated yet
but I think by the time all is said and done Rick Pitino will celebrate his second Natty in the State of Kentucky this April 2013. Write it down.