Fantasy Football Strategy
By Scot Jordan
In recent years, the common strategy for fantasy football drafting was to load up on running-backs. This year, with the way skill position has evolved, and how the passing game has become more prevalent than the running game; teams should focus on the best available player. The running-back position has thinned beyond the first tier of star players. The quarterback position has seen gaudy stats (as well as producing the top scorer in all of fantasy football) for the drafter over the last few years.
Quarterbacks like Cam Newton, Matthew Stafford, and Andy Dalton have all come on during their last campaign and are deserving of much higher draft picks than they were graded at previous to last season. Tight ends like Rob Gronkowski and Jimmy Graham produced about as much as the bottom side of the top ten running-backs last year. Calvin Johnson put up over 1,500 yards and 16 touchdowns, something you'd expect from a number one running-back. All of that makes the old adage "draft the running back first" a bit of an old-fashioned concept.
So, for your upcoming fantasy football draft, select players based on need. Fill positions: take a quarterback, a running-back, and a wide receiver instead of stocking up with three running-backs. Arian Foster, Ray Rice, and LeSean McCoy are the elites at their respective running back position. There is a drop off in the next tier of running-back: Maurice Jones-Drew, Ryan Mathews, Marshawn Lynch, Matt Forte, Chris Johnson, and a gimpy Adrian Peterson are the next highest potential grabs. With that kind of drop off in production, your team would be better served having grabbed a quarterback in its equivalent second tier.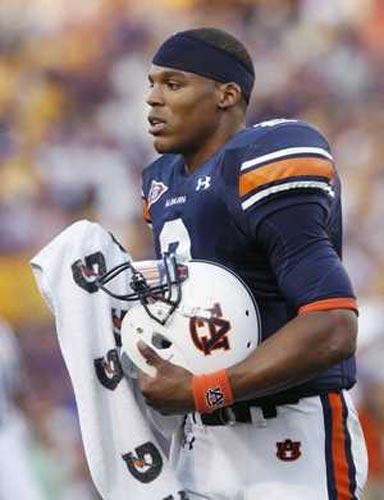 Thanks to IllegalShift from Flickr.com for this great picture of Cam Newton.
---
The tight end position has had a breakout at the top of the tier, with players like the Gronkowski and Graham putting up numbers you'd expect to see out of a high-end number two running-back. Taking an early pick that could be used on a second-level running-back and selecting one of those players can be a great move in the right draft situation. Tight ends do not carry as much weight as their running-back counterparts, and can ultimately prove to be a great boon to a team at a cheap price.
Finally, at wide receiver the production does not have a sudden drop off like the rest of the skill positions. If one was to wait on drafting a particular position, wide receiver would be it. There are many sleepers that can be taken in the later rounds, including Denarius Moore, who is entering his second season after a strong rookie campaign. Calvin Johnson is the only player worth a reach and is deserving of his own top tier, but there are other good additions as well. After Johnson finds his way off the board—most certainly soon—the second tier of running-back with the weight of the position in mind, is worth keeping an eye on if there is an available spot for a running-back.
So, remember to keep this in mind: take value, and fill positions rather than looking for a position.
---
What do you think?
We'd love to hear your comments and/or opinions. If you submit them here, other visitors can read them, rate them and comment on them. An e-mail address is not required.
---
From Fantasy Football Strategy to Fantasy Football | Sports Blog | NFL Football Blog | NCAA Football Blog | NFL Football Archives | College Football Archives | MLB Baseball Blog | College Baseball Blog | MLB Baseball Archives | NBA Basketball Blog | NCAA Basketball Blog | NBA Basketball Archives | NCAA Basketball Archives | Fantasy Basketball | Fantasy Baseball | Soccer Archives | Olympics Archives | Stupid Athletes Archives | Other Archives | Football Forum | Basketball Forum | Baseball Forum | NFL Football Store | NBA Basketball Store | MLB Baseball Store | NCAA Football Store | NCAA Basketball Store | NCAA Baseball Store | Fatheads | NFL Football Tickets | NBA Basketball Tickets | MLB Baseball Tickets | NCAA Football Tickets | NCAA Basketball Tickets | NCAA Baseball Tickets |
---
Home Page
About Us | Contact Us | Site Search | Advertise | Terms of Use |
---