Exploring BCS Title Game Scenarios With Four Undefeated Teams
Notre Dame, Oregon, and Kansas State have put the BCS on notice. The BCS System, which will be gone in 2014, may face its most severe test ever this season.
Considering strength of schedule, there is a shockingly decent possibility that Alabama, Notre Dame, Oregon, and Kansas State all remain undefeated through the end of the college football season.
Don't believe me? Although upsets do happen in October, a closer look at the schedules of each contending team suggests that there are only a few games that could realistically threaten a rankings nightmare at the end of the season.
Consider Notre Dame. The Irish went into Norman and crushed Oklahoma 30-13 to start the season 8-0. Many consider Notre Dame to be the weakest remaining undefeated BCS title contender but their remaining schedule pits them against Pittsburgh (4-4), Boston College (2-6), Wake Forest (4-4), and USC (6-2). None of the first three teams stand a chance, so the Irish will, in all likelihood, head into their final game of the season 11-0. And USC, which has one of the worst defenses of any ranked team, will find it difficult to take on the disciplined Irish.
What about Kansas State? Bill Synder's no-name contender played the BCS' toughest schedule this season, yet its last four games should practically be cakewalks. Oklahoma State can't compete with the Wildcats on either side of the ball, TCU is in a down season, Baylor should just forfeit, and Texas' defense has too many holes to stop Colin Klein and the Kansas State offense. Sure, there could technically be an upset but would you take this year's versions of Oklahoma State or Texas over the team that steamrolled Texas Tech, West Virginia, and Oklahoma?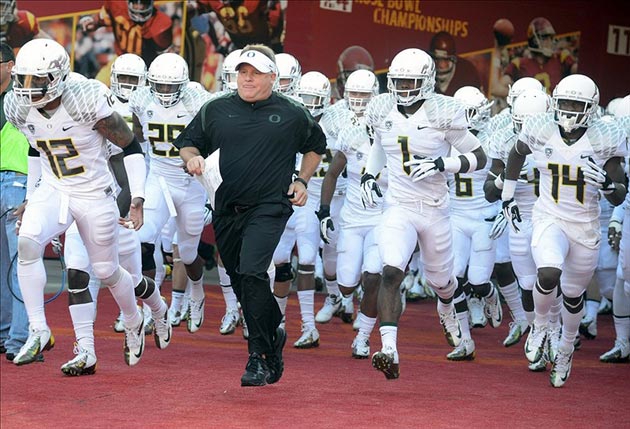 ---
Oregon and Alabama, the two strongest teams in the nation, actually face the toughest schedules from here on out. Alabama must defeat LSU in the Bayou this week before closing the season out with several easy games. Between the LSU game, which looks like a mismatch on paper but will definitely be a battle because LSU is the toughest home night game in college football, and the SEC Title Game, Alabama could trip up. But, Nick Saban has this team so well disciplined that it's hard to see them dropping a regular loss against LSU for the season year in a row; especially an LSU team that lacks even the semblance of a vertical passing game.
Oregon has looked amazing in its first eight games but has to deal with Stanford, Oregon State, and USC in three of its last four games. While none of those teams matches Oregon 1 on 1, together they represent a daunting gauntlet to finish the season.
Yet, that is where the BCS' predicament gets especially interesting: two teams – not just one – need to lose a game to avoid rankings chaos. Alabama and Oregon each face two very challenging games to end their respective seasons but it's hard to imagine both powerhouses losing one of their last four games to lower ranked foes. As for Kansas State and Notre Dame, it's easier for fans to imagine them dropping a game, yet who would they drop one to? Who on either team's schedule has the offensive firepower and stout defense to upset either contender?
Oh and, did we forget Louisville? The Big East may be a joke but, if the Cardinals make it through undefeated in an automatic bid conference, they will also have a strong case for title game inclusion.
The BCS is on notice. With four games left, how will it clean up the mess this time?
---
What do you think?
We'd love to hear your comments and/or opinions. If you submit them here, other visitors can read them, rate them and comment on them. An e-mail address is not required.
---
From Exploring BCS Title Game Scenarios With Four Undefeated Teams to NCAA Football Blog | Sports Blog | NFL Football Blog | NFL Football Archives | College Football Archives | MLB Baseball Blog | College Baseball Blog | MLB Baseball Archives | NBA Basketball Blog | NCAA Basketball Blog | NBA Basketball Archives | NCAA Basketball Archives | Fantasy Football | Fantasy Basketball | Fantasy Baseball | Soccer Archives | Olympics Archives | Stupid Athletes Archives | Other Archives | Football Forum | Basketball Forum | Baseball Forum | NFL Football Store | NBA Basketball Store | MLB Baseball Store | NCAA Football Store | NCAA Basketball Store | NCAA Baseball Store | Fatheads | NFL Football Tickets | NBA Basketball Tickets | MLB Baseball Tickets | NCAA Football Tickets | NCAA Basketball Tickets | NCAA Baseball Tickets |
---
Home Page
About Us | Contact Us | Site Search | Advertise | Terms of Use |
---