Did Tubby Deserve an Extension?
By Dennis Berry

On Friday last week it was announced that the University of Minnesota and men's head basketball coach Tubby Smith had reached an agreement on a contract extension. The new extension keeps Smith as head coach through the 2016-17 season.
Like any contract extension there are the usual bonuses and clauses if the team does well. If the Gophers win a Big Ten regular season or Tournament championship, Smith will get a year added to the contract. There is also a payment bonus as well if those were to happen.

The real question is did Tubby Smith deserve a contract extension?

His overall record at Minnesota in five years is 103-64, good for a 61% winning percentage. He has won at least 20 games four times in five years. He has taken the Golden Gophers to two NCAA Tournaments and two NIT Tournaments. Last season they made it all the way to the NIT Championship game.

Now, winning 103 games in five years is nothing to look down on. It still appears, however, that the program has not changed much since Smith took over.

Minnesota's best finish in the Big Ten standings is sixth place in 2010. Smith has yet to finish with a winning record in Big Ten conference play. The best they have done so far is 9-9 in back-to-back years. They are coming off back-to-back seasons of finishing 6-12 in conference play.

The two seasons before Smith took over in Minnesota, the Gophers went 5-11 in 2006 and 3-13 in 2007 in Big Ten play. In 2007 then Minnesota Head Coach Dan Monson resigned after a 2-7 start and Jim Molinari took over as interim coach. The last time Minnesota had a winning record in Big Ten play was in 2005 under Monson when they went 10-6.

Conference play is not the only place Minnesota has struggled under Smith. Until last year's NIT Championship game run, Minnesota had little post season success. In Smith's first year at Minnesota they would lose in the NIT first round. The next two years Minnesota would receive NCAA Tournament berths, but would lose in the first round both years.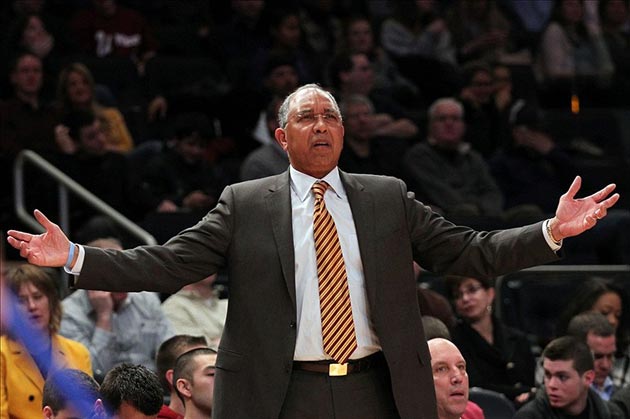 When Smith was hired in 2007, Minnesota fans immediately thought that their recruiting would get better. Earlier on they were right. In 2008 Smith was able sign Ralph Sampson III and Devoe Joseph as their top recruits. That year Rivals.com ranked that class as the 23rd and Scout.com ranked them 27th.

The 2009 class was even better for Smith. That class featured Royce White (who would later transfer to Iowa State), Trevor Mbakwe, and Rodney Williams. Rivals ranked them 24th and Scout ranked 16th. Since those classes, Minnesota has not had a class ranked good enough to be ranked by either service.

Could one of the reasons that his recruiting is down be because players are not interested in playing Smith's way. Smith is a defensive-minded coach that has a problem with winning a game 54-52. The high profile kids coming out of high school today are not really interested in playing that way.

It is the same thing that happened to Smith at Kentucky. There he averaged 26 wins a year. He won multiple SEC regular season tournament championships and the 1998 NCAA Title. Towards the end of his time there fans did not feel Smith was giving everything he could.

While many in the national media like to paint the picture that Kentucky fans did not like Tubby because of race, the truth is it was Smith's performance as coach that turned many off. They saw recruiting rankings drop. They saw the team play poorly and go 9-7 in the SEC in back-to-back seasons. With consecutive exits in the NCAA Tournament, many gave up on Tubby.

Some Minnesota fans are starting to notice the efforts in recruiting and on the court. They are not getting the results they had hoped for when Smith came from Kentucky, though. Sure the NIT run last year was nice, but they had higher hopes after bringing in a head coach that won a national title at his previous job.

Next year, Minnesota has some really big talent coming back. Trevor Mbakwe returns after tearing his ACL seven games into last season. Rodney Williams also returns and he led the Gophers in scoring after Mbakwe was injured. About the only key piece that is not returning from last season is Sampson III.

If Tubby can compete in the Big Ten and make a run in the NCAA Tournament, it will be a big boost to the momentum of the Minnesota basketball program. If not, even more fans will start to believe that Smith cannot get the job done.


What do you think?
We'd love to hear your comments and/or opinions. If you submit them here, other visitors can read them, rate them and comment on them. An e-mail address is not required.
What Other Visitors Have Said
Click below to see contributions from other visitors to this page...

NOT Deserve a Contract Extension! Not rated yet
To me, this guy does not have the appeal among players that he once had! HE IS DONE! Big deal! He made it to the NIT! Nobody cares about the NIT; NIT stands …