Chad Johnson Channeling His Inner T.O?
Fans in Cincinnati are burning up the message boards over the rumor that Chad Johnson brought out his inner Hulk during halftime of Sunday's game.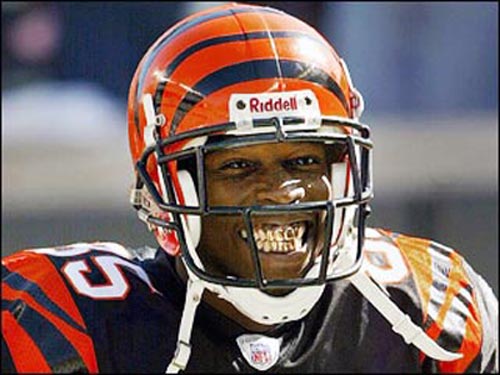 Chad Johnson
---
Per the source, the last few minutes of intermission were ticking away, when the players were startled by the sight and sound of a helmet slamming against the glass pane of the training room door. Inside, receiver Chad Johnson and receivers coach Hue Jackson were engaged in an altercation. At one point, Johnson was seen holding Jackson in a headlock.

Coach Marvin Lewis entered the training room to intervene, and Johnson (per the source) took a swing at him.

Eventually, receiver T.J. Houshmandzadeh broke up the skirmish, within a minute or so of the team exiting the locker room for the second half.

On Monday, several members of the team pointed to the Johnson-Jackson-Lewis incident as the catalyst for the loss of a 17-14 halftime lead and, ultimately, a 31-17 defeat.

Word is that Johnson was unhappy with the lack of balls thrown to him in the first half. A total of three passes came his way, with two completions.

In the second half, another three passes were thrown to Johnson, with only two more completions. For the game, Johnson had four catches for 59 yards.
Float like a butterfly sting like a bee Chad? The source came from profootballtalk.com. Judging by the website it's difficult to know how credible the source is. Also it was not reported on any major news outlets.
However, today the Cincinnati Enquier followed up the story and reported that Chad Johnson denied that there were punches thrown.
"That sounds like drama," Johnson said. "At halftime, I was getting an IV. Nothing happened. Why don't you talk to the coaches, they're all down there today."
But you sense the team wasn't the same when it came out in the second half. They led 17-14 at halftime but eventually fell apart losing 31-17. Something happened in that locker room.
In post-game interviews Sunday, defensive tackle John Thornton was among the handful of players who talked in general about the lack of cohesion and that the team concept was lost and must be regained.Thornton, reached this morning via cell phone, said, "I can't confirm or deny anything that happened in the locker room."Thornton did say Sunday that the issue did not involve rookie players.
It's hard to believe something like this would happen with Chad, who vowed to have a reindeer in his end zone celebration.
---
What do you think?
We'd love to hear your comments and/or opinions. If you submit them here, other visitors can read them, rate them and comment on them. An e-mail address is not required.
---
---
From Chad Johnson Channeling His Inner T.O to NFL Archives | Sports Blog | College Football Archives | MLB Archives | NBA Archives | NCAA Basketball Archives | Soccer Archives | Olympics Archives | Stupid Athletes Archives | Other Archives |
---
Home Page
About Us | Contact Us | Site Search | Advertise | Terms of Use |
---