Detroit Tigers Sign Wrong Player in Prince Fielder
MLB Free Agency: Why the Detroit Tigers Signed the Wrong Player in Prince Fielder
By Jason Fryer
First, let me start off by saying that Prince Fielder is a terrific player and should being a tremendous amount of offense to the Tigers. At the same time, prior to the Tigers signing of Prince, Detroit already featured a terrific offense and an above average defense. With a lineup that already featured Miguel Cabrera, Jhonny Peralta, Brennan Boesch, Austin Jackson, Alex Avila (the most underrated catcher in all of baseball), Brandon Inge, and Ryan Raburn, the Tigers featured a ton of offensive firepower throughout their lineup.
With the amount of money the Tigers spent on Prince Fielder, I feel the Tigers could have signed a designated hitter for one year (Thome, Matsui, or Ortiz), signed Jose Reyes to help the top of the order along with improving the infield defense, and traded for a number two starter to go along with Justin Verlander (Shields, Latos, or Garza). The Tigers had a nice amount of money open this year with a lot of players coming off the books (Ordonez, Guillen, Penny, and Inge next year) to go along with a team that averaged almost 33,000 fans per game, which will only increase this year with the Tigers reaching the ALCS.
Many people would say Prince is a bigger name and would lead to a craze in tickets requests. Though that is true, it could also be said that the signing the National League batting champ (Reyes) along with a previous ALCS MVP (Ortiz) would have also done wonders in Detroit, along with the excitement that would have been brought to the Tigers franchise. Had the Tigers made these three moves this offseason, (along with the signing of Octavio Dotel); the Tigers in my mind would have been the clear-cut favorites in all of baseball.
With the Prince Fielder signing, the Tigers are placing Miguel Cabrera at 3rd base, which has the potential to be a total disaster. Most people don't remember, but Miguel tried to play 3rd base for the Tigers during the 2008 season, and it was such a disaster that the Tigers eventually placed him at first base. With Cabrera moving to third base now, it can possibly lead to many different problems in the future. First, Cabrera will be getting beat up playing 3rd base everyday. The Tigers should look no further than the Red Sox and see what happens when you move an elite 1st baseman and place him at 3rd base. Last year, Kevin Youkilis moved to 3rd base (and like Miguel Cabrera, Youkilis went from 3rdbase, to 1st base, and eventually back to 3rd base last year). This lead to Kevin Youkilis having the worst year of his career (.258 average, 17 home runs, and 80 RBI's) while only playing in 120 games last year. Though Cabrera is younger than Youkilis, he's not nearly as good of a fielder as Youkilis and is not as fit to play 3rd base thanYoukilis.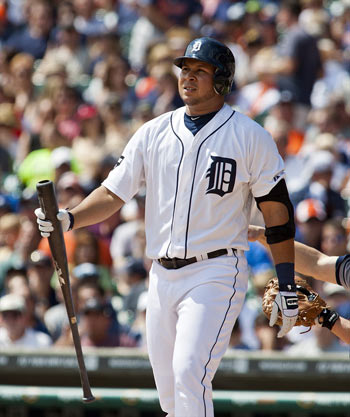 Detroit Tigers shortstop Jhonny Peralta (27) at bat during the Cleveland Indians at Detroit Tigers Major League Baseball game at Comerica Park, in Detroit, Michigan. The Tigers won 8-7, completing a three game sweep and keeping the lead in the American League Central Division.
---
Lastly, this will have a significant affect on the defense of the Tigers. In the infield, if Miguel Cabrera plays 3rd base this year, they would be loosing their best defensive infielder (Brandon Inge), and would be left with only one plus infielder (Alex Avila). The Tigers's pitchers were great this year, but at the same time had solid infield defense behind them. With Miguel Cabrera playing taking over at the hot corner, the Detroit pitchers won't be as good this year, and the ERA's, will increase in 2012 and the future. With that said, I feel the Tigers will win the AL Central this year, but unless they improve there infield defense and trade for a number 2 starter, the Tigers will be home come late October.
---
What do you think?
We'd love to hear your comments and/or opinions. If you submit them here, other visitors can read them, rate them and comment on them. An e-mail address is not required.
---
From Detroit Tigers Sign Wrong Player in Prince Fielder to MLB Baseball Blog | Sports Blog | NFL Football Blog | NCAA Football Blog | NFL Football Archives | College Football Archives | College Baseball Blog | MLB Baseball Archives | NBA Basketball Blog | NCAA Basketball Blog | NBA Basketball Archives | NCAA Basketball Archives | Fantasy Football | Fantasy Basketball | Fantasy Baseball | Soccer Archives | Olympics Archives | Stupid Athletes Archives | Other Archives | Football Forum | Basketball Forum | Baseball Forum | NFL Football Store | NBA Basketball Store | MLB Baseball Store | NCAA Football Store | NCAA Basketball Store | NCAA Baseball Store | Fatheads | NFL Football Tickets | NBA Basketball Tickets | MLB Baseball Tickets | NCAA Football Tickets | NCAA Basketball Tickets | NCAA Baseball Tickets |
---
Home Page
About Us | Contact Us | Site Search | Advertise | Terms of Use |
---