DeMarcus Cousins and His NBA Problems
By Dennis Berry

Cousins Could Have Benefited From More Time on Campus
In life sometimes we are ready to move on to the next stage before we should. We get caught looking ahead, instead of enjoying the moment we are in. Then when things don't work out we look back and wish for what we once had.
Right now you have to wonder if DeMarcus Cousins would rather be back in college instead of the NBA.

Sunday night word came out that the Kings told Cousins to stay home instead of playing against the New Orleans Hornets. This was in reaction to Cousin's demanding to be traded from Sacramento.

Kings Head Coach Paul Westphal issued a statement on the team's website. The most interesting part was:
"Everything that happens on a team does not become known to the public. This is how it should be. However, when a player continually, aggressively, lets it be known that he is unwilling/unable to embrace traveling in the same direction as his team, it cannot be ignored indefinitely."

Now at this time it is unknown whether the Kings will trade their 2010 first round pick or not. Cousins' agent denies that he demanded to be traded. Right now it appears that the Kings have no intention of trading their young center.

To that end, by Monday afternoon there were reports that Cousins would be joining the Kings as they headed to Memphis. The Kings know that Cousins is talented and can help them win. It is Cousins attitude, however, that has always hurt him.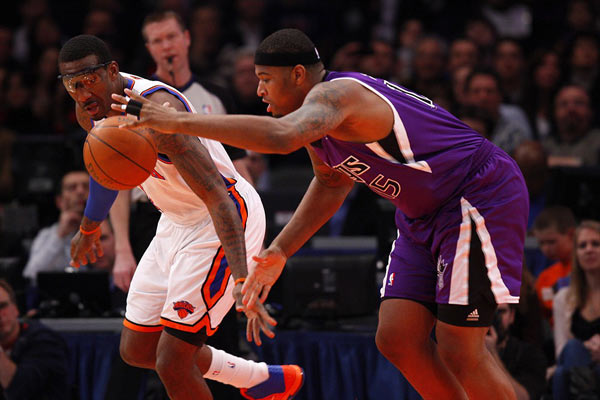 At the end of the day, Cousins is responsible for his actions. He has to grow up at some point, act like a professional, and do his job. If he has any hopes of a successful NBA career, he will.

But would this be the same DeMarcus Cousins if he was still at Kentucky? He would be entering his junior season as a Wildcat. He could have been the missing piece for a championship team last year. He could have been a National Player of the Year candidate this year.

Most importantly for Cousin's he could be in college, growing as a person and a player. Over the summer while the NBA Lockout dragged on Cousins was in Lexington a lot. He played in a series of exhibition games across the Bluegrass State.

Cousins was part of John Calipari's first recruiting class at Kentucky. That class of was made of John Wall (#1 pick in 2010 NBA Draft), Cousins (#5), Eric Bledsoe (#18), and Daniel Orton (#29). Of course it is hard to look at that class and not think it was the best of all time.

When Cousins came to Kentucky, the same questions surrounded him as they do now. Is he mature? How is his attitude? What is his work ethic like?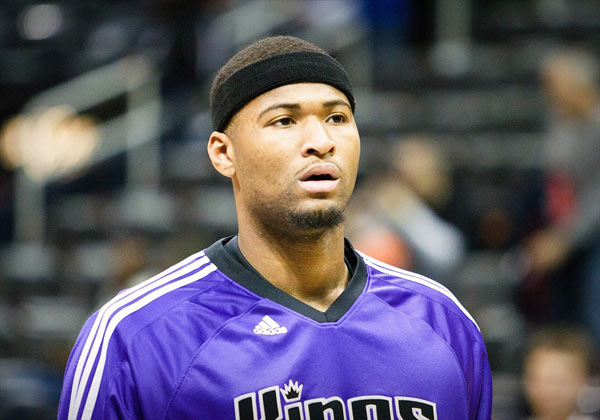 His only year at Kentucky showed that Cousins could play. He averaged 15.1 points and 9.9 rebounds in 38 games. He helped Kentucky advance to the Elite Eight in the NCAA Tournament. He was named the 2009-10 SEC Freshman of the Year.

Cousins seemed happy at Kentucky. You did not hear a lot of stories about Cousins being a problem in the locker-room. On the court there was only one time where he lost cool and that came against Louisville. He even handled himself well while Mississippi State fans flooded his cell phone with calls leading up to the game with the Bulldogs.

The truth is a player like Cousins could have stayed in college to mature. There is no doubt that his talent is good enough to play in the NBA. You don't average 14 points and 9 rebounds as a rookie if you can't play.
For all his success last year, he still had his moments. He seemed to always get upset when the referees' whistle did not go his way. There were reports that he did not get along with his teammates and was removed from a team flight for fighting with a teammate.

If Calipari runs what he calls a "players first" program, shouldn't they have seen that Cousins may not be ready for the NBA on a mental level? That perhaps bringing him back to Kentucky for a least one more year would be good for him?

Just because a player is a sure lottery pick, does that mean you have to push him out the door?

That is why you have to respect the decisions of players like Jared Sullinger, Terrence Jones, and Harrison Barnes to return to college for another year. They could be making money in the NBA, but chose to return to school and enjoy another year on campus.

Cousins did not get to experience another year on campus. He chose to move on to the NBA. So now it is time for him to grow up and act like a professional basketball player.

Before he runs out of chances.


What do you think?
We'd love to hear your comments and/or opinions. If you submit them here, other visitors can read them, rate them and comment on them. An e-mail address is not required.