Cuban Supremacy: The Rise of Cuban Talent in Major League Baseball
In the 1960s, pop music experienced the "British Invasion," courtesy of the Beatles, Rolling Stones, and Elton John.

Now, Major League Baseball is experiencing its own Cuban Invasion as Cuban defectors take advantage of more lax rules under Raul Castro and escape the island in large numbers.
Since 2010, when Aroldis Chapman, the man with the 105 mile per hour fastball, shocked the world and defected in Europe.  Now, after signing a $30 million contract before playing a Major League Game, he is a star with the Cincinnati Reds.

Since Chapman, several high profile defectors have followed in his wake – using different paths but ultimately seeking the same goal of baseball stardom.

And the most interesting thing is: they are succeeding!  The percentage of Cuban defectors who succeed at the Major League level is astounding high and even now franchises are beginning to consider Cubans over the age of 23 as a talent resource all its own; similar to the way they view the Japanese League.

Two years ago, Oakland defeated the Chicago Cubs in a bidding war for slugger YoenisCespedes.  The Cubs, to their regret, balked at paying Cespedes $9 million a year for only four years before he played a Major League Game.  Now, he just won this year's Home Run Derby and is the key All-Star in a resurgent Oakland lineup threatening to win the American League.  Of course, don't feel too bad for the Cubs: they signed prospect slugger Jorge Soler shortly after missing on Cespedes and he projects to be the cornerstone of their future lineup. 

And, just a bit later that year, the Los Angeles Dodgers signed YasielPuig.  I a sign of their outrageous spending to come, Los Angeles blew everyone else out of the water with a $42 million bid.  Puig is now one of the biggest rising stars in the majors and he looks like the best – and most cost effective – acquisition of a Dodgers regime that has brought in Adrian Gonzalez, Hanley Ramirez, Josh Beckett, and Carl Crawford. 

Cuban defectors are also impressing at the prospect level and even penetrating the draft: Jose Fernandez, selected 14th overall by the Marlins in 2011, fast tracked through the minors and started in this year's All Star Game.  Don't look now but he may be the best pitcher in baseball not named Clayton Kershaw – and he has more upside than any hurler in the game.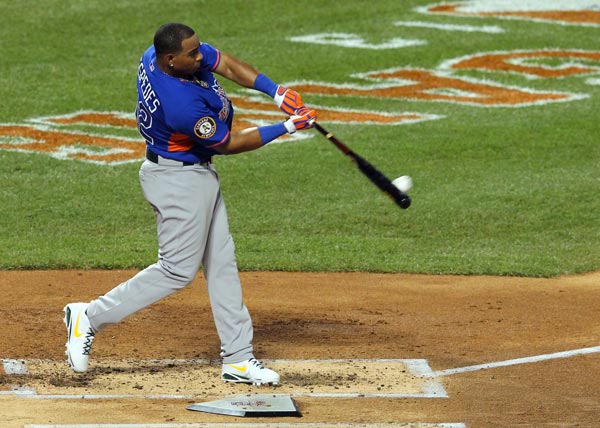 Most interesting of all, the pipeline is hardly drying up – it is growing larger!  Last year, Dariel Alvarez and Aledmys Diaz came onto Major League radars and both will be signed once they resolve conflicts over their ages with the league office.  Miguel Gonzalez, a star pitcher for the Cuban National Team, is expected to command a $50 million deal (likely from the Dodgers – how did you guess?) and, just this week, Gonzalez's former teammate Dalier Hinojosa was declared a free agent.

The numbers seem huge; especially for players who have never played in the Majors.  But are they, really?  Major League Baseball is entering an era of simultaneously increasing revenues and decreasing operational flexibility.  The new spending cap (and harsh penalties) in the youth international signing period will significantly reduce the amount big revenue teams can spend on 15-18 year old talents: consistent winning franchises like the Yankees may have less than $2 million in bonus money available on an annual basis.  The regular Major League Draft also now has overall spending and slot restrictions – preventing big market teams from overpaying top talent in later rounds and reducing their creativity in adding to the talent pool.
 
Essentially, that leaves four ways to add talent: overpay for big name free agents (almost always a bad idea and a money loser), sign mid-tier free agents and flip them for prospects (a good strategy for rebuilding teams but winners can't trade key pieces at the deadline), sign Japanese players (a good strategy but the best talents have enormous posting fees), and sign Cuban defectors.

Of all those strategies, Cuban defectors offer the best mix of exceptional talent, proven ability from playing in a competitive, semi-professional league, and affordable cost.  Consider: Yu Darvish, the Texas Rangers' ace, signed for $60 million – but that came after a $50 million posting fee.  Cespedes cost only $36 million and both players are all stars.  Soler, Fernandez, and Puig all cost under $50 million, which is less than half Darvish's sunk cost and the going rate for a mid-level free agent, and all three are under age 27.  The appeal and the tantalizing potential is very clear.

Because of that, Cuban defectors represent the next big wave of opportunity for Major League teams.  Along with the opening of Korea, which produced HakJu Lee and Ryu Hyun Jin, Cubans are now the only source of fair-priced, free market, under-age 27 talent available to Major League teams.  The feeding frenzy has only begun and it will change baseball forever. 


What do you think?
We'd love to hear your comments and/or opinions. If you submit them here, other visitors can read them, rate them and comment on them. An e-mail address is not required.