Crowdfunding in Sports: Millions of Fans Should Buy Out Their Team's Awful Owner
Amidst all the gloom and doom in America's economy, the new phenomenon of crowd-funding stands out as a way that ordinary people can help each other change the world – for the better. In my fantasy for the future, that change should come to the sports world – from millions of fans banding together to buy underperforming sports teams from corrupt, awful owners.
Crowd-funding enables ordinary people to buy small pieces of equity ownership in young businesses. Made legal by the 2012 JOBS Act, crowd-funding reversed a century of American law, which only allowed super wealthy personal investors and institutions to make very risky early investments. Now, entrepreneurs can post their companies and projects online on crowd-funding platforms and seek real funding – sometimes up into the millions – from random fans around the world.
Why shouldn't this game-changing phenomenon be applied to sports, where millions of fans spend thousands of dollars on their sports teams each year, yet watch them languish under inept, often cruel ownership?
In reality, crowd-funding sports teams would be tricky, not least because owners have to want to sell their equity to crowd-funders. They also determine how much equity they want to sell and keep control, though that may change in coming years. Many owners, already ultra-rich, don't need cash and can't come to terms with how horrible they are at running their teams. But, every owner has his price and crowd-funding by nature can galvanize millions of people with a common interest into collective action. So, stepping just beyond the borders of reality, how might crowd-funding work to rid sports of its worst owners?
Let's begin with Jeffrey Loria, the atrocious owner of the Miami Marlins, as a prime example of how crowd-funding might work in sports practice. Loria may be sports' cheapest, worst owner, as his recent trade with the Toronto Blue Jays shows; deceiving and manipulating fans, city officials, and players alike. What would it take to collectively oust him?
The Marlins happen to be one of baseball's least valuable teams; a legacy of poor ownership decisions, tepid fan support, and zero team branding. The franchise is worth perhaps $500 million, on a good day, with great opportunity for growth under competent management. Loria has often stated he would not sell – but what if he put the Marlins up on a crowd-funding platform and offered to sell controlling stake at a $ 1 billion valuation? Well, legions of angry disenchanted Marlins fans, not to mention the deceived city of Miami, which just built a sparkling stadium for a dismantled team, would have to collectively find $501 million to get rid of Loria forever.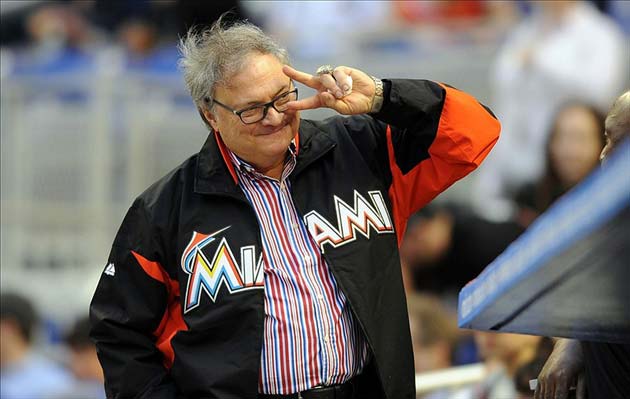 ---
What if the city of Miami, which would like a good product in its new stadium, chipped in the first $100 million. That is only 20% of what it shelled out to build the ballpark; a ballpark that will get little use and make zero profits if Loria keeps running its team into the ground. Then, 10,000 season ticket holders could each chip in $2,000 for another $20 million; less than the cost of one season of crappy tickets. Then, five million angry, desperate South Florida area fans would just have to put in an average of $80 each, just one time, to get the job done.
Don't forget: not only would Loria be gone, a tremendous social benefit, everyone would also own part of the team and stand a good chance of eventually recouping value on their investment when a better, more competitive Marlins franchise was eventually sold for multiple billions to a devoted new owner.
A bit far-fetched? Perhaps. But completely preposterous? Not exactly. Collectives always have the power to do great things, when properly motivated. And how many better motivators are there in the world than love for your favorite sports team?
After all, if Yankees owner Hal Steinbrenner keeps his vow to maintain payrolls under the luxury tax and the Bronx Bombers keep missing out on the World Series, don't you think New Yorkers will gather Manhattan's trillions and give crowd-funding a try?
---
What do you think?
We'd love to hear your comments and/or opinions. If you submit them here, other visitors can read them, rate them and comment on them. An e-mail address is not required.
---
From Crowdfunding in Sports: Millions of Fans Should Buy Out Their Team's Awful Owner to Other Archives | Sports Blog | NFL Football Blog | NCAA Football Blog | NFL Football Archives | College Football Archives | MLB Baseball Blog | College Baseball Blog | MLB Baseball Archives | NBA Basketball Blog | NCAA Basketball Blog | NBA Basketball Archives | NCAA Basketball Archives | Fantasy Football | Fantasy Basketball | Fantasy Baseball | Soccer Archives | Olympics Archives | Stupid Athletes Archives | Football Forum | Basketball Forum | Baseball Forum | NFL Football Store | NBA Basketball Store | MLB Baseball Store | NCAA Football Store | NCAA Basketball Store | NCAA Baseball Store | Fatheads | NFL Football Tickets | NBA Basketball Tickets | MLB Baseball Tickets | NCAA Football Tickets | NCAA Basketball Tickets | NCAA Baseball Tickets |
---
Home Page
About Us | Contact Us | Site Search | Advertise | Terms of Use |
---