Crafting the Best Major League Baseball Fantasy Team
Fantasy baseball, the granddaddy of them all, is back!  Is your team ready?

If not, the Best Sports Blog has a strong drafting formula for most standard leagues that will help you show up your friends this year. Ready for the details?
In the draft, look for position players in the very early rounds.  Ace starting pitchers are actually the most valuable commodity in fantasy but relative performance among high-end starters is very hard to predict.  For example, Roy Halladay was the top pitcher taken in most drafts last year, considered one of the safest bets in the game.  Now, it's safe to say that was not the best bet.

In those precious early rounds, target cornerstone players.  There are two distinct targeting philosophies: looking for statistical monsters (regardless of position) or drafting based on the best ratio of production and position scarcity.  Drafting on positional scarcity is more risky: those players may severely underperform for their draft slot.  We recommend looking at statistics first for position players in Rounds 1-3, then focusing on finding the best players at need positions in Rounds 4-10.

What about pitching?  For fantasy pitching, it's all about two things: identifying ace-level value in the early-middle rounds and balancing risk with dependable performance.  For example, this year Josh Johnson represents an excellent upside play as an ace-level pitcher for a potentially dominant team in a walk year – but injuries always make him a serious risk.  Zach Grienke, a pitcher with less upside but more durability on a capable team, represents a nice handicap to pair with Johnson.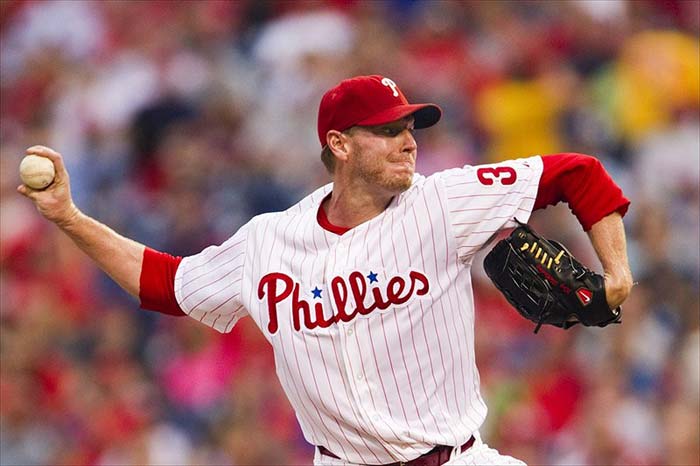 Aug 25, 2012; Philadelphia, PA, USA; Philadelphia Phillies pitcher Roy Halladay (34) delivers to the plate during the first inning against the Washington Nationals at Citizens Bank Park. Photo Courtesy By Howard Smith-USA TODAY Sports.

---
Finally, wait until the late rounds to draft relief pitching.  Closers are notoriously volatile; saves are much more closely correlated with opportunity than skill.  Focus on targeting relievers with strong save opportunities late and balancing out their weaknesses with the right mix of starting pitchers.
What do you think?
We'd love to hear your comments and/or opinions. If you submit them here, other visitors can read them, rate them and comment on them. An e-mail address is not required.