Could Duke and UNC move to the Big Ten or SEC?
By Dennis Berry

Could College Basketball Factor in Conference Realignment
If there is one thing that fans of college sports are tired of it is conference realignment. Just when you are about to get used to a team in their new conference, another team makes a move. For better or worse it appears that we are far from being done with realignment.

College Basketball fans have watched as conference realignment has destroyed the Big East. It was once the best basketball conference in the country and is on the verge of being irrelevant. Adding teams like Tulane and East Carolina will do that to you.
Throughout the mess that is conference realignment it has been about football. College football is huge and television networks are giving up big money for the broadcasting rights for each conference. Conferences are now able to make their own television networks because of this: Big Ten Network, PAC-12 Network, and the soon-to-be SEC Network.

Looking over the ever changing landscape of conferences out there is one move that could greatly affect college basketball. The next big set of conference realignment are not football schools. They are basketball schools.

Specifically, two of the best programs in the history of college basketball: Duke and North Carolina.

Now you are thinking, but they are in the ACC and that conference looks pretty secure right now; they just added Louisville and Notre Dame. That is true, but at the same time it looks very unstable. The first sign is that Maryland has jumped to the Big Ten. A $50 million buyout to leave the conference was not enough to keep them from getting out.

The truth is that the ACC is the next conference that is going to be torn apart. First it was the Big East, which is now nothing more than the new Conference USA. Next is the ACC, which is going to turn into the new Big East.

The process has already begun with Maryland leaving the ACC for the Big Ten. There are rumors of more schools leaving. There is talk that Georgia Tech may leave for the Big Ten as well. There have also been rumors of Florida State and Clemson interested in the Big 12.

So could Duke and North Carolina be the next big names that conferences are looking at? Why should they be considered a package deal? Because it is unlikely that one would leave the ACC without the other. It would be hard to imagine Duke and North Carolina playing at least two games a season.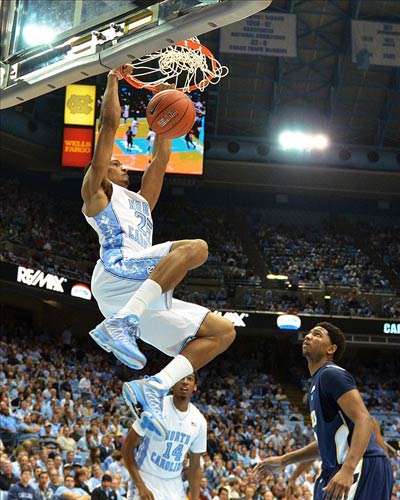 This leads to the two conferences that make the most sense for the Tar Heels and Blue Devils to end up: The Big Ten and the SEC. Neither the Big Ten nor the SEC are finished expanding. Each conference will probably end up at 16 schools.

Now you may be sitting there thinking to yourself, "but conference re-alignment is all about football."

It is true that all this re-alignment is because of football, but at some point that is how all the big programs will be set. That is why schools like Clemson and Florida State are appealing to the Big 12. They will bring strong football programs to the conference.

But conferences have to look at something else that they can sell to television programmers. After college football is over in January, college basketball becomes the next big product that conferences can sell. From January to March, you need big conference matchups to sell television.

So why should the Big 10 and the SEC be interested in North Carolina and Duke?

It is easy to see why the Big Ten would be interested. Duke and North Carolina are AAU schools, so they fit the profile of other Big 10 schools. It goes beyond just that.

Adding North Carolina and Duke would expand the Big 10 into the southeast. This would be huge for the conference to expand its footprint into the south. It would not only help with recruiting, but it would provide another market for the Big Ten Network as well.

Why do you think that there are rumors about Georgia Tech? You know the Big 10 would love to have a school in Atlanta.

The SEC on the other hand probably would not like the Big 10 coming into its backyard. So, perhaps the SEC would move to counter that. You have to believe that the SEC would love to expand its foot print. North Carolina and Virginia are the only southern states that the SEC is not in. They would probably like to change that in at least one state.

Getting into North Carolina would be huge for the SEC. You would add another state and another television market. Duke and North Carolina would not add anything to football, but it would be huge additions for SEC basketball. You would add two of the best basketball programs of all-time with the best of all time, Kentucky.

When the SEC Network goes on the air it will help sell it to television providers like Time Warner Cable, Comcast Cable, and Directv. After college football, college basketball is the next best programming a conference can sell. So if you have a conference that has games with schools like UNC, Duke, and UK, that becomes easier to sell.

Duke and North Carolina are national teams. They have fans all over the country. If the Big Ten or SEC could add these programs, they would add even more to their conference.

Now who knows if any of these teams would leave the ACC. They may not want to leave the conference they have been a part of since it formed in 1953. If they do choose to leave, they would certainly have a couple of good landing spots.


What do you think?
We'd love to hear your comments and/or opinions. If you submit them here, other visitors can read them, rate them and comment on them. An e-mail address is not required.