Corey Brewer's Strange Pre-Game Superstition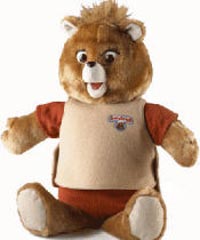 Athletes have rituals they must do before games. Some are as simple as putting on the right sock first and then the left.
Some might need to chew a particular type of gum. Of if you're Jobu from "Major Leauge" you need to kill a live chicken before a game.
There are the strange ones that are so strange, I would never want them to become public knowledge. I'd rather admit I voted for Sanjaya on "American Idol" (which I would never do by the way).
UF's Corey Brewer performs a very important ritual before every game in the postseason. He moves a comfy chair in front of the television in the hotel room, turns on the set and adjust the volume. It's important to him that Pudding is comfortable while he watches the game. Pudding is Brewer's teddy bear that his girlfriend gave him before last season's SEC tournament and now Pudding is a staple on all postseason road trips.
That's not all. Brewer has a different attire for his him. While he was practicing one day his bear was wearing just orange boxers, which is his sleep clothes. During games, Pudding wears a Spider-Man costume. Somehow I assume Corey might have a matching costume for special nights.
Brewer even freaked out in their game against Purdue. Since the Gators were heading straight to the airport after the game, Pudding had no hotel room to watch the game. He seriously freaked out.
I wish Corey did something cool with Pudding. Like saying he always had to put a fifth of Crown Royal in Pudding's lap and a can of chewing tobacco. Having a bear watch a game seems a bit creepy. Like the bear is going to start screaming at the TV or blink at any moment.
His good luck charm might seem more fit for a 5 year old. Screw that. I just hope Pudding has the most comfortable chair in front of the television this Saturday so the Gators will win. Just make sure to put the "Do Not Disturb" sign on the door.
---
What do you think?
We'd love to hear your comments and/or opinions. If you submit them here, other visitors can read them, rate them and comment on them. An e-mail address is not required.
What Other Visitors Have Said
Click below to see contributions from other visitors to this page...

Sounds a little gay to me Not rated yet
2007/03/31 at 10:27 pm Sounds a little gay to me. Have you seen his mannerism when he plays. That dude has not only been working the basketball court, …
---
---
From Corey Brewer's Strange Pre-Game Superstition to NCAA Basketball Archives | Sports Blog | NFL Archives | College Football Archives | MLB Archives | NBA Archives | Soccer Archives | Olympics Archives | Stupid Athletes Archives | Other Archives |
---
Home Page
About Us | Contact Us | Site Search | Advertise | Terms of Use |
---