Conference Realignment is Good for College Football
By Matt Green

Analyzing NCAA Football Conference Re-alignment
Like it or not, NCAA Conference Realignment has shaken up the college sports world. In pursuit of money, Athletic Directors all over the country have forsaken their loyalty and their integrity. When it comes to conferences these days, "regional" is an arbitrary term. Missouri is now in the Southeastern Conference. West Virginia is in a conference designed to include teams from Middle America. And somehow, somehow, San Diego State ended up in the Big East. A team that is as far west as almost any team can get wound up in a conference designed around the northeast. I don't get it, you don't get it, but it's happened, and it's time we investigate how it will affect the college sports world.
Ultimately, I believe this realignment will be great for the country. Sure, some rivalries are perishing with the new mergers, including Texas-Texas A&M, West Virginia-Pitt, Kansas-Missouri, and quite a few more. While some rivalries die, new ones emerge. Look at the MLB. The Red Sox-Yankees rivalry has been declining ever since the 2004 ALCS, and Cubs-Cardinals is less-than-mediocre because the Cubs are, well, offensively, defensively and pitching challenged. But that is neither here nor there. The point is, new rivalries always emerge. Rangers-Angels is the biggest rivalry in baseball right now, and Rays-Red Sox, Rays-Yankees, Phillies-Nationals are all big rivalries, and who saw that coming 5 years ago?

Some rivalries died, accept it and move on. New rivalries will begin. Rivalries are what make NCAA sports the greatest on earth. And sure, the old rivalries will be missed, but give this new alignment five years, and, like the MLB, new rivalries will begin to form and intrigue the fans and the nation. I can already see a big Texas A&M-Missouri rivalry, a TCU-Oklahoma, TCU-Texas, TCU-Baylor, Oklahoma State-West Virginia due to the fact that Dana Holgorsen used to coach at Oklahoma State. The specifics aren't important. What is important is that sooner or later, new rivalries will form, so don't focus on the ones that are being destroyed, imagine the new possibilities as teams begin to hate new teams. And isn't that why we love rivalries? Beating teams that we hate.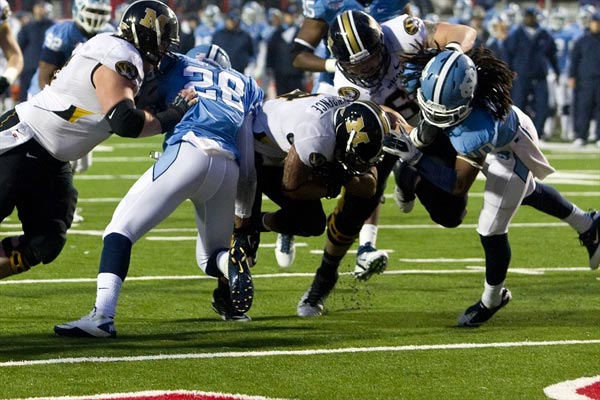 Next is the fact that this new alignment will open up different parts of the country to different types of football. I live in Big 12 country in Texas. For years, despite the obvious evidence to the contrary, people have argued with me that the Big 12 is the best football conference. Now, thanks to the move of Texas A&M, and most Big 12 team's hatred of the Aggies for their departure, fans of Texas, Oklahoma, Oklahoma State, etc. will watch the Aggie games, albeit they will most likely be cheering for the opponent. Nevertheless, their hatred for A&M will result in them watching a considerable amount of SEC football, opening their minds up to the fact that there is another conference out there that can stake claim to the "best conference" title.

Obviously, this philosophy extends past just our friends in the Big 12 and SEC. West Virginia's move to the Big 12 will open up the northeast and ACC country to Big 12 football and the ball of the middle states. It's a beautiful thing when people open up their minds to the ways of the rest of the country.

Ultimately, my hope is that the new realignment brings "East Coast Bias" to an end. For years, there has been a theory among some media members that there is a considerable bias in coverage of East Coast teams, as well as favoritism for said teams. Hopefully, with these moves, including and especially the moves by Boise and San Diego State, the term "East Coast Bias" can be thrown out the window and the whole nation can be on an even playing field.

If ever there was a time to open up the minds of the east coast to the west, the SEC to the Big 12, and so on, that time is now. So, don't sit around and pout about what we're losing from the old conferences, imagine the new rivalries and intrigue that can be made in the new system. It's going to be a wild ride, so make sure you're on board.

The Southeastern Conference has a great opportunity to grow and add some great teams from the Big 12. If it doesn't act, it may lose out to another conference. Now is the Time For SEC Expansion.


What do you think?
We'd love to hear your comments and/or opinions. If you submit them here, other visitors can read them, rate them and comment on them. An e-mail address is not required.
What Other Visitors Have Said
Click below to see contributions from other visitors to this page...

Don't Agree Not rated yet
I don't think the new alignment is good. one reason, fans would have to travel further to go to the away games. Its more traveling money for the schools. …