Comparing the Value of Free Agency in the NFL, NBA, and MLB
Ever since Major League Baseball first introduced America sports to "free agency," fans have been fascinated.  Right up until free agency opens, fans are bombarded with "facts," "rumors," and "source reports," about their franchises: players they will get, players about to leave, and players about to be shipped off for spare parts.
Then, the moment arrives and - for the most part – the world does not stop turning.  In fact, few fans even notice a difference.

But, is the whole "free agency bonanza" concept a complete myth or does free agency matter in some sports more than others?  And, which major sports have free agency periods that come even close to the hype that surrounds them?

The NFL is America's Sports King but its free agency period is actually perennially underrated.  The NFL's free agency often gets overshadowed by the draft, which fans begin preparing for the day after the Super Bowl.  But, because of roster cuts for cap space and the overall high turnover rate of NFL teams, good players are always available for bargain prices.  Teams usually want to avoid the big ticket free agents (I'm looking at you Dan Snyder!) but savvy teams can find veteran leaders, role players, and even capable starters and restricted free agents for value prices on the market.  This year, safety Ed Reed represents a perfect example of an excellent veteran difference maker available at an affordable price because of his age and injury history.

The NBA's free agency period gets the most hype but actually has the least excitement.  NBA fans get super excited before free agency, particularly since the 2010 "LeBron James Anomaly," but in reality critical players rarely switch teams.  Worse, when valuable role players do switch jerseys, they are not often acquired on value contracts (like in football), they are signed to overpriced deals with the mid-level exception.  In 2012, there were some exceptions to that rule, particularly Dallas' stealthy signing of future star O.J. Mayo for $4 million, so perhaps that is the start of a new trend in NBA free agency.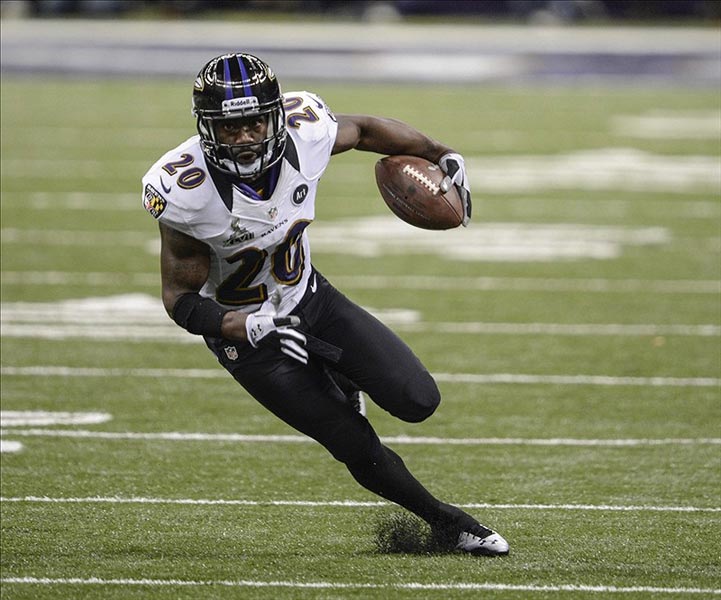 Feb 3, 2013; New Orleans, LA, USA; Baltimore Ravens free safety Ed Reed (20) turns upfield after his interception in the second quarter in Super Bowl XLVII at the Mercedes-Benz Superdome. Photo Courtesy By Jack Gruber-USA TODAY Sports.
Finally, MLB, free agency's granddaddy, is defined by a "diamonds in the rough" approach to success.  While big name free agents get all the attention, almost none of them sign deals that are favorable to clubs.  Alfonso Soriano, Alex Rodriguez, and Kevin Brown are just a few free agents whose long-term contracts crippled their clubs' finances for years.  However, teams can get great bargains on baseball's free agent market as well – from Michael Bourn's recent below-market 4 year; $44 million contract to late signings of excellent relief pitchers.

So, free agency definitely has a valued place in all major sports. Teams need to improve and free agency is one of the best quick fix options out there.  However, particularly in the NFL and MLB, the wisest teams stick to signing value contracts and leave the big name, expensive free agents to the teams willing to suffer the consequences.
What do you think?

We'd love to hear your comments and/or opinions. If you submit them here, other visitors can read them, rate them and comment on them. An e-mail address is not required.