Commentary: Why LeBron James May Return to the Cleveland Cavaliers
By Aaron Sass

Earlier this week ESPN reported that the Cleveland Cavaliers are now the favorites to land LeBron James. Most people have assumed that James would end up back in Miami with a reloaded roster. But while Miami has been waiting for Wade, Bosh, and James to make their decisions they've missed out on a few key free agents in Kyle Lowry and Marcin Gortat, both of whom the Heat were very interested in.

Miami hasn't done much to add to the roster. They most recently signed Josh McRoberts and Danny Granger. McRoberts is a nice addition, but Granger on the other hand is a real question mark. He's in his early 30's and has been slowly declining over the past three seasons.

It's also been reported that Chris Bosh could very well be heading to the Houston Rockets as they're offering him a max contract. Of course the Rockets would have to unload Omer Asik and Jeremy Lin and receive nothing in return to clear the cap space to make that offer.

The speculation is that Pat Riley is encouraging Bosh to go take the Money from the Rockets so the Heat can have the cap space to go after Carmelo Anthony. There's a very good chance that Bosh could end up taking Riley's advice and team up with Dwight Howard and James Harden next season. It may actually be a better fit for Bosh, as he wouldn't be asked to be the primary post guy on the team.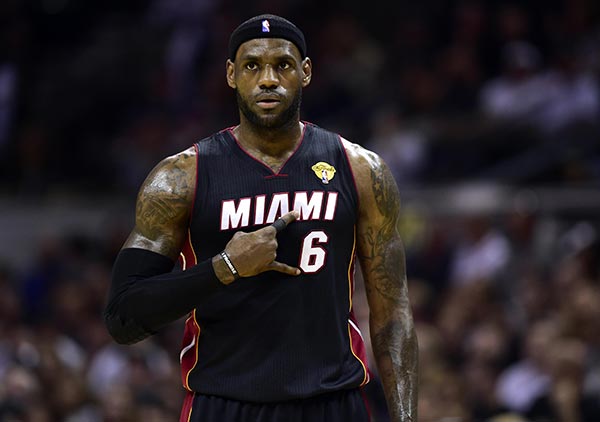 It seems that everyone is waiting on James and Anthony to make their decision, and as time goes on it's clear that the both of them have two destinations in mind. For Carmelo it's either the Lakers or the Knicks, and for LeBron it's either Miami or Cleveland. I don't expect Carmelo to sign with Miami if Bosh leaves, and I do expect LeBron to sign with Cleveland if Bosh leaves.

I've heard the argument that James will not go back to Cleveland because the roster is lacking talent which is baffling to me. Kyrie Irving was an all-star last season and is continuing to become one of the very best point guards in the league. On top of that they've got Andrew Wiggins, Dion Waiters, Tristan Thompson, and Anthony Bennett who many people expect to have a very good sophomore season next year.

A potential lineup of Irving, Wiggins, James, Thompson, and Varejao with Waiters and Bennett coming off the bench would be a lot better than James teaming up with a broken down Dwyane Wade and a jump shooting power forward in Chris Bosh and whoever else the Heat sign at the league minimum.

As a story James heading back to Cleveland to bring a title to a city that hasn't won a professional sports championship since the 60's would be phenomenal. If this were a week ago I would say that James heading back to Cleveland wasn't going to happen. Now with Bosh's future with the Heat in question, Dwyane Wade breaking down, and Carmelo Anthony unlikely to join forces with LeBron, it looks even more clear that James is going to make peace with the Cavs and head back home.

I've always believe that James would eventually head back to Cleveland, but I thought it would be towards the end of his career when he wasn't the player he is now. As a sports fan, I would love to see James return to the Cavaliers. If he does it could very well be the best thing we've seen in the NBA in a very long time.
What do you think?

We'd love to hear your comments and/or opinions. If you submit them here, other visitors can read them, rate them and comment on them. An e-mail address is not required.
Commentary: Why LeBron James May Return to the Cleveland Cavaliers to NBA Basketball Blog