College Football 2014: Rankings and Projections
College football may be the deepest it has ever been in 2013. No fewer than fifteen programs have a reasonable shot at national title contention and no less than seven are true contenders.

Sounds like an exciting moment to start betting on next season! Of course try to check first the sportsbook reviews and some interesting free picks before making a decision.
No. 1: Alabama

The Crimson Tide are the nation's best coached, most talented team. They have a strong chance of repeating as national champions for the fourth time in a half-decade. However, the competition at the top of the SEC is cut-throat, so if Alabama drops a game – which is likely – and two other big-time programs survive unscathed, the Crimson Tide may not get the chance to defend their title.

No. 2: Ohio State

The stars are aligned: coach Urban Meyer's system is in place, the recruiting is elite, the sanctions are gone, and the team has a cupcake schedule. A second undefeated season would not be surprising.

No. 3: Notre Dame

They lost Teo but nearly everything else remains in place, including the nation's best defense – led by Stephen Tuitt and Louis Nix – and the best program quarterback since Brady Quinn.

No. 4: Oregon

Chip Kelly is gone but the program's talent and winning ethos remains. Oregon may take a tiny step back but the program's winning ways are here to stay.

No. 5: Stanford

Oregon's chief Pacific-12 rival, Stanford will contend under David Shaw and quarterback Kevin Hogan. The offense should be excellent and the defense among the nation's elite.

No. 6: Boise State

The Broncos have lost eight games in seven years and have the most talented group – and the easiest schedule – they have seen in a half-decade. If they go undefeated, the Broncos could play in the national championships.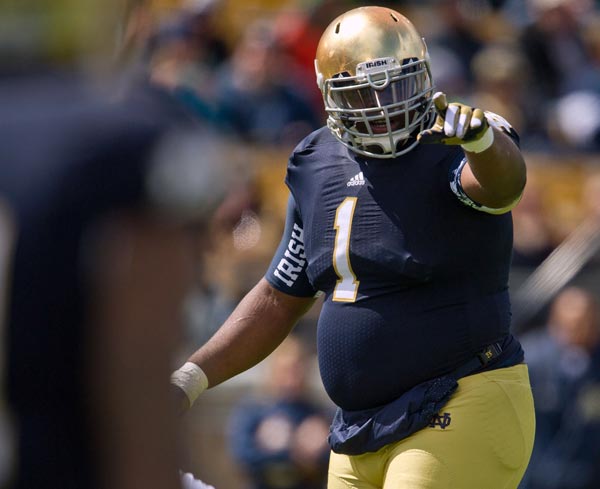 No. 7: Louisville

Kentucky's new football powerhouse will rest its national championship hopes on the arm of Teddy Bridgewater and the program's extremely easy schedule. Louisville is a top-ten team that may not play a top-5 opponent all season.

No. 8: Florida

Sure, the offense is choppy. But that is one of the best defenses in recent history. Credit Will Muschamp for returning the program to national contention.

No. 9: Georgia

This is Mark Richt's best Georgia team – on paper – since 2008. But, while Richt is a good coach, his teams always seem to hit a roadblock before the national title.

No. 10: Michigan

Michigan is built along the lines, with a strong defense supported by a rising offense. The Wolverines will also benefit from crucial home games, where the team is 14-0 under Brady Hoke, and a relatively easy schedule before facing Ohio State to end the season.

No. 11: South Carolina

They are rated far lower here than elsewhere. While Spurrier is an excellent coach and the Gamecock's program has made great strides, it's hard to see them beating Alabama, Florida, or even LSU for the SEC championship. However, they will be a BCS-game contender.

No. 12: Clemson

A top three offense and a bottom fifty defense, which leaves the Tigers in the conversation but off the top of the totem pole.

No. 13: Oklahoma Sooners

While not coach Bob Stoops' best team, the Sooners are solid in all areas (except perhaps at quarterback) and should win 9-10 games.

No. 14: TCU Horned Frogs

It's a deep Big 12 conference and the Horned Frogs, who return many starters after a year ravaged by injury, could win the conference title.

No. 15: USC Trojans

There is just so much talent here in Pasadena. If coach Lane Kiffen can harness even some of it, the team should push for the Pac-12 championship.


What do you think?
We'd love to hear your comments and/or opinions. If you submit them here, other visitors can read them, rate them and comment on them. An e-mail address is not required.