College Basketball's Upset of the Decade: TCU over Kansas
When the Big 12 invited TCU to join its conference back in 2011, they knew they were getting one of the top football programs in the nation.  They knew that TCU's baseball program won the 2010 College World Series, and that they had a strong women's basketball team.
On Wednesday, Kansas probably wished that they had left their men's basketball team back in the Mountain West.

TCU welcomed #5 Kansas to Daniel-Meyer Coliseum for their first matchup since becoming conference rivals, and emerged with a stunning 62-55 upset – their first ever win over a top-5 team.  It's Kansas' first back-to-back losses since 2006 – a span of 264 games, which was the active Division I record.

Kansas was down 22-13 at the half, and didn't even get on the board until 7:17 into the game, after already having turned the ball over six times.  They never managed to take a lead, and were just out of synch all night.  This wasn't the same Kansas team that handled the likes of Kansas State and Ohio State on the board – this night, you'd wonder if they could hang with Ohio Wesleyan.  It easily goes down as the worst loss of the season – not just for Kansas, but for ANY squad.  You can point to Minnesota's loss to Northwestern, but TCU is low on manpower, talent, and hope – they were 0 for 2013 coming into this game, and hadn't even finished with ten points of anybody since their January 5th game against Texas Tech.  But is this a turning point?  Could this be the beginning of something special for TCU?

No.

I mean, full credit to them, but the big story here isn't how good TCU played – though you have to give them credit for not collapsing under the pressure of the upset, and playing solid, simple ball, grabbing their rebounds and making their free throws.  No, the big story is Kansas' utter failure to show up.  They only shot 29.5% from the field, and only managed three 3-pointers.  It almost seemed like they were trying to build TCU a new, Big 12 quality stadium, such were the amount of bricks they were laying.

"It was the worst team that Kansas ever put on the floor, since Dr. Naismith was there," said coach Bill Self of Kansas. "I think he had some bad teams when he lost to Topeka YMCA and things like that in the first couple years. But for the first half, there hasn't been a team play worse than that offensively."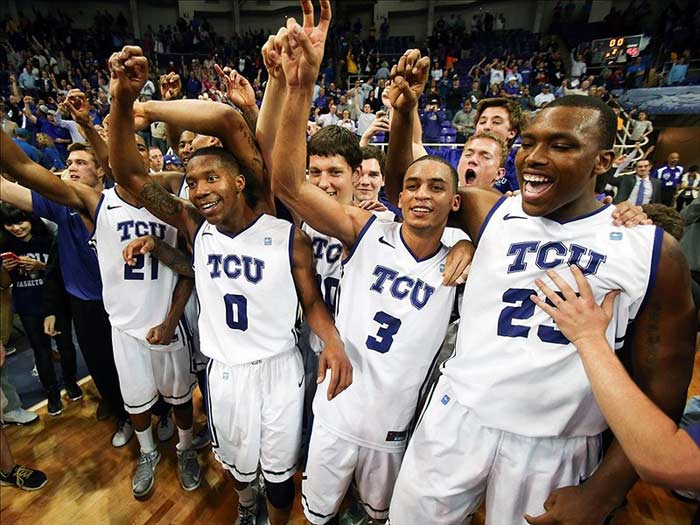 Feb 06, 2013; Fort Worth, TX, USA; TCU Horned Frogs guard Nate Butler Lind (21) and guard Charles Hill Jr. (0) and guard Clyde Smith III (3) and forward Devonta Abron (23)react after defeating the Kansas Jayhawks at Daniel-Meyer Coliseum. Photo Courtesy By Kevin Jairaj-USA TODAY Sports.
Kansas will bounce back – they're too good not to.  They're a top ten team – they were before tonight, and they will be afterwards.  It's their first two game losing streak in years, and you can expect them to come out angry and solid against Oklahoma, leading up to the big rivalry game with Kansas State on Monday.  They're still the team to beat in the Big 12, they're going to be fine going forward.  But this type of a game – this complete failure to show up – isn't just something Kansas has had to deal with.  This has become a running theme in this year's season.

Just this Tuesday, Florida was routed by Arkansas, 80-69 – and it wasn't that close, as Florida couldn't guard anybody all night.  Duke got blown out, 90-63, by Miami – a quality opponent, to be sure, but Duke's biggest loss since '94, shooting under 30%.  That Miami squad was stunned by Florida Gulf Coast and Indiana State.   Indiana watched Wisconsin pull away from them late.  Arizona fell behind huge to UCLA and couldn't make up the ground.  Syracuse just lost back to back games against Villanova and Pittsburgh  -- the list goes on.  Sure, every year you're going to have teams lose, but it just feels like there's a trend this season of these top-10 quality teams – and mind you, these are all top 10 quality teams – just failing to show up for one night.  Heck, #1 has already lost five times this season.   Is it parity come to college basketball?   There's no one that matches up with, say, last year's star-studded Kentucky squad.  Every team could fail to show up on any given week.

That doesn't matter so much in the regular season – everyone in basketball's already lost twice, and the top teams are going to find their way to the top seeds in fairly orderly fashion, a blowout or two aside.  And maybe, when the games start getting meaningful, someone – Indiana? – will flip that switch and go into dominant, competition crunching mode.

But maybe not.  And whether it's parity; or a lack of a stud, household name player of the year type; or just lower quality basketball, it feels like we're headed to a fantastic postseason, both in the conference tournaments and the NCAA tournament itself.  Last year, we had two fifteen seeds knock off number two seeds, and it feels like we could be looking at something like that again this year – when there's no invulnerable teams at the top, who knows what could happen.  Could we see a team like Oklahoma or Colorado take a middling seed and make a run, or have someone like Florida State or Alabama knock off a top seed in the opening rounds.  I think we've got some major, bracket-reshuffling upsets in store for us as we head towards the finishing stretch.

It will just take an upset for any of those upsets to come close to comparing Kansas falling to little old TCU.
What do you think?
We'd love to hear your comments and/or opinions. If you submit them here, other visitors can read them, rate them and comment on them. An e-mail address is not required.