College Basketball Trivia: The Pac 12
By Lorenzo Tanos
In the past three college basketball trivia articles, we had learned a little bit more about the Big East and the ACC. Before moving on to the SEC, which I hope to begin by next week, we'll be looking at the Pacific-12 Conference, which, until last year, was known as the Pacific-10, or Pac-10.
1. Which two schools joined the Pac-10 in 2011, effectively making the conference the Pac-12?
Colorado and Utah entered the Pac-10 last year, coming from the Big 12 and Mountain West conferences respectively. The Buffaloes are led by head coach Tad Boyle, while former NBA forward Larry Krystkowiak coaches the Utes.
2. Who is the leading scorer in Pac-12 history?
UCLA's Don MacLean set the all-time Pac-10 scoring record in 1992 with 2,608 points spread over four seasons. Prior to him, Arizona's Sean Elliott held the record with 2,555 points. MacLean, a 6'10" shooter who saw action at both SF and PF in the NBA, won the 1994 Most Improved Player award when he averaged 18.2 ppg and 6.2 rpg for the Washington Bullets, up from 6.6 and 2.0 the year before. He didn't have another season of that caliber thereafter, but did wrap up his career with a double-figure pro scoring average of 10.9.
3. Which Stanford Cardinal two-sport star posted the unbelievable averages of 25.3 ppg and 12.2 rpg as a senior, yet never averaged more than 7.8 ppg in the NBA despite being a lottery pick? (Choices – Rich Kelley or Adam Keefe)
Kelley and Keefe were both double-double machines for the Cardinal who had great college numbers, both saw action for the Utah Jazz in the NBA and spent most of their long pro careers as role players. But the player in question here is Keefe – the 10th overall pick by the Atlanta Hawks in 1992. He averaged 5.0 ppg and 4.1 rpg in an 11-year NBA career. As for his other collegiate sport, he also starred for the Cardinal volleyball team in the early '90s.
4. Which was the first major Division I school in the NCAA to hire an African-American as their men's basketball head coach?
The University of Arizona. Before Fred "The Fox" Snowden took over as Wildcats coach in 1972, Will Robinson took over the Illinois State Redbirds, who were then led by future NBA player/coach Doug Collins. But as far as major schools go, Snowden was the first African-American NCAA men's basketball coach. Snowden coached the Wildcats from 1972-82, but was most successful when Arizona was still in the WAC; the Wildcats joined the Pac-10 in 1978.
5. What were the Pac-10/Pac-12's names between 1959 and 1978?
The conference started as the Athletic Association of Western Universities in 1959 – the AAWU's four charter teams were California, Stanford, UCLA, USC and Washington. For some time, the AAWU was informally called the Big Five (with the charter teams) and Big Six (following Washington State joining in 1962). The league became the Pacific-8 when Oregon and Oregon State joined in 1964, before becoming known as the Pacific-10 when Arizona and Arizona State became members in 1978.
6. Before UCLA became the Pac-8/10/12's most titled team in 1973, which school held the record of most conference championships and who was the top player and head coach during that 13th championship year of theirs in 1959-60?
The California Golden Bears. Cal won the AAWU conference championship and played in the NCAA Finals in 1960 behind legendary head coach Pete Newell and future NBA role player DarrallImhoff. Imhoff had a decent NBA career as a rebounding/defensive specialist but is known mainly as the man most responsible for allowing Wilt Chamberlain to score 100 points in an NBA game.
7. How many Pac-10 Players of the Year in the 2000s have yet to play in the NBA?
Three. These players are Sean Lampley (California, 2000-01), Sam Clancy (USC, 2001-02) and Jerome Randle (2009-10). Lampley and Clancy were both second-round NBA Draft picks, while Randle wasn't drafted in 2010.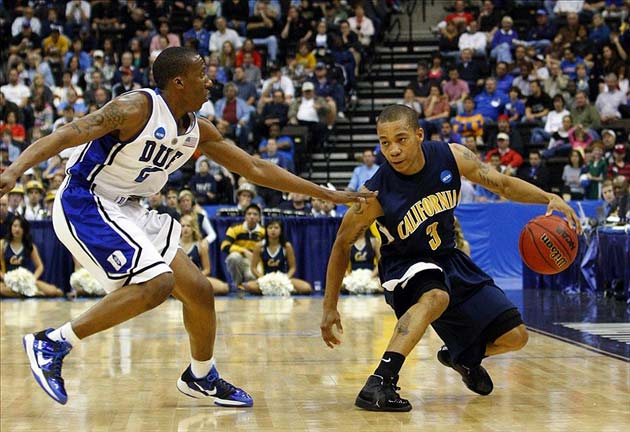 ---
8. What was the nickname given to the Oregon Ducks NCAA Championship frontcourt from 1939?
The Tall Firs. Slim Wintermute (6'8"), Laddie Gale (6'4") and John Dick (6'4") were comparative giants in 1930s basketball who, together with 5'8" Bobby Anet and head coach Howard Hobson, won an NCAA title in 1939.
9. Which Stanford player is credited with inventing the running one-handed shot and is also the first player in NCAA history to score 50 points in a game?
Angelo "Hank" Luisetti was one of the more creative offensive players of the '30s yet never played professional basketball. He scored 50 points against Duquesne on January 1, 1938.
10. Which former Oregon State Beavers forward became the first Puerto Rican selected in the NBA Draft?
Jose Ortiz was picked 15th overall in 1987, after a stellar career where he averaged 19.8 ppg and 8.7 rpg over two seasons. He averaged only 2.9 ppg in two NBA seasons.
Best Sports Blog Books:
---
What do you think?
We'd love to hear your comments and/or opinions. If you submit them here, other visitors can read them, rate them and comment on them. An e-mail address is not required.
---
From College Basketball Trivia: The Pac 12 to Sports Trivia Questions | Sports Blog | NFL Football Blog | NCAA Football Blog | NFL Football Archives | College Football Archives | MLB Baseball Blog | College Baseball Blog | MLB Baseball Archives | NBA Basketball Blog | NCAA Basketball Blog | NBA Basketball Archives | NCAA Basketball Archives | Fantasy Football | Fantasy Basketball | Fantasy Baseball | Soccer Archives | Olympics Archives | Stupid Athletes Archives | Other Archives | Football Forum | Basketball Forum | Baseball Forum | NFL Football Store | NBA Basketball Store | MLB Baseball Store | NCAA Football Store | NCAA Basketball Store | NCAA Baseball Store | Fatheads | NFL Football Tickets | NBA Basketball Tickets | MLB Baseball Tickets | NCAA Football Tickets | NCAA Basketball Tickets | NCAA Baseball Tickets |
---
Home Page
About Us | Contact Us | Site Search | Advertise | Terms of Use |
---