College Basketball Betting Odds
By Aaron Saas

In college basketball, the South Eastern Conference has been overlooked by many sports fans because the conference is a football conference, so the SEC never really gets its proper respect. In the last 7 years, the men's college basketball national championship was won 3 times by an SEC team (Florida 2006, 2007, Kentucky 2012), the conference has also produced multiple NBA lottery picks such as Nerlens Noel, Anthony Davis, John Wall, DeMarcus Cousins, Al Horford, and Joakin Noah.
Unpredictability can be a good thing if you like to do a little, or a lot of sports gambling. To take a look at live college basketball betting lines visit live college basketball betting odds. You may see someone who's an underdog that shouldn't be, and you could take advantage, as there are some crazy odds that you could take advantage of.

Anybody who follows college basketball regularly or even semi-regularly knows that it's one of the most unpredictable sports in the world, especially when it comes to the NCAA tournament. Most sports that have a playoff system are very easy to predict. If you look at the three major professional sports leagues in America right now, which are the NBA, NFL, and MLB, all three are fairly easy to predict when it comes to the postseason, especially the NBA.

In college basketball it's a lot more important to get hot at the right time, and sometimes that means the team with the best talent doesn't always win, which makes it very exciting and sometimes frustrating for fans.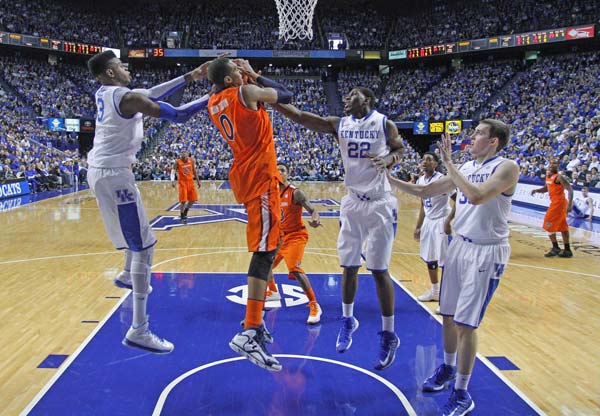 Kentucky has always had the best talent in the SEC, however that hasn't always lead to championships. This season they've started off well with 8 wins and 2 losses, and are ranked 11th in the country, and 2nd in the SEC behind the 24th ranked Missouri Tigers who are 9-0, however, I believe that Kentucky will win the SEC this season.

They have too much talent to not win the conference and be a real championship contender, however, as I mentioned, just because they have the talent doesn't mean they'll win the national championship or even make it to the final four.


What do you think?
We'd love to hear your comments and/or opinions. If you submit them here, other visitors can read them, rate them and comment on them. An e-mail address is not required.
From College Basketball Betting Odds to NCAA Basketball Blog