College Basketball 2011 - 2012 Week 15 Review
By Dennis Berry

The week of College Basketball: Week 15
Another week of college basketball down means we are closer to March Madness. Let's take a look back at the past week.

Karl Hess in the News Again

This is probably a season that referee Karl Hess would like to forget. This past Saturday Hess once again got his name in the news, but this time it was not for a missed call. This time it was for his ejections during the Florida State-North Carolina State game.
It was not players or a coach that Hess ejected either. Hess ejected NC State Alumni Tom Gugliotta and Chris Corchiani out of the game from their seats. Apparently the pair was letting Hess know that they did not agree with some of his calls. Corchiani says they "did not use profanity or cross a line."

If that is the case, then this is another example of a referee with a big ego and perhaps Hess needs to miss a few games. View the video for yourself:

WKU Gets New Coach

Ray Harper was named interim Head Coach at Western Kentucky on January 6. On February 19 he named the official Head Coach. So far Harper is 4-7 at Western Kentucky the team has been playing better as of late and the schools feels strongly that Harper can turn the program around in the future.

Mount Saint Mary's Coaching Change?

Mount Saint Mary's appears to be on the look for a new Head Coach. The Mountaineers are only 6-19 this year and Head Coach Robert Burke is now on paid administrative leave. Burke has been in charge at Mount Saint Mary's since 2010 and has gone 17-40 since.

Matt Henry, filling in for Burke, got the win after a 77-63 victory against Fairleigh Dickinson last Thursday, but lost to Monmouth 68-66 this past Saturday.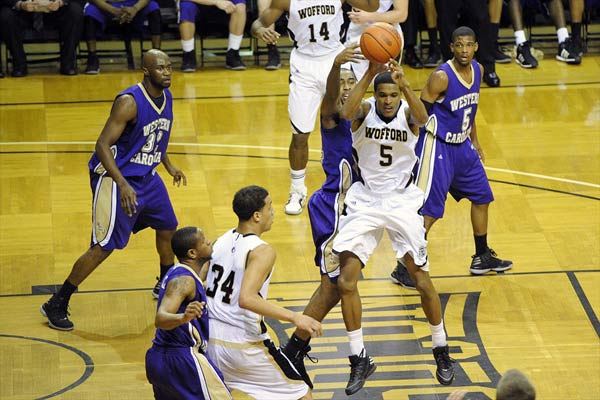 Purdue Trouble

Purdue kicked Kelsey Barlow off team and suspended D.J. Byrd Friday following an incident at a local bar. Byrd was arrested for Public intoxication and Barlow, who is no stranger to trouble at Purdue, was kicked out of the bar earlier that night and returned trying to re-enter. Barlow had started 22 games this year for Purdue and Byrd is one of the best three pointer shooters on the team.

This is a major distraction for a Boilermaker team that is fighting to get into the NCAA Tournament and is 17-10 on the season

Georgia Tech Suspends Rice Jr.

Glen Rice Jr. was suspended indefinitely by Georgia Tech on Friday. Rice Jr. is the son of former NBA Player and Michigan standout Glen Rice. He was averaging 13 points a game for the Yellow Jackets this season.

Tennessee-Martin Ends Losing Streak

The last time Tennessee-Martin won a game against a NCAA Division opponent was November 27 against the University Alabama-Birmingham. On February 14 and 19 games later they finally won another against Kennesaw State.

During the Division I losing streak Skyhawks did beat the Bethal Wildcats, a NAIA team from Tennessee. They are currently 4-25 on the season following a lose to Southeastern Louisiana on Saturday.

UPSETS!!!

Kansas St. over #10 Baylor
TCU over #11UNLV
New Mexico over #11 UNLV
New Mexico over #13 San Diego State
Iowa over #18 Indiana
Loyola Marymount over #21 Saint Mary's
Clemson over #22 Virginia
San Francisco over #24 Gonzaga
Dunk of the Week

Angelo Chol cannot get up fast enough to block Tony Wroten attempt.

What do you think?
We'd love to hear your comments and/or opinions. If you submit them here, other visitors can read them, rate them and comment on them. An e-mail address is not required.