College Basketball 2011 - 2012 Week 13 Review
By Dennis Berry

The Week of College Basketball: Week 13
Last week was the end of the NFL with the Super Bowl between the New York Giants and New England Patriots. It was another great game between the two teams. Congratulations to the Giants as they won 21-17.

Now the sports world will turn its focus to basketball. College will get a lot of attention now as we are in the final month headed towards March Madness.
Here are some notes to get you caught up on the past week of college basketball.

Noel Reclassifies

The biggest news of last week was when Nerlens Noel, a 6'-10" center from Everett Massachusetts, reclassified from the 2013 class to the 2012 class. Noels was seen as the top prospect in the 2013 class and many recruiting services moved him to the top of the 2012 class ahead of Shabazz Mohammad. Noels is known more for his defensive skills and is probably the best shot blocker in high school.

His offer sheet is some of the best programs in college basketball: Duke, Connecticut, Florida, Kansas, Syracuse, Pittsburgh, Kentucky, North Carolina State, and Providence all have offered. Most people think that Syracuse or Kentucky will be where he ends up.

50

Tennessee Tech's Kevin Murphy scored 50 points on SIU-Edwardsville Monday night. Murphy went 16-21 from the field including 6-9 from three and 12-14 from the free throw line. He was the first player to score 50 in a game this season. Murphy's 50 points are a Tennessee Tech single game scoring record. He also set the season high in all of NCAA Division I basketball; the previous high was 44 by Creighton's Doug McDermott.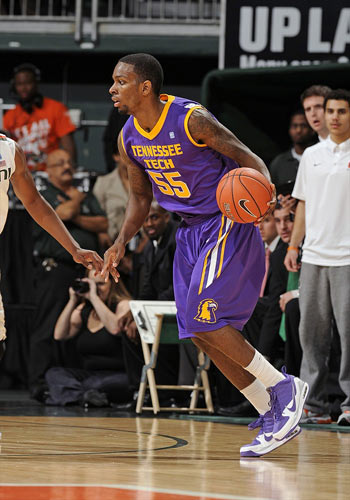 Calhoun takes Leave of Absence

Connecticut Head Coach Jim Calhoun has taken an indefinite medical leave of absence for back problems. The news broke Friday afternoon and the school confirmed that Calhoun would miss at least two games. It appears that Calhoun has Spinal Stenosis, a narrowing of the spine. Calhoun is following doctors now.

Hopefully Calhoun will be able to return this season.

Fab Melo Returns & Boeheim ties Smith

Syracuse got a big addition when Fab Melo returned to the Orange line up against St. John's Saturday. Syracuse won 95-70 as Melo scored 14 points in his first game after sitting the last three because of an academic suspension.

It was Jim Boeheim's 879 career win. That tied him for second place in all time wins in Men's Division I basketball with Dean Smith.

New SEC Record

Anthony Davis set the SEC freshman record for blocks in a season. He passed Shaquille O'Neal's freshman record from the 1989-90 season. Davis' eight blocks against South Carolina put him at 116 for the year.

Binghamton Needs a Win

The Binghamton Bearcats have had a bad season. How bad? Well the Bearcats are 0-23 and may be the worst team in NCAA Division I basketball. The closest they have come to a win was a 78-74 loss to Cologate at the start of the year.

Binghamton does not play again until February 12 against Hartford, who are 4-19 on the season.

Division III Losing Streak Over

Division II & III do not get a lot of talk, but I thought it would be good to point out a positive for Earlham College. They ended a 36-game losing streak with a 57-53 win over Hanover on Saturday. It was the Quakers first win since December 18, 2010.

UPSETS!!!

Miami over #5 Duke
Illinois over #9 Michigan State
Wyoming over #11 UNLV
Northern Iowa over #13 Creighton
Notre Dame over #15 Marquette
BYU over # 24 Gonzaga
Arkansas #25 Vanderbilt
Dunk of the Week

Anytime you pull down a backboard that is dunk of the week worthy. That is exactly what Kwame Alexender did on this dunk.

What do you think?
We'd love to hear your comments and/or opinions. If you submit them here, other visitors can read them, rate them and comment on them. An e-mail address is not required.