College Basketball 2011 - 2012 Week 12 Review
By Dennis Berry

The Week of College Basketball: Week 12
Another wild weekend is over. Let's take a look back.

Eligibility issues

Connecticut's Ryan Boatright was cleared by the NCAA to play against Notre Dame on Sunday after missing the last three games. The NCAA investigation declared that Boatright and his mom accepted more than $8,000 in impermissible benefits. That list included cash, car payments, and travel expenses for his mom.
Boatright missed the first six games of the year while the NCAA was investigating the issue, and then held him out of the last three games while looking at new information. Boatright has to repay $4,500 in benefits.

Another Big East school is also dealing with eligibility issues. Syracuse has been without big man Fab Melo the last three games. There are reports that school is looking into some "academic issues" from the first semester.

Originally it was reported Melo would miss the Orange's road trip to Notre Dame and Cincinnati, but he also missed Syracuse's game against West Virginia Saturday. The Orange were 20 prior to their first game without Melo against Notre Dame. The Irish beat the Orange, but they have rebounded to win two close games against Cincinnati and West Virginia.

Syracuse hopes to know something this week regarding Melo.

Controversial Ending to WVU-Sryacuse

Speaking of Syracuse's close win over West Virginia, the Orange got lucky when an obvious goaltending call was missed that would have tied the game.

You can see the sequence here:

It was a pretty easy call to make, and the base line ref missed it. That referee, Karl Hess, was working his 21st game in 28 days. It has once again brought attention to how many games referee in a month.

Career Victories

UCLA Head Coach Ben Howland won his 200th game at UCLA Thursday night against Utah. Howland is in his ninth year at UCLA. He has a career record of 201-92 at UCLA following the Bruins win over Colorado on Saturday night.

After a bad start to the season, the Bruins have recovered and are 12-9, (5-4) in the Pac-12.

Michigan State Head Coach Tom Izzo won his 400th career game against Minnesota last week. Izzo has been the man at Michigan State since 1995. He has a career record 400-165 during that time and guided Michigan State to the NCAA Championship in 2000.

More Coaching News

Miami extended the contract of Jim Larranaga through the 2018-19 season. Larranaga is in his first year at Miami and is 12-7 so far this year. He has done a good job so far this year, even as the NCAA has investigated the program after Nevin Shapiro stated he paid a recruit $10,000 while then Coach Frank Haith was in charge.

College of Charleston Head Coach Bobby Cremins will miss the rest of the year, the school announced late last week. Cremins is dealing with a medical issue and it is if/when he will return. Mark Byington will take over the rest of the season.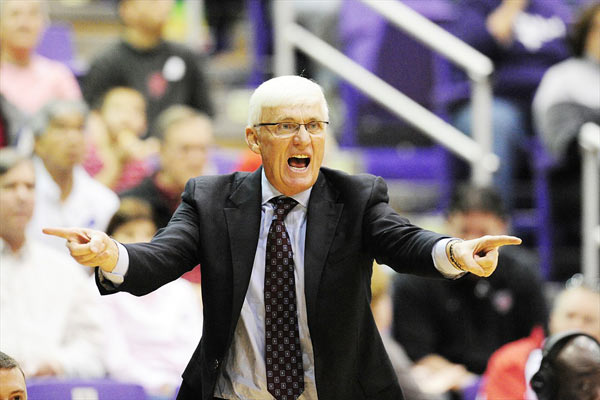 Last week St. John's Head Coach Steve Lavin, who is still recovering from prostate cancer, said that he will return to coach the team. He just is not sure when that will be. Lavin has not coached a game since November 18 against Texas A&M. Lavin has still not fully recovered and has been advised to focus on it. So far St. John's is 9-12 (3-6) this year.

Losing Streak Over

Finally, the losing streak is over. Towson ended their 41 game losing streak Saturday with a 66-61 win over UNC Wilmington. Marcus Damas had 18 points for Towson and Robert Nwankwo had 12 points and 11 rebounds to help end the Tigers losing streak.

It was Towson's first win since December 29, 2010 over LaSalle.

UPSETS!

Oklahoma State over #2 Missouri
Iowa State over #5 Kansas
Pittsburgh over #9 Georgetown
Colorado State over #13 San Diego State
Notre Dame over #19 Connecticut
Oklahoma over #22 Kansas State

Dunk of the Week

Oklahoma State's Markel Brown had two of the best dunks of the season against #2 Missouri. He scored the first points of the game, and then got a technical foul. His one handed slam off an alley-oop may be the dunk of the year in college basketball. He received his second technical foul of the game, but the image will last forever.

What do you think?
We'd love to hear your comments and/or opinions. If you submit them here, other visitors can read them, rate them and comment on them. An e-mail address is not required.