Coach K Passes Bobby Knight With Most Wins Ever
By Dennis Berry

Basketball Ambassador Not Done Yet
As told by Raymond Rolak
National Correspondent
He Will Take Duke to Maui for Thanksgiving Tourney
New York-- People were hawking and begging for tickets. The energy outside the storied arena was noticeably heightened. Street cart vendors were selling roasted chestnuts on the corners, all with a sweet sticky aroma. Shortly thereafter and just like that, it was over and everybody was hugging.

His Duke (3-0) team and former players were trying to hug him. Coach 'K' that is. Coach 'K' is his valued and reverent title. He is accorded that courtesy with great respect. He has earned it. He is admired on a world stage.
Mike Krzyzewski went across the court and embraced his former coach Bob Knight after breaking the record for most coaching wins at 903. It was the 74-69 triumph over Michigan State (0-2) at a sold out Madison Square Garden in the Champions Classic. The win put 'Coach K' over the top and broke the mark previously held by Coach Knight. Krzyzewski, now in his 37th year of coaching had played for and had been an assistant for Coach Knight at Army.

When I asked 'Coach K' what he had said to Coach Knight, Krzyzewski said, "I just told him, Coach, I'm not sure people tell you this, but I love you, and I love what you've done for me, and thank you." This had transpired after the game amidst jostling camera's, credentialed media and aggressive New York paparazzi. The two coaching veterans had hugged for a moment when Krzyzewski leaned over the ESPN television monitors to embrace Knight. Knight had held the previous record. It was a special moment for most as many of the 19, 979 strong stayed to watch the post game reactions.

Krzyzewski grew up in a Polish neighborhood of Chicago and excelled at Weber High School. He was recruited and played for Knight at Army. Now four decades later, Krzyzewski finds himself surpassing his old coach. Knight said in his booming voice, "You've done pretty good for a kid who couldn't shoot." 'Coach K' smiling added quickly, "So I think that meant he loves me, too."

After the game, Knight shunned any comments so as to not interfere with the Duke reunion and their heralded coach. Knight later issued a prepared statement that read, in part: "There is no one I respect more for the way he went about coaching and following the rules than Mike. The history of college basketball has had no better coach than Mike Krzyzewski."

Duke assistant coach Steve Wojciechowski has been around for many of Coach 'K's victories as a member of the staff and as one of his point guards. Wojciechowski was jubilant when saying, "He'd probably have gotten to this a lot sooner if I hadn't played. It's pretty sweet. Not just the wins, but how he did it. He didn't talk one time about the record, which is pretty remarkable."

There certainly was pressure on Duke to get the record at the Garden, with so many alumni making a special trip to be here. Some of Krzyzewski's former Blue Devils that were in attendance were Elton Brand, Chris Paul, Grant Hill and Carlos Boozer. Also present were Jason Williams, Shane Battier, Carmelo Anthony, Jason Williams and Bobby Hurley. Over 30 made the trip and did a photo-op with Coach 'K' after the game.

The reunion was under the stands in a curtained area and it gave a few minutes to catch up with Hurley. He is now assisting his brother Dan at Wagner College on Staten Island. "It shows what the program is about," said the 2006 National Polish-American Sports Hall of Fame inductee. Hurley who has the NCAA career assists record added, "It shows what the guys think of Coach." Hurley is also still involved in the breeding of thoroughbred racehorses.

Another All-America who was praising 'Coach K' was Battier. "I can't say I'm surprised because I saw firsthand the level of preparation, the level of passion he put into his program every single day," said Battier. Battier who won a NCAA title with 'Coach K' at Duke continued, "It's just amazing to be here on this night to see the culmination of this work. He's ageless. He looks great. He looks the same as when I was a freshman," Battier said. "There's no reason to think he won't be around for many years to come."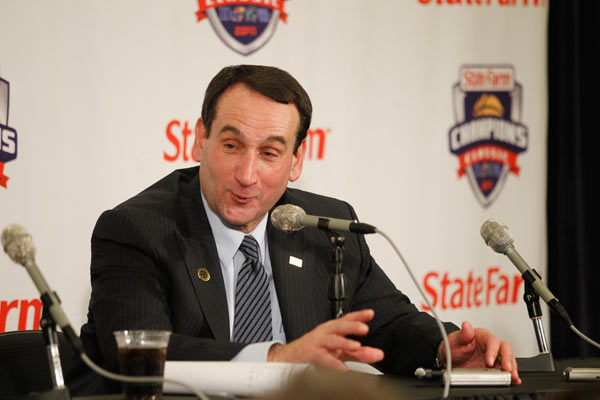 The Blue Devils had to hang on at the end as Michigan State made a late run. The game was competitive and Duke did enough and Krzyzewski's record was cheered majestically. Coach 'K' made an adjustment as junior forward Ryan Kelly delivered nine points in the beginning of the second half and Tyler Thornton pressed the defensive spark.

Duke struggled to win the game especially with a MSU spirited run near the end. Blue Devil guard Andre Dawkins scored 26 points as a highlight but Duke had sloppy offensive play, especially from the big men. So this Champions Classic wasn't up to par as the two teams only have had a few games under their belts. State had recently come from San Diego playing on Veterans Day in another big-hyped game. Their air travel schedule didn't help the Spartans. They didn't seem to have their basketball sense or 'sea-legs.'

"I thought we were tight, or tentative, the whole first half," Krzyzewski said at the post game address. "I don't know if the moment was so big. We tried to downplay the moment, but obviously so many people being here and it's in the Garden. It becomes a big thing. It put some pressure on the team."

"It's a special moment," Krzyzewski said of his family and former players being there. "At halftime I wasn't sure we were going to have this moment. We beat a really good team, and I'm glad now we can just move on and just develop our team."

Krzyzewski showed a humble dignity as first he had walked over and shook hands with Michigan State coach Tom Izzo. Izzo said later, "It was awesome to see all his players back here. It was what college basketball is all about. I give him the credit and he deserves it."

The body of accomplishments as a coach for Krzyzewski is amazing? 11 Final Fours, four NCAA championships, an Olympic gold medal, enshrinement in the Naismith Memorial Basketball Hall of Fame and the 1991 induction into the National Polish-American Sports Hall of Fame. "Ray, to me, it's more relief to get on to the next thing," Krzyzewski said. Next year he is even scheduled to coach the NBA players in the 2012 London Olympics. Smiling, as he went to greet family members, he added, "You know, I had good players."

Krzyzewski praised his assistant coaches, Wojciechowski, Chris Collins, and Jeff Capel and all of them seemed happier about the event than Coach 'K'.

A special statistic about Coach 'K' is that between 2004 and 2008, 92 % of Duke basketball players have graduated, a percentage significantly above the national average. He later said, "Whenever an individual coaching honor occurs, it's because of your players and your assistants and the infrastructure you build. You're just the recipient of a lot of good things, then, because you're the head of it. Good players and unselfish kids win a lot of ballgames."

His first career victory didn't generate anything close to this energy but it was the start along the path that would lead to the all-time wins record. By the way, it was on Nov. 28, 1975, when Army beat Lehigh 56-29 in the season opener for both teams. That first Division-I head coaching win showed very clearly that the then, 28-year-old West Point coach was going to be very special.

Over the Thanksgiving holidays he will be taking his Blue Devils to the EA Sports Maui Invitational. Also and most importantly, he is not done, not by a long shot.

Current ESPN analyst Jay Bilas said his former coach isn't going anywhere anytime soon. "Coach K isn't quitting until his hair changes color," Bilas said with a smile.

Veteran NBA player Grant Hill said, "How you motivate a guy in 1984 compared to '94 or compared to '04 or compared to 2012, each group is a different era. A lot of coaches can get out of touch. They can't connect. He's been able to do that and actually almost get better."

In the second game of the double-header, and part of the evening's great attraction, Doron Lamb scored 17 points and Terrance Jones had 15 as #2 ranked Kentucky (2-0) beat #12 Kansas 75-65. Super freshman Anthony Davis not only stuffed the basket he stuffed the basket with five dunks for 14 points, six rebounds, seven blocks, and two steals. It was an early second half spurt that decided the contest for the winners. If you have passion for college basketball, Kentucky will definitely be in the mix come 'March Madness' time.

Editors Note: Raymond Rolak is a past Chairman of the National Polish-American Sports Hall of Fame.


What do you think?
We'd love to hear your comments and/or opinions. If you submit them here, other visitors can read them, rate them and comment on them. An e-mail address is not required.