Cinderella Man
Some called it a miracle, others called it inconceivable. No matter how you chose to define it, there is no denying that the 2011 Virginia Commonwealth (VCU) Rams Final Four run was a tremendous feat, resulting from the grit and determination of a great team and their great coach. When Shaka Smart was hired to be the head coach at VCU in 2009, he was a virtual unknown to the Rams community and college basketball fans across the country.
In four years, however, Smart has emerged as one of the top coaches in the country and has led his Rams to a 111-39 record, three NCAA Tournament appearances, and a Final Four appearance over the past four seasons. He has built a modest program into a powerhouse in just a few short years, and the team is just now finally getting the respect it deserves with a "Top 25" rank this year.

Upon being hired at VCU in 2009, Smart announced that he would bring a style of defense that would "wreak havoc on our opponents' psyche and their plan of attack". This "Havoc" defense is what has led to VCU's success on the court . In the past four seasons since Smart took the helm, the team has averaged at least 8 steals per game each season, and in the past two years, the team has led the league in steals per game (10.5, 11.7 consecutively).

This season, the Rams hope to continue their defensive success against much tougher competition in the Atlantic 10 (A10) Conference. They lose Troy Daniels (12.3 ppg) and Darius Theus (4.8 assists per game), but return the likes of Briante Weber, JuvonteReddic, Treveon Graham, and Rob Brandenberg. They also add freshman JeQuan Lewis to keep up the fast tempo of the game while giving the starters a rest.

Lewis is the X-Factor this season because the more quality minutes he can play, the more well-rested star guard Weber will be for the end of games. Where the Rams will have the most trouble will be in the interior. Assuming some of the Rams' big bodies can rise to the occasion and shut down their competitors, the sky's the limit for this squad.

Naturally, having so much success in a mid-major conference is bound to get Coach Smart some looks from struggling teams in larger conferences, but Smart has held strong at VCU.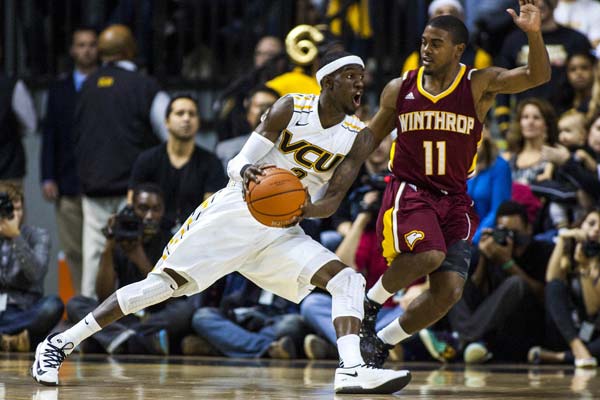 Allegedly, Smart has fielded offers from the likes of Illinois, NC State, and UCLA to name a few. Rather than accept these offers, to "move up" in the coaching world (as many people feel by accepting these offers he would), Smart instead signed a contract extension with VCU through 2023. He knows he has a good thing going with the Rams and doesn't want to mess with success. After the program's remarkable Tournament run, VCU has been put on the map and begun to land some of the top recruits in the country.

At this rate, one could argue that a conference looking to expand may give VCU a look. It certainly would be tough, being only a basketball school unable to join conferences like the ACC due to their football programs. For this reason, it is perhaps much more likely that, on the backs of the Rams, the A10 may ride toward becoming a "top basketball conference". Certainly, UMass, Saint Louis, and La Salle are all schools that have the potential of following in VCU's footsteps and becoming powerhouses themselves.

As to how the conference competition will work out, time can only tell, but one thing is for sure, the Rams can play with any team in the country. Many Tournament darlings slowly burn out with the loss of a key player or coach (think George Mason), but since their miraculous run, VCU has only gotten better. With their flashy athleticism and up tempo defense, the program has begun to dig in to the Virginia hotbed of recruits.

Their unique style of play makes them a very scary game for many of the top teams come tournament time because it is almost impossible to prepare for "Havoc" in such a short break between games. There is no doubt that the Rams are the team of the future, and with a 36 year old coach, they are undoubtedly geared for continued success.


What do you think?
We'd love to hear your comments and/or opinions. If you submit them here, other visitors can read them, rate them and comment on them. An e-mail address is not required.
From Cinderella Man to NCAA Basketball Blog