Chip Kelly Flip Flops to the Philadelphia Eagles

Chip Kelly is the new head coach of the Eagles.  Wait, no, he's turned it down, and is staying at Oregon.  Wait, no, he's had a sudden change of heart and will again be the head coach of the Eagles.  He's Schrödinger's coach, both taking and turning down the Eagles job, and we won't know until the first game of the season, when the waveform collapses, who will actually be patrolling the sideline of Philadelphia in 2013.
All jokes aside, this is a stunning turn of events – Kelly seemed content to go back to Oregon and continue his program's rise to prominence, having shunned all NFL coaching jobs, including this Philadelphia one less than a week ago.  The Eagles looked directionless, as each of their coaching targets turned them down or headed for other teams.  Yet, here we are – rumors are spreading that Kelly will have 'significant' control over personnel, and that his salary puts him in the upper percentage of NFL coaches – and more than his college contemporaries are making.  It's a bit of a gamble – a college coach could easily become the next Steve Spurrier, but Pac-12 coaches have done well in the NFL recently, as San Francisco and Seattle can attest, and it's not like Oregon's system is particularly gimmicky or anything of that nature; if anything, this season showed that a high-tempo, zone-read offense can make a lot of sense in the NFL, if you have the players in place to run it.  I wouldn't be overly concerned about Kelly's failure potential – at least, not more than any other first-time NFL head coach.

Kelly will probably bring his uptempo style to Philly, which will make the twice-yearly matchups against RGIII and the Redskins a blast to watch.  We'll see a lot of no-huddle offense, surely, and some spread things going on – which may not bode well for Nick Foles.  Kelly's quarterbacks as offensive coordinator and head coach all fit a particular mold – mobile and athletic.  Nick Foles may have outperformed Michael Vick down the stretch, but he's more of a pocket passer who doesn't really perform that well on the run.  At first glance, then, it seems like Kelly might be more inclined to give Vick a second chance this season – but it may not be that simple.  Vick is scheduled to make $16 million next season, and he's not playing anywhere near that level.  That would need to be restructured, at the very least – and there're not that many other options out there.

This draft does not appear to have a rushing QB talent along the lines of an RGIII or Russell Wilson lying out there, and the potential free agency class doesn't have very many promising names out there, either.  I would not be surprised at all to see Dennis Dixon rejoin Kelly as a backup quarterback role, but it'll be interesting to watch what Kelly does with his starting QB situation.  Back when Foles was in Arizona, Kelly had an opportunity to watch him on a regular basis, and commented that he was "glad Nick Foles is graduating," as he considered him as good as any college QB in the nation, so there's some respect there – perhaps Kelly will modify his coaching design slightly to fit Foles more controlled style.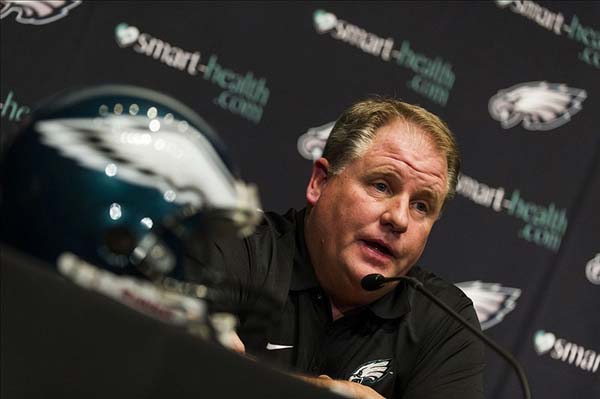 Jan 17, 2013; Philadelphia, PA, USA; Philadelphia Eagles new head coach Chip Kelly addresses the media during a press conference at the Philadelphia Eagles NovaCare Complex. Photo courtesy by Howard Smith-USA TODAY Sports.

Other offensive personnel seem to fit Kelly's style better – LeSean McCoy, especially, should see his numbers skyrocket in Kelly's system.  It's hard to remember, sometimes, that despite Oregon's up-tempo style, they actually ran the ball twice as much as they passed it.  That's a very abrupt departure from Andy Reid's style, who occasionally seemed to forget that running the football was a legal option.  The biggest question mark, then, might be DeSean Jackson – he's the most dynamic player the Eagles have, but trade rumors have begun to swirl around him yet again.  I'd think the Eagles would be well suited in seeing what Jackson can do under a new regime, but the ownership may have gotten tired of dealing with the headaches he brings with him.  That's a situation worth paying attention to, as well.

One way or another, it's going to be odd seeing someone else patrolling Philadelphia's sidelines – Andy Reid was as close to an institution as you get in the NFL nowadays.   Now, I'm not saying it wasn't time for a change – I think both Reid and the Eagles will benefit from new situations this year –but Reid was the head coach for over a decade, and his style is definitely very different from Kelly's.  It's a PR coup for the Eagles, getting him to reconsider – after seeing multiple other teams fill their spots, they must have begun to get a bit desperate.  You can't replace a coach like Reid with just anyone – they needed a big name, and they got one.  These sort of big splashes don't always work out – again, see Steve Spurrier or Bobby Petrino – but I don't think Eagles fans would have been satisfied with, say, hiring a CFL coach like the Bears just did.  Now, I know 'satisfied Eagles fan' sometimes feels like an oxymoron, but Kelly goes the furthest to appeasing the notoriously fickle fanbase – an entirely different style of offense, with a pedigree of success.  If that's not enough to satisfy those who were calling for a change, nothing will be.

That being said, it won't satisfy them for long without some wins to go along with it, and it wasn't just the offense that led to the Eagles plunge this season – their defense shares just as much of the blame.  Kelly's not a defensive coach, either, so filling the defensive coordinator slot will be very, very important.  That, as much as any decision on quarterbacks or wide receivers, could determine the Eagles fate in 2013.
What do you think?
We'd love to hear your comments and/or opinions. If you submit them here, other visitors can read them, rate them and comment on them. An e-mail address is not required.