Charles Barkely Got it Right
Last time I checked the calendar, 2011 is a long time away. That's two NBA champions. Two NBA MVP awards away. So I applaud Charles Barkely for telling Lebron James "to shut the hell up" for talking about free agency already. Then Lebron, who probably needed to rethink this answer, just called him "stupid". If this was elementary school, we would be yelling "fight! fight! fight!"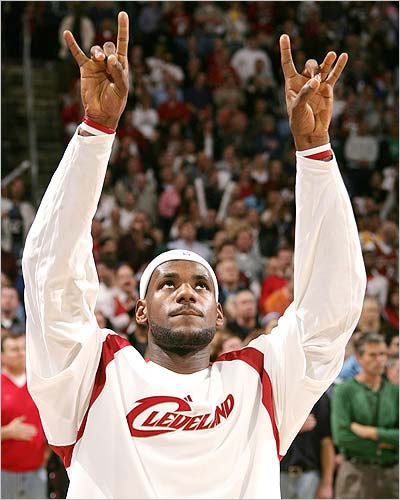 Lebron James
---
It's no question that the 2010-2011 NBA free agency period will be huge with big stars like Dwayne Wade, Chris Bosh, and Lebron James being free agent. And the embarrassing New York Knicks are clearing up salary cap to land Lebron James. We know he loves New York. We know New York is a bigger city than Cleveland. But does going to the Knicks make sense?
If his goal is to win championships like he said, the Knicks seem a long way away from doing that. It is attractive to play for Mike D'Antoni but with all the talent and success he had in Phoenix, he never won an NBA championship. Lebron can play in Portland and still be a big NBA star. He will still make more money off the court than he does on the court. Wherever he goes, he'll still have immense popularity. But if winning is that important to him, finding a team that at least has a chance to be playing for the post season every season seems to make more sense.
Also the Knicks aren't the only team freeing up cap space for that summer. So he could go to another team. But that's still a long way away. It's even stupid for him to make comments about that summer of free agency, which he has done.
A superstar still needs a sidekick. A Jordan needed a Pippen. Lebron needs...David Lee? Doesn't scream championship. So the Knicks are still going to have to find another way to get points.
I know Knicks fans have nothing better to talk about then dreaming about Lebron going to the Knicks. And Lebron might think that's the best place for him, but so much can happen between now and then. Just shut up.
---
What do you think?

We'd love to hear your comments and/or opinions. If you submit them here, other visitors can read them, rate them and comment on them. An e-mail address is not required.
---
---
From Charles Barkely Got it Right to NBA Archives | Sports Blog | NFL Archives | College Football Archives | MLB Archives | NCAA Basketball Archives | Soccer Archives | Olympics Archives | Stupid Athletes Archives | Other Archives |
---
Home Page
About Us | Contact Us | Site Search | Advertise | Terms of Use |
---