Carlos Zambrano Outburst
Finding the Line
By Paul Grossinger
In many ways, Carlos Zambrano's antics are a local Chicago issue. The Chicago Cubs pitcher was ejected last weekend for throwing two inside pitches at Atlanta Braves star Chipper Jones and then proceeded to march to the dugout, collect his belongings from the clubhouse, and announce his retirement.
Zambrano's latest blowup is hardly a stand-alone incident. He has been involved in numerous public displays of temper including his decision to lambast his teammates as "AAA players" at a press conference earlier this year. Two years ago, he got into a vicious fight with a Gatorade dispenser, which has since made the Cubs clubhouse purely a H2O zone.
However, last weekend's outburst dares fans to ask the question: where is the line? When is a player so disruptive that a team should not be forced to honor his contract or, if they must pay the player, release him so that he can nolonger damage the team's collective psyche? This question is not relegated to sports commentary or barroom chats: Cubs manager Mike Quade hinted at his answer when asked about Zambrano's antics during a postgame interview. "To have done what he did and say goodbye," a livid Quade said,"and then he's gone. That's not right." GM Jim Hendry was hardly more sympathetic when he stated that, "his [Zambrano's] actions last night were totally intolerable," before suspending him without pay for thirty days.
A month-long suspension without pay is the heaviest penalty a club can use on a player without a release. However, it is still only a temporary punishment and a slap on the wrist for a player like Zambrano. Even after losing a month's pay, Zambrano will still be due twenty-plus million dollars from the Cubs before his contract expires in 2012.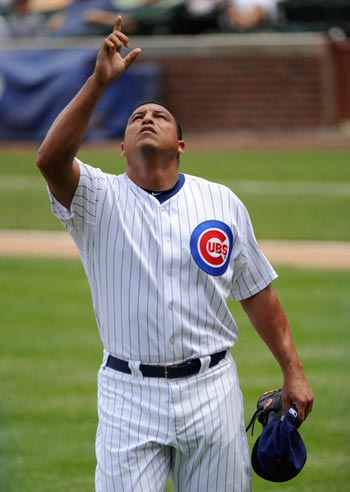 Carlos Zambrano doing his 'giving thanks' thing after wriggling out of a first inning jam, against the Houston Astros at Wrigley Field, Chicago, Il. The Cubs defeated Houston by a score of 4-2
---
Yet, that brings us back to Finding the Line: at what point is enough, enough? When Zambrano beat up the Gatorade dispenser, he apologized and went to anger management. A weak response, perhaps, but appropriate considering it was one of Zambrano's first serious incidents and he still had both trade value and a large, long contract. Now, several incidents later, the line has been crossed. Enough is enough. One player cannot be allowed to distract, disrupt, and change fan's perspective of an entire team.
The Cubs may not be contenders this season but, to their credit, most of their players are professionals. Those players suffered through the same loss as Zambrano but, unlike the troubled pitcher, none of them decided to just leave their teammates. That fact was not lost on the Cub's players and, when asked about Zambrano's potential return, their response was tepid. Pitcher Ryan Dempster stated that, "he [Zambrano] has made his bed now let him sleep in it." Third baseman Aramis Ramirez was more diplomatic yet the bite in his statement was not lost: "if he changes his attitude, he's more than welcome." If he changes: the line has been crossed and, for Zambrano, this may be a point of no return.
---
What do you think?
We'd love to hear your comments and/or opinions. If you submit them here, other visitors can read them, rate them and comment on them. An e-mail address is not required.
---
From Carlos Zambrano Outburst to MLB Baseball Blog | Sports Blog | NFL Football Blog | NCAA Football Blog | NFL Football Archives | College Football Archives | College Baseball Blog | MLB Baseball Archives | NBA Basketball Blog | NCAA Basketball Blog | NBA Basketball Archives | NCAA Basketball Archives | Fantasy Football | Fantasy Basketball | Fantasy Baseball | Soccer Archives | Olympics Archives | Stupid Athletes Archives | Other Archives | Football Forum | Basketball Forum | Baseball Forum | NFL Football Store | NBA Basketball Store | MLB Baseball Store | NCAA Football Store | NCAA Basketball Store | NCAA Baseball Store | Fatheads | NFL Football Tickets | NBA Basketball Tickets | MLB Baseball Tickets | NCAA Football Tickets | NCAA Basketball Tickets | NCAA Baseball Tickets |
---
Home Page
About Us | Contact Us | Site Search | Advertise | Terms of Use |
---