Cam Newton's Celebration Cartoon
As an avid sports fan I try to stay up on all the latest news and rumors across the board. Watching ESPN First Take on Thursday morning, one of the topics really got me thinking. Panthers quarterback Cam Newton did a Superman pose after he scored a touchdown against the Giants in a game that Carolina was losing badly. He drew some criticism from the media, fans and even Newton's hometown newspaper, The Charlotte Observer.
The Observer printed an editorial cartoon with Newton doing the Superman pose with a Hello Kitty on his chest. This cartoon is now drawing some attention and has many in the media split on the objectivity of it. According to First Take, the sports editor at the newspaper said it was an editorial decision and had nothing to do with the sports section. I applaud this editor for taking this stance. A sports section can criticize its local teams in columns but has to deal with these players, coaches and owners on a daily basis. So there has to be a relationship between the two parties so stories can be written. One of my issues with this cartoon is pretty simple: Why the heck would the editorial department think it'd be a good idea to run this cartoon?
It must have been a slow news week if the only cartoon and editorial worth doing is on football. There are so many issues, problems and newsworthy topics to write about in the editorial section. Football and sports belong in the sports section; unless a player or coach is in legal trouble and it's relevant to the public. But depicting Cam Newton with a Hello Kitty shirt on has no place in the editorial section. He did something stupid in a game that wasn't going well and deserves some scrutiny but not like this. Between local and national politics, unemployment and breaking news, the Charlotte Observer could have had a myriad of other topics to depict in a cartoon. The only good thing that came of this for the Observer is that people outside of Charlotte are discussing and debating your paper.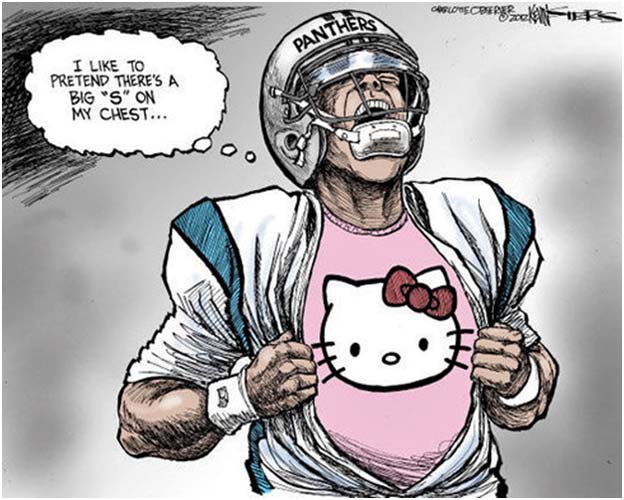 Let's go back to Newton's Superman pose for a second. Was that necessary? Absolutely not. Is it OK to have fun and do a pose or celebration after a touchdown or big hit? Sometimes. This is a topic that I've gone back and forth on for years and can't lean one way or the other. The "No Fun League" has said that any touchdown celebration using the football can and will be fined. I have no problem with a celebration after a player's first touchdown or a game-winning score. But a random touchdown in a game that you are losing doesn't need a celebration. I understand Newton was trying to get his teammates and the fans left in the stadium pumped up, but it didn't work.
Some of the players and coaches on the sideline probably cringed when they saw Newton strike a pose. He's in his second year in the league so he still has some growing up to do and things to learn, so let's strike this up to some growing pains. But for the local paper to publish a cartoon three weeks into the season making the face of the franchise look like a wimp just wasn't a smart move.

Hopefully Newton can learn from this incident and be the leader that the Panthers need him to be – on and off the field. The NFL takes a lot of heat by trying to keep the games flowing smoothly and keeping the players in line by limiting the celebrations. But they can't take touchdown celebrations away. The adrenaline has to be pumping so much after a long run, reception, return or interception and as humans we want to let loose and show some emotion. That's something that shouldn't be penalized or scrutinized. I just hope players learn there is a time and a place to show emotion and celebrate.


What do you think?
We'd love to hear your comments and/or opinions. If you submit them here, other visitors can read them, rate them and comment on them. An e-mail address is not required.